Up until recently, I've never given baked potatoes much thought.  Don't get me wrong – I love potatoes – but baked potatoes have always seemed boring to me.  And maybe a little soggy-skinned?  And bland.  Definitely bland.  And so, I almost never made them, and frankly, rarely even considered them making them.   In a world of potato possibilities, baked potatoes were simply not on my radar.
 When I moved to the mountains, all that changed.  Filling and satisfying, baked potatoes are a THING in this ski town.   Loaded with hearty toppings, they are beloved by the mountain crowd as a satisfying bite to fuel a wintery day on the slopes.  There are some legendary baked potatoes here, and I've witnessed more than one friendly debate over where to get the most perfectly baked spud in town.  All that to say, I've now thought about baked potatoes…a lot.  What was I missing?  What had gone wrong in my baked potato experience?   Could I make a baked potato I could get excited about?
After testing and retesting, and making baked potatoes this way and that, I've figured out how to make a really good baked potato.  Dare I say,  the PERFECT baked potato.  A truly craveable, crispy-skinned, salt-flecked, fluffy delight that has moved this mineral-rich vegetable onto my list of favourite side dishes.  I like these guys so much now, that I almost look forward to them more than anything else on my plate.  What was the secret?  I'll give you a hint – crank the heat and skip the foil!  Check out this recipe below and follow these simple steps for Perfect Crispy, Fluffy Baked Potatoes every time!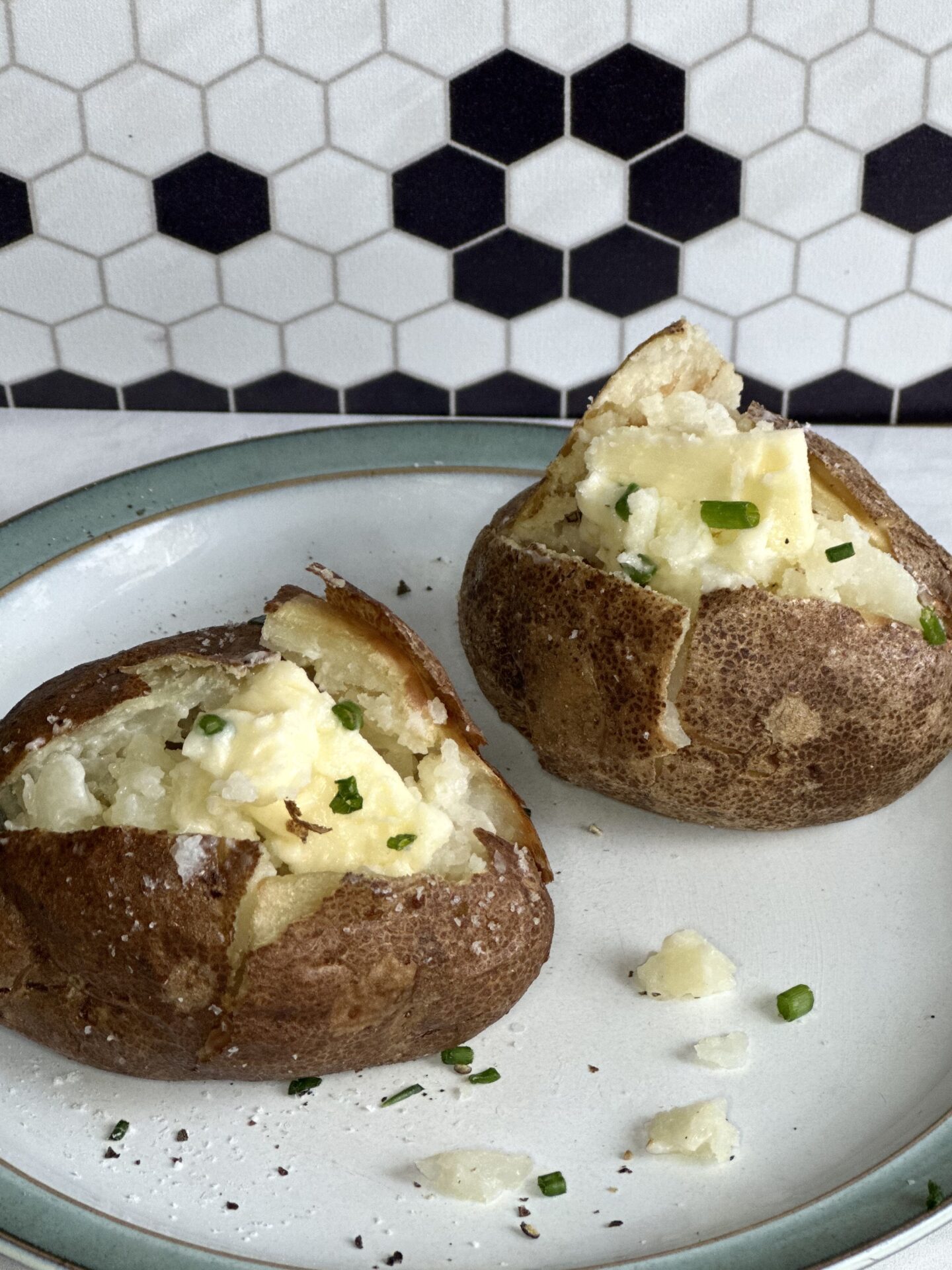 Perfect Crispy Skinned, Fluffy Baked Potatoes
Time: 65 minutes     Servings: 4
INGREDIENTS
4 medium Russet potatoes
Canola oil for rubbing
1 Tbsp melted butter
1/2 tsp sea salt
INSTRUCTIONS
1. Place a baking rack in the centre of the oven and place a second rack below it in the lower 1/3 of the oven.  Preheat the oven to 425F.
2. Scrub the potatoes clean, then dry thoroughly.  Using a fork, prick each potato all over to create steam holes.  Rub each potato with a small amount of canola oil (about 1/8 of a tsp for each will do) to lightly coat all over.
3. Place the potatoes in the oven, directly on the  centre rack, leaving space between each  to allow for air circulation.  Slide a baking sheet onto the lower rack to catch any drips.  Bake for 45 minutes, then remove from oven.  Using a pastry brush, brush the skins with the melted butter and sprinkle with salt.  Return the potatoes to the oven and cook another 15 minutes until skin is crisp and flesh is tender throughout when pierced with the tip of a small knife.  If the potatoes are not fully cooked through, continue to bake, checking every 5 minutes, until soft throughout.
4. Remove potatoes from the oven.  Using a small, sharp knife, cut a cross into the top of each, cutting about half way down, but not all the way through.  Squeeze the sides of the baked potatoes to open them up and use a fork to fluff up the insides.  Serve immediately.
RECIPE NOTES
Potato type:  

You can bake just about any type of potato, but to achieve a fluffy texture, you'll want a starchy variety that's low in moisture.  You'll also want a potato with a thicker skin for crispiest results.  Which type is starchy, low in moisture AND thick skinned?  The Russet!  

Potato size:  The size of the potatoes will naturally affect the cooking time.  I look for medium-sized potatoes for baking, but if you choose potatoes that are larger or smaller you will need to increase or decrease the cooking time accordingly.  Note that potatoes that are too large will take too long to cook, and you risk drying out the outer parts of the flesh while you're waiting for the centre to cook through.  Medium size potatoes work best to achieve a balanced the fluffy-on-the-inside, crispy-on-the-outside result.  Most importantly, make sure that all your potatoes are roughly the same size for consistent results.
Increasing the number of potatoes:  I've noted amounts for 4 baked potatoes, but you can easily adjust the quantities as needed as the method works just as well for one potato as it does for 12.  Simply scrub, dry, prick, lightly oil, bake, brush with a little butter, sprinkle with salt and rebake.  Baked potatoes are a hearty, simple side dish for a crowd, but note that air circulation in the oven is important for even cooking results.  The maximum number of potatoes you can do at once will depend on the size of your oven as you will need to leave a little space between each potato while they bake.  Also note that potatoes baked in the centre of the oven have the most consistent results.  If you fill the centre rack front to back with potatoes, you may need to rotate them half way through cooking for even results.
Increase the heat:  Traditionally, it's been recommended to bake potatoes at 375F.  Frankly, that's just not hot enough.  Turn the heat up to 425F.
Prick the potatoes:  Pricking holes in the potatoes allows the steam to escape during cooking and prevents the potatoes from exploding in the oven.  The pricks don't have to be too deep – roughy a 1/4″ is enough.
Which oil? Due to the high oven temperature and long cooking time, choose a neutral tasting oil with a high smoking point, such as canola or grapeseed oil.  Butter generally imparts the best flavour, but since it burns easily, save it for brushing on towards the end of the cooking time.
Which salt? A bite of crispy, salty potato skin which each forkfull of fluffy interior is what makes these potatoes so…well, good.  Texture is as important as flavour here, and the right salt contributes to both.  I use a generous amount of flaky, crunchy sea salt and this one, harvested locally on Vancouver Island, is my favourite.
This company also makes a delicious Rosemary Fleur de Sel sea salt that I use to add a delicious herbal twist that is particularly good when serving the baked potatoes with beef or chicken!  It's really delicious!
Skip the foil:  Wrapping baking potatoes in foil has long been the norm.   They even sell them conveniently and enticingly pre-wrapped in gold foil  at the grocery store.  You know the ones I'm talking about.   The fact of the matter is that wrapping potatoes in foil traps moisture and and is a surefire way to achieve a soggy potato.  Forget what you've been told, and skip the foil for a better baked potato!
SERVING SUGGESTIONS
A really good baked potato is one of the most versatile foods I can think of.  Serve it with chicken, beef, pork or fish and let it shine as a delicious side with just butter.  Or better yet, add a generous pat of Fresh Herb Butter!  Dress up your baked potatoes with a buffet of traditional toppings, including bacon bits, grated cheddar, chives and sour cream (or plain greek yogurt).  Pile on thinly sliced beef, caramelized onions and Provolone cheese for a Philly cheesesteak twist.   Top them with creamy, delicious Hot and Spicy Buffalo Chicken Dip.  Pack them with cheese curds and gravy for an all-Canadian poutine take.  Fill them with beef stew, chili or a big scoop of Healthier Chicken Parmesan for a satisfying Apres Ski meal.  You could make them every week all winter long and never run out of options!