Creamy, delicious butter.  It doesn't get much better than that.  Wait, I take that back.  It most definitely does get better, and all it takes is 5 minutes of minimal effort!  Mixing in fresh herbs, garlic and a little lemon zest is an easy way to add depth and so much flavour to fresh butter.  If you only ever use it to smear it on fresh warm bread, you will thank yourself for the decadent treat.    But why stop there when this simple little recipe can add so much flavour and buttery, herby joy, with such little work?  Try adding a pat to your next grilled steak for a Steakhouse twist on a backyard favourite.  Rub it on fresh fish fillets before baking them in the oven.   Try it under the skin of your next roast chicken, or slather it onto hot corn on the cob.  Add a generous dollop on top of mashed potatoes or fluffy, crispy skinned baked potatoes, or use it as a quick way to dress up steamed vegetables.  Smear it on toasted burger buns or toss it with hot popcorn.  There are endless ways to use this herb butter!  Think of it as a quick way to make everything seem a little bit fancier (and more delicious!)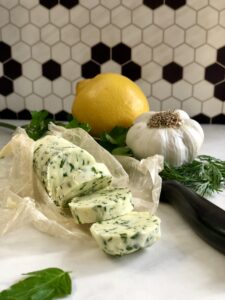 Fresh Herb Butter
Time: 5 minutes          Yield: a little more than 1/2 cup
INGREDIENTS
1/2 cup of salted butter at room temperature
1 small clove of garlic, finely minced
1 Tbsp finely chopped chives
2 tsp finely chopped dill
a pinch of grated lemon zest
fine sea salt to taste
INSTRUCTIONS
Place the softened butter, garlic, chives, dill and lemon zest in a small bowl and stir together until well combined.  Add fine salt to taste.  Scoop it into a small dish and serve.  If making it ahead, scoop the herb butter onto a piece of wax or parchment paper, roll it up into a log and twist the ends to seal.  Chill until firm, then slice with a sharp knife. (See recipe notes below for more detailed instructions on packaging for later use.)
RECIPE NOTES
You probably won't need to add much additional salt if you used salted butter but a little extra gives it a boost.
I usually make a small quantity of Fresh Herb Butter at a time, since it is so quick and easy to mix some up as needed.  This recipe makes enough to serve with bread at a meal for 4 people, or enough to add a pat to 6 grilled steaks, or enough to rub under the skin of a chicken.  This recipe can easily be doubled or tripled if you need more.
Use butter that has softened at room temperature.  Don't be tempted to microwave it, as it will melt and separate into an uneven consistency.  If you do need to hurry things along, you can cut the butter into small cubes or grate it and spread it out, which will help it to soften more quickly.
This type of flavoured butter is called a "Compound Butter", and many variations exist, both sweet and savoury. Try mixing up your own with different combinations of fresh herbs, spices or other flavourings.  Lemon zest and black pepper are great on shrimp, and honey and orange zest are delicious on Irish Soda Bread.
Any leftovers will keep well in the fridge for 3-4 days.  You can also freeze it for use in cooking at a later time (tossing with pasta, stirring into risotto, sauteing vegetables).  If you want to use it for spreading on bread or tossing with popcorn, making it fresh is better.

To wrap it for later use, lay out a small piece of wax paper with a short side closest to you.  Place the herb butter on the lower third of the paper and shape it into a small log.  Fold the bottom edge of the paper up over the log so it sticks to the butter.  Roll it up tightly in the paper, then twist the ends to seal.  Roll it back and forth on the counter a few times to get a nice rounded shape, then place it in the fridge to firm up (usually 2-3 hours).  When ready to use, open the package and slice the butter into neat rounds.  If you're feeling very fancy, you could add slices of the butter to individual bread plates about 15 minutes before seating your guests.  The individual butter pats will come to a spreadable consistency quite quickly at room temperature.