If you love the flavour of Buffalo Chicken Wings, this appetizer is for you!  Bubbly, creamy and spicy, this Hot and Spicy Buffalo Chicken Dip is a hit for Après Ski, Game Day or any time you want a really delicious snack.  Made with juicy cooked chicken, spicy hot sauce and lots of cheese, this dip is perfect for scooping up with veggies and corn chips.   In the interest of full disclosure, I should mention that I've also made a meal out of this dip.  Heap it onto toasted bread, or scoop it into Perfect Crispy Skinned, Fluffy Baked Potatoes for a truly delicious and satisfying meal! Serve with cut veggies, or maybe a simple salad on the side (like a wedge salad with blue cheese dressing!) to balance things out and voila – dinner!
This recipe calls for 4 cups of cooked chicken, which conveniently is about the amount of chicken you get from a standard store-bought rotisserie chicken, but just about any plain cooked chicken will do the trick.  Spicy is a relative term, of course.  With 1/2 cup of Buffalo hot sauce, this recipe definitely has lots of kick.  If you like more heat, go ahead and add the jalapeño as well.  Including the ribs and seeds of the jalapeño will increase the spicy flavour even more.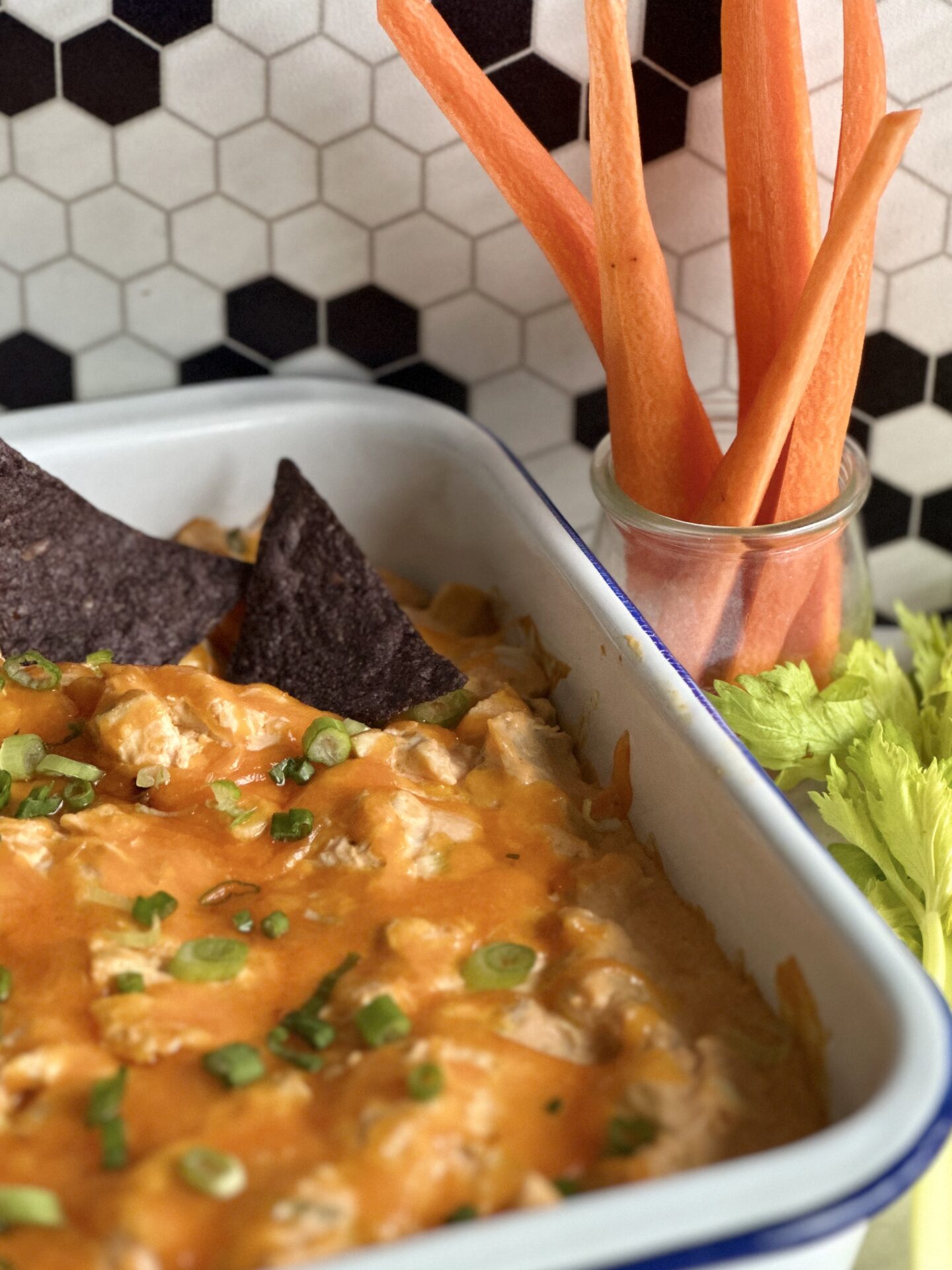 Hot and Spicy Buffalo Chicken Dip
Prep Time: 10 minutes        Cook Time: 15-20 minutes      Servings: 8 
INGREDIENTS
1 Tbsp butter
4 cloves garlic, minced
1 Tbsp minced jalapeno (optional)
1 250gr/8oz package of full-fat, brick-style cream cheese, cut in cubes
3 dashes of Worcestershire sauce
1/2 cup of Frank's Red Hot Sauce
1/4 cup of full fat plain greek yogurt or sour cream
1/4 cup plus 1 Tbsp of chopped green onions (about 4-5 green onions)
4 cups (about 454gr/1lb) cooked chicken from a store-bought rotisserie chicken or home cooked, chopped in 1/2″ dice
1 cup of loosely packed, grated cheddar cheese
INSTRUCTIONS
Preheat the oven to 375F.
In a medium saucepan, melt the butter over medium-high heat.  Add the garlic and jalapeño (if using), and cook, stirring frequently until gralic is fragrant and jalapeño has begun to soften, about 1 minute.  Add the cream cheese and stir constantly with a rubber spatula until melted and smooth.  Stir in the Worcestershire sauce and buffalo hot sauce.
Remove from heat and add the greek yogurt, stirring until the sauce is fully combined and smooth.  Fold in the 1/4 cup of chopped green onions and the cooked chicken until the chicken is evenly coated in the sauce.
Scrape into a 6 cup/1.5 quart baking dish and spread into an even layer with the spatula.  Sprinkle the cheddar cheese over the top.  (Make ahead:  Prepare dip to this point and keep in the fridge, covered, for up to 2 days.)  Bake, uncovered, at 375F for 15-20 minutes until cheese is melted and the dip is bubbly.
Remove from oven and sprinkle top with the remaining 1 Tbsp of chopped green onions.  Serve with tortilla chips, crackers and cut vegetables.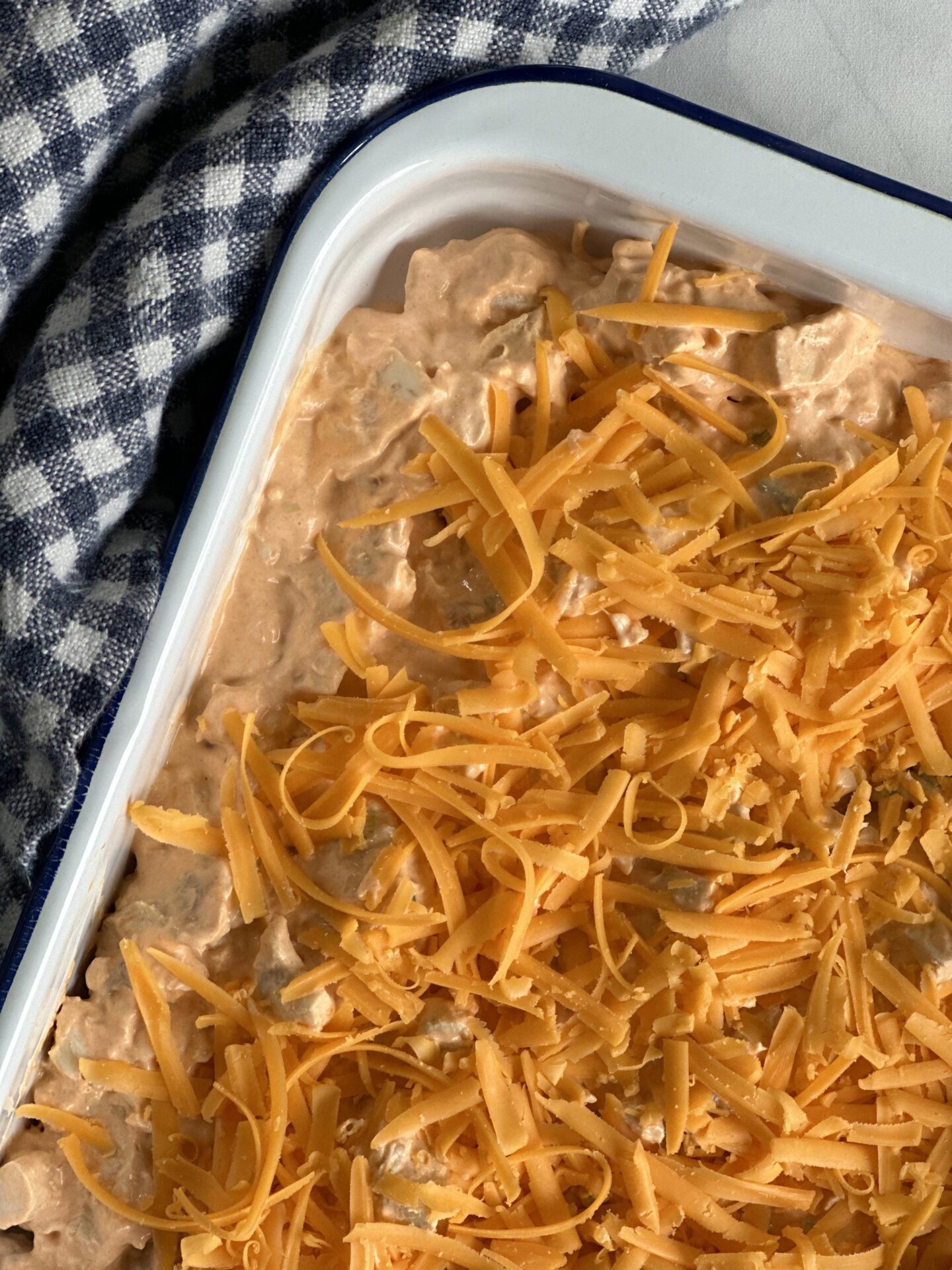 SERVING SUGGESTIONS
This Buffalo Chicken Dip is a crowd pleasing appetizer, perfect for casual get togethers like an after ski party or a game day gathering.  Serve it with cut carrots and celery for that true Buffalo Chicken Wing flavour experience.  It's a carb-lover's dream scooped up with tortilla chips, crackers or bread.  Pile it onto cucumber slices or scoop it up with mini peppers, for that combination of creamy and crunchy, minus the carb overload.  To stretch it into a meal, serve it with tortillas, chopped tomato and avocado for Buffalo Chicken Tacos.   Or set out buns, lettuce, tomatoes and blue cheese dressing for the ultimate Buffalo Chicken Sandwich.   This dip makes a great addition to a crowd-pleasing baked potato bar.
DRINK PAIRINGS
Like Buffalo Chicken Wings themselves, this dip seems to call for a mug of refreshing beer, and you wouldn't be wrong in choosing a malty Brown Ale.  The sweetness of the malt will offset the heat and play well with the vinegar in the hot sauce.  Of course if you love the burn and want to play up the heat, a hoppy IPA will do the trick.  It may not be the first thing you think of, but an off-dry Riesling works really well with this Buffalo Chicken Dip.  The acidity cuts through the creaminess and the little bit of sweetness plays well with the spiciness.  Keep in mind that the hotter you make the dip, the sweeter the wine should be.
RECIPE NOTES
Make ahead

:   I often assemble this dip ahead, and bake it when we get in from skiing.  Be sure to use a dish that can go from the fridge to the oven, or allow the dip to come to room temperature before baking.

Freezing:  This dip can be frozen in an airtight container for up to 3 months.  While it will still taste delicious, you should note that the texture won't be as creamy when it is reheated.
Après: I've often brought this dip for an Après gathering in a ski hill clubhouse or lodge, where there is access to a microwave for heating food, but not an oven.  To warm the dip in a microwave, make it in a microwave safe dish and heat for a few minutes.  Stir it up (this will mix in the cheese, but that's ok!) then microwave for a few more minutes until heated throughout.  Sprinkle with green onions and serve!
Why use full-fat dairy?:  For best results, use full fat cream cheese and greek yogurt/sour cream, since low-fat dairy products may separate when heated.  The creamy texture of this dip is the perfect balance point for all that spicy flavour, so you won't want to skimp on creaminess with lower fat (sometimes chalky tasting) dairy!
Hot Sauce:  This recipe calls for Franks Red Hot Sauce, since it is easy to find and has the right amount of vinegary-spicy kick and that classic spicy buffalo chicken wing flavour.   Look for it in the condiments section in most grocery stores, or add it to your next Amazon order.
You can use another brand of Buffalo Wing Hot Sauce, but you may need to adjust the quantity.  Start with a few tablespoons and add more to taste until desired flavour is reached.
Wishing you all a deliciously spicy Après Ski, Game Day or winter weekend hangout!
xoSarah