This recipe for Healthy and Delicious Homemade Tomato Soup is packed with good-for-you ingredients and tastes so much better than anything you can buy premade in a can.  But let's not discount the cans just yet – this recipe comes together so quickly with ingredients you likely already have in the pantry, so it's a great soup recipe to whip up without having to hit the grocery store  Packed with vegetables, this super healthy homemade soup is bursting with flavour.  The secret ingredient?  Mashed baked sweet potato lends a creamy texture, thickness and sweetness that balances the acidity of the tomatoes…without the added sugar, flour or other questionable ingredients that show up in the canned stuff!   The result is a rich, smooth, healthy and oh-so-delicious homemade tomato soup that you can feel good about!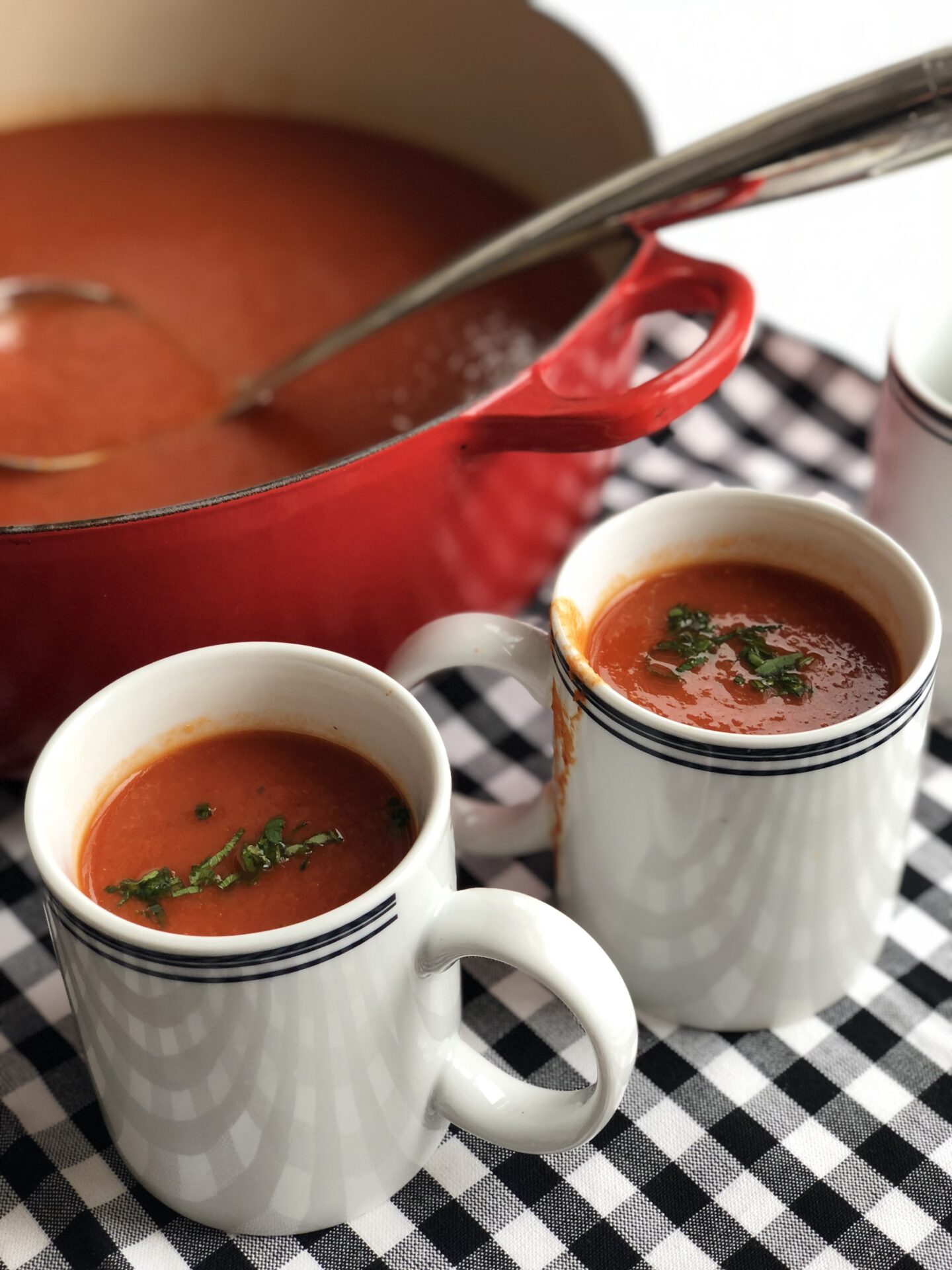 Healthy and Delicious Homemade Tomato Soup
Time:  30 minutes for the soup (plus an additional hour to bake the sweet potato if you don't have leftovers)
Servings: 6-8
INGREDIENTS
1 Tbsp olive oil
1 Tbsp butter
2 cups of thinly sliced yellow onions (about 1 medium-large onion)
1 tsp kosher salt
2 cloves of garlic, minced
3 Tbsp of tomato paste
1 cup of mashed baked sweet potato (leftover, or see below for baking instructions)
1 796ml/28oz can of diced tomatoes in their juices
4 cups of low-sodium chicken broth, homemade or store-bought
1/2 cup of evaporated milk (optional)
Fresh basil, chopped (for serving, optional)
Freshly grated Parmesan or Pecorino cheese (for serving, optional)
INSTRUCTIONS
To bake the sweet potatoes:  Preheat the oven to 400F and place a rack in the centre of the oven, with a second rack underneath.  Scrub 2 medium sweet potatoes to remove any dirt, then pat dry.  Prick the sweet potato all over with a fork to create holes for steam to escape.  Place the sweet potato in the oven, directly on the centered rack.  Slide a baking sheet or piece of foil on the lower rack, below the sweet potato, to catch any drips.  Bake the sweet potatoes until tender all the way through when pierced with the tip of a sharp knife, about 1 hour.  Remove from the oven and set aside until cool enough to handle.  Split the sweet potatoes open and scoop the flesh into a bowl.  Mash with a fork until smooth.  Set aside until ready to use.
SOUP
In a large dutch oven, heat the olive oil and butter over medium heat.  Add the onions and cook, stirring frequently, until onions are very soft and translucent, about 15 minutes.  The onions should be cooking, but not browning, so adjust the heat as necessary and stir often.  Add the salt and garlic and stir until fragrant, about 30 seconds.  Add the tomato paste and cook, stirring for about 2 minutes to caramelized the tomato paste a little and eliminate the raw flavour.  The colour of the tomato paste should darken from orange-red to a browner brick-red.
Stir in the canned tomatoes and the broth, and increase the heat to bring the soup to a boil, stirring occasionally to make sure nothing is sticking to the bottom of the pot.  Reduce the heat and simmer the soup for 10 minutes.  Using an immersion blender, purée until very smooth.  Alternatively, allow the soup to cool a little and transfer it in batches to a high powered blender to purée, then return to pot.  Stir in the evaporated milk, if using, and adjust salt and pepper to taste.  Reheat and serve immediately in mugs or bowls, and garnish with fresh basil and grated Parmesan or Pecorino cheese, if desired.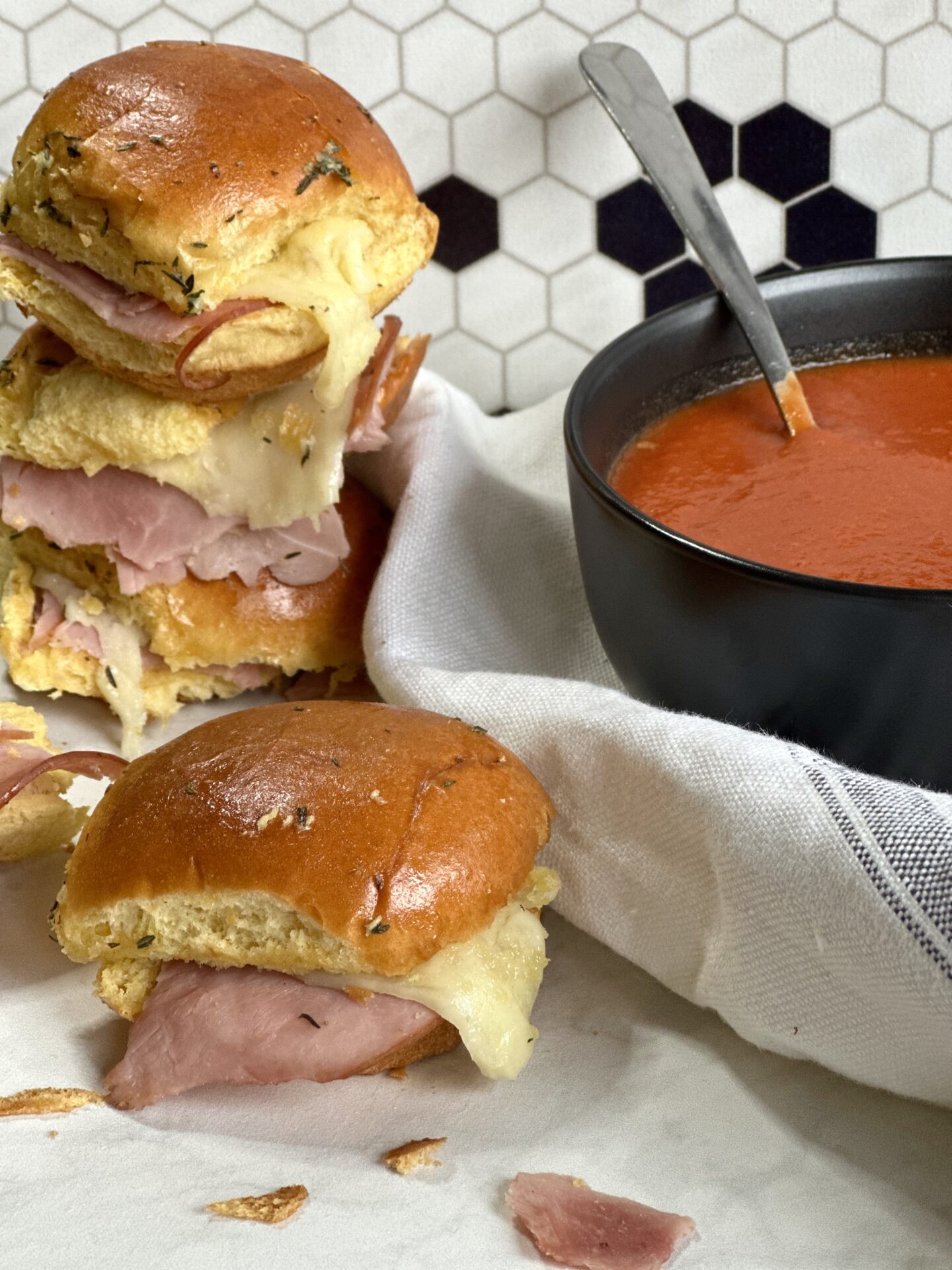 IT'S WORTH MENTIONING…
Did you know that Vitamix, the makers of the beloved high-powered blenders with a cult following, make a handheld Immersion Blender?    It's solid, easy to use and has more power than other immersion blenders, resulting in smoother purées.  You'll want a very smooth texture for this soup, and this hand blender is up to the task.  Check it out – it's worth every penny!
Where I live, tomato paste is most frequently sold in small cans.  Most recipes call for just a few tablespoons of tomato paste, so then the question becomes "What can I do with the rest?"  I've often put it in a covered container in the fridge, convinced I'd use the rest for something else, only to have the container tossed around shuffled to the back of the fridge and long forgotten (inevitably rediscovered some time later covered in fuzzy grey mold.)  Yes, I've tried freezing it in ice cube trays, and I suppose that trick works if you remember that it'is in there and use it within a few weeks, but I never did.   In truth, I'd open a can of tomato paste for a couple of tablespoons and the rest would end up in the garbage.  That is, until I discovered that you can buy tomato paste in a tube with a resealable screw cap!  I know I'm late to the party on this, and tubes of tomato paste have been around in other parts of the world for a long time, but in case this is news to you too, I thought is was worth mentioning!  It's so much less wasteful, still very inexpensive and so, so convenient.  Use only what you need, replace the cap and pop it back in the fridge until you need it again!  It's the little things, right?
SERVING SUGGESTIONS
The classic pairing for tomato soup is of course a buttery, crunchy, gooey grilled cheese sandwich!  Adding bacon to that grilled cheese is even better!  Mozzarella sticks make great dippers for this soup, if you're not hungry enough for a sandwich.  Try warm biscuits with Fresh Herb Butter, Cheesy Garlicky Breadsticks or a Ploughman's Lunch grazing platter.  For a crowd (or a hungry family!) make a pan of these Hot Garlic Butter Ham and Cheese Sliders.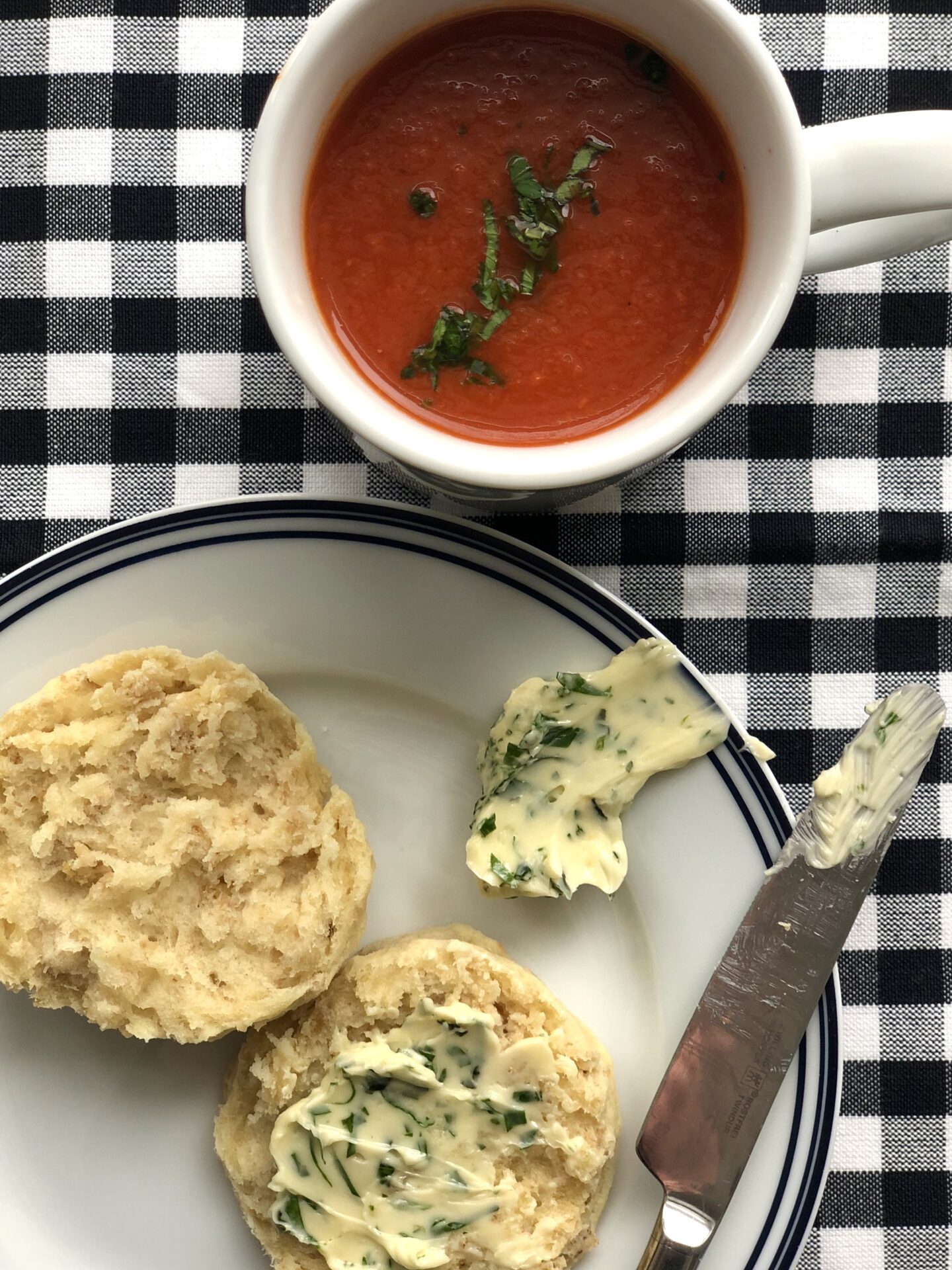 DRINK PAIRINGS
To compliment the tomato flavours and acidity in this soup, pour a glass of Chianti! 
RECIPE NOTES
CAUTION:  If puréing this soup in a high powered blender, caution is required to avoid an accident.  First, be sure to cool the soup before attempting to blend.  Purée the soup in batches, never filling the blender more than half way full, since hot liquids will expand in a blender. Remove the insert in the lid to allow the steam to escape.  Place a folded dishtowel over the hole and hold the dish towel lightly in place with your hand to catch any soup splashes.  Hold the towel lightly enough that steam can escape, but firmly enough that splashes are contained.
Sweet potatoes are the superheroes and truly secret ingredient in this soup.  You would never guess they are in there!  But there they are, working in the background to add a subtle sweetness and a thicker, creamy texture, so you don't need to add sugar to balance the acidity, or flour to thicken things up.  Not to mention all the nutrients and fibre they add to this soup, making it not only delicious, but so, so healthy!
Adding the evaporated milk at the end is optional, but recommended.  The evaporated milk cuts the acidity and adds extra creaminess.  You could substitute half-and-half cream for the evaporated milk, but I like how the evaporated milk adds creaminess to the soup without adding tons of extra fat.
Assuming you use gluten-free chicken broth, this recipe is naturally gluten-free.  Always check the labels of store-bought chicken broth as they often contain wheat or barley.  The recipe can be made vegetarian by substituting the chicken broth for vegetable broth, with equally delicious results.
This soup freezes well.  Cool to room temperature, then transfer to freezer-safe containers.  Freeze some in individual size containers for quick, but homemade  and healthy lunches, any time you'd like!  The soup freezes, well covered, for up to 2 months.