Crispy, gooey and oh-so-delicious these Hot Ham and Cheese Sliders are a crowd pleasing favourite!  Made quickly with small brioche buns layered with ham, provolone cheese and dijon mustard, these little sandwiches are brushed with garlic butter and baked to crunchy, golden, melty perfection.  Whether you make them for a weeknight dinner, an après ski party or a game day gathering, these Hot Ham and Cheese Sliders will win the crowd over every time!  The recipe makes 12, but you may want to go ahead and double it because these little sandwiches disappear quickly!
Hot Garlic Butter Ham and Cheese Sliders
Preparation Time: 10 minutes.         Cook Time:  20-25 minutes 
INGREDIENTS
2 Tbsp butter, plus more for greasing the pan
1 clove garlic, minced
1/2 tsp dried thyme
12 slider buns (mini Brioche-style buns are recommended)
3 Tbsp of Dijon mustard (or more to taste)
12 slices of deli ham
8 slices of provolone cheese
INSTRUCTIONS
Preheat the oven to 350F.  Generously grease with butter the bottom and sides of a 9×13 pan.
Melt the butter.  Combine the butter in a small bowl with the minced garlic and the thyme,  Set aside.
Without separating the buns, cut them in half horizontally so you have a slab of attached bun bottoms and a slab of attached bun tops.  Spread the bottoms of the buns with half of the mustard, then transfer the bun bottoms to the prepared pan.  Top the mustard covered buns with the ham, overlapping the slices.  Layer the cheese slices on top of the ham, then replace the bun tops to complete the sandwiches.  Use a pastry brush to brush the tops of the slider buns generously with the garlic butter mixture.  Cover the pan with foil, supporting the foil with toothpicks if necessary, so the foil doesn't stick to the tops of the buns.
Transfer to the oven and bake for 15 minutes.  Check to see if the cheese is melting.  If the cheese isn't melting yet, replace the foil and bake another 5 minutes until cheese is soft and melting.  Remove the foil and bake uncovered for another 5 minutes or so, until sandwiches are hot and tops are golden brown and crispy.
Using a sharp serrated knife, separate the sandwiches.  Transfer to a platter and serve hot.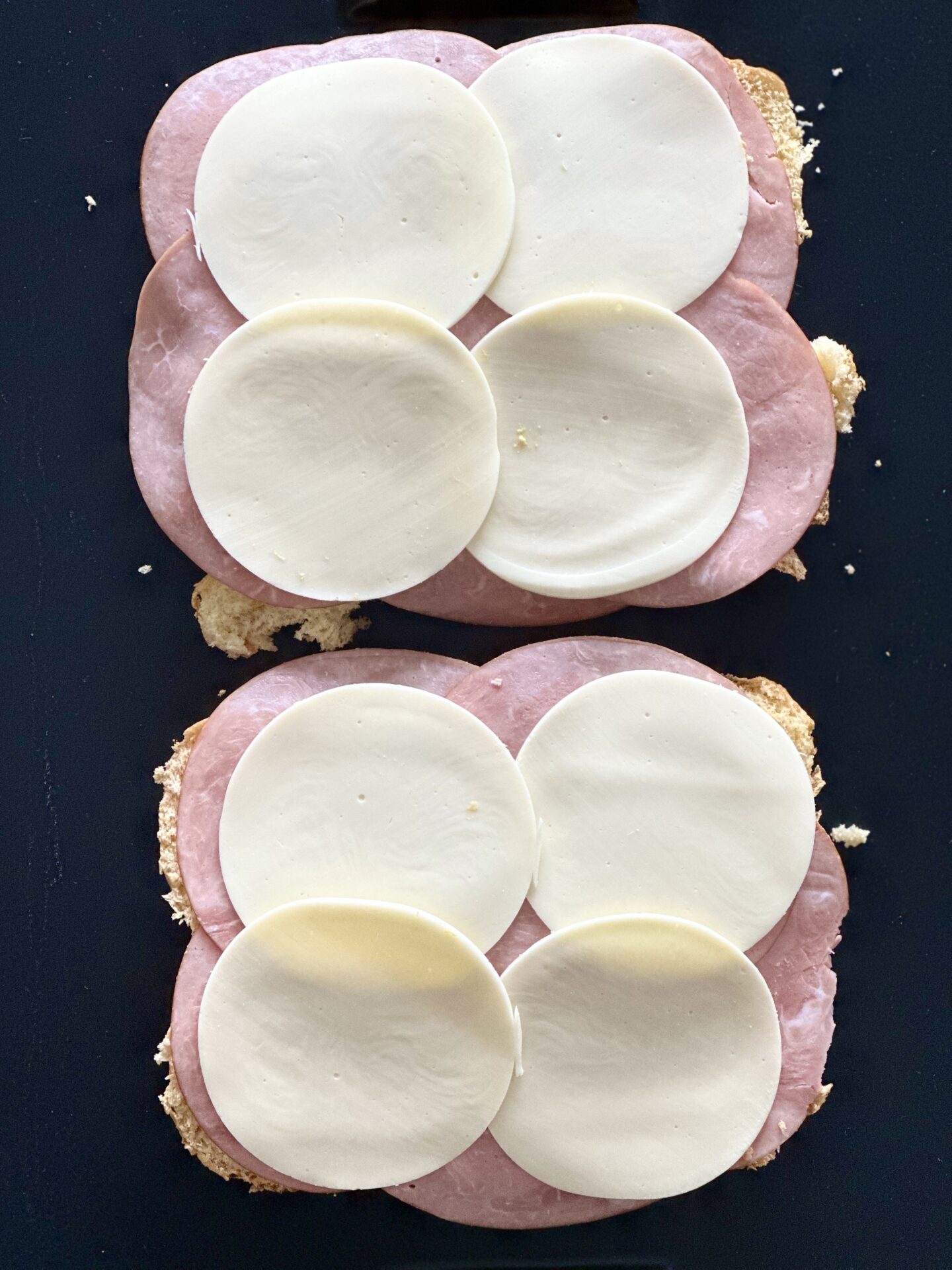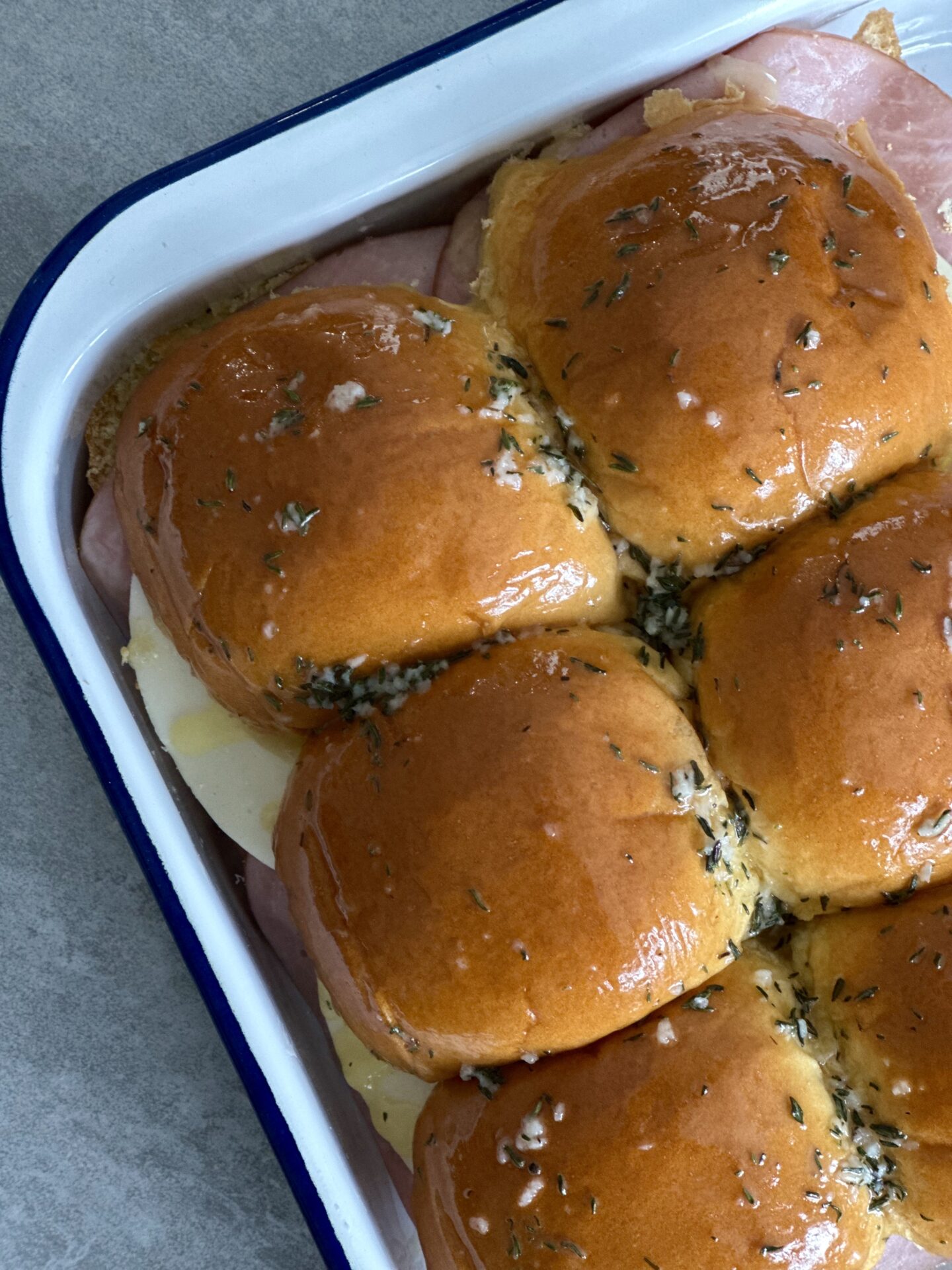 SERVING SUGGESTIONS
These Hot Garlic Butter Ham and Cheese sliders are perfect for any casual get together, any time of year, whether it be an Apres Ski party or a summer time get together.  They're right at home on your game day buffet, along with veggies and dip and guacamole and chips.  They feed a crowd of hungry teenagers in no time flat.  Send them off with a tray of these sliders, some cold drinks and a bag of chips and you won't see them again for hours.  If you're serving these sliders for dinner, pair them up with a simple green salad or coleslaw.  Or better yet, serve them alongside a Homemade Tomato Soup for a match made in dinner heaven!
DRINK PAIRINGS
Balance the richness and saltiness in the ham and cheese, with a drink that has a touch of sweetness and plenty of acidity, such as a crisp apple cider.
RECIPE NOTES
Ham:  I like to use a smoked deli ham for these sandwiches, but you can use any ham you'd like.  This is a great way to use up leftover baked ham from a ham dinner!
Cheese:  I love Provolone, but feel free to change up the cheese to whichever kind you like best.  Just make sure to choose a cheese that melts well, to get the full gooey, melty, cheesy experience.  Mozzarella, Gruyère, Taleggio and Fontina are all good cheeses for these sandwiches!
Mustard:  The recipe calls for Dijon mustard, but feel free to switch it for a different mustard.  Honey mustard, and apple or fig mustards work well.
Buns:  Brioche is a French bread made with lots of butter and eggs.  It has a distinctive golden colour and a slightly sweet flavour.  Mini brioche buns are recommended for their soft texture and rich taste.  They are often available in the bakery section of good grocery stores.  If you are unable to find mini brioche buns, these sandwiches will work with other types of slider buns.
What is a "slider"?:  A slider is a mini sandwich on a bun.  Usually just a couple of inches across, sliders are easy to eat out of hand and are popular as appetizers and party food.  
Make ahead:  You can assemble these sandwiches a day ahead, but don't brush them with the garlic butter until just before you're ready to bake them.  Keep them in the fridge, tightly wrapped.  Make up the garlic butter just before baking and brush the tops of the buns with the garlic butter just before putting the pan in the oven.    You may need to bake them a little longer if the sandwiches are cold before going into the oven.
Don't skip buttering the pan!:  This step does help to make clean-up easier, but the real role of the buttered pan is to make the bottoms of the slider buns extra crispy!