Creamy, tangy and bursting with fresh flavour, this delicious homemade buttermilk ranch dressing comes together in minutes and is so much better (and better for you!) than any store bought version.  Loaded with Greek Yogurt, fresh lemon and bright herbs, there's no reason to hold back on this nutritious and easy dressing.  Go ahead and load it onto your salads or slather it with abandon on your sandwich, for a boost of calcium, protein and delicious flavour!
To make this dressing, I like to raid my summer herb garden at The Lakehouse for loads for fresh dill, parsley and chives, as this dressing is the BEST pooled over sliced peak season tomatoes.  It's just as good spooned over baked potatoes or as a dip for pizza crust (why not?), so I load up my grocery cart in the dead of winter with bunches of fresh herbs so I don't ever have to miss out on all the delicious flavour!  Could you make it with dried herbs?  You could definitely do that in a pinch (reduce the quantities of herbs by about half), but it is so much better with all the bright flavours of fresh herbs!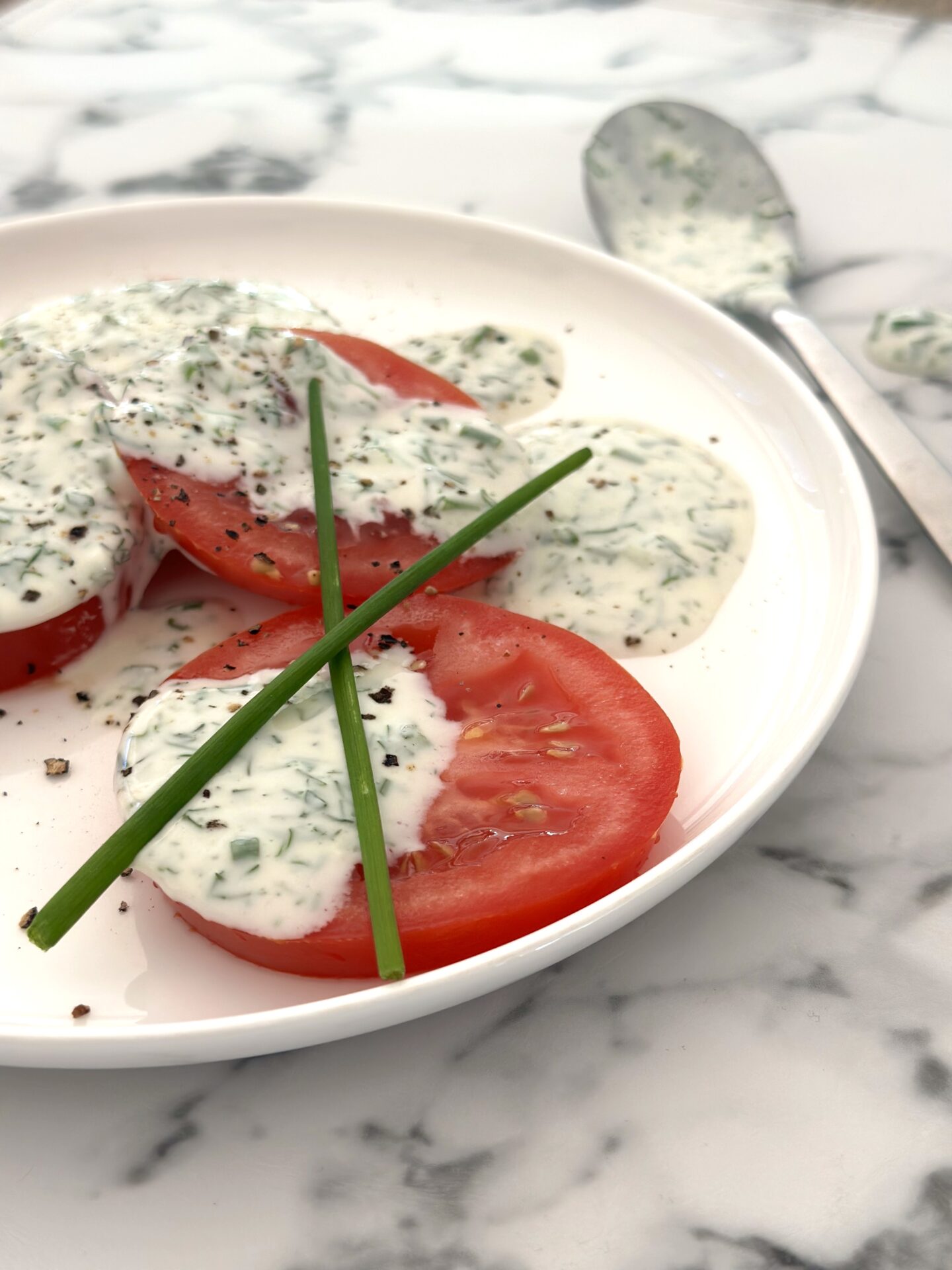 Herb Garden Buttermilk Ranch Dressing Ingredients
Plain Greek Yogurt:  Ranch dressing recipes usually call for a mix of sour cream and mayonnaise.  To lighten things up without sacrificing creaminess, this recipe calls for plain Greek yogurt.  Look for 2% milk fat for a creamy texture, since the non-fat Greek yogurts are often thin, or thickened with additives.
Buttermilk: For a pourable thickness and added tang, this recipe calls for buttermilk.  No buttermilk in the house?  No problem. Mix 1/3 cup of milk with a good squeeze of lemon juice and let it sit for 5 minutes to make a perfect substitute.
Fresh Herbs:  Dill, chives and parsley!  Chop them up finely and toss them in!
Grated fresh garlic:. I use a microplane to grate 1/2 of an average size garlic clove to achieve a super fine mince.  If your head of garlic has some very small cloves, go ahead and use one, but watch your fingers on the microplane.
Lemon juice: Freshly squeezed lemon juice is best for that extra bit of tang.
Salt and freshly ground black pepper:  I use Diamond Crystal Kosher salt.  If you use another brand, start with 1/2 tsp and add more to taste.  Freshly ground black pepper is an important ingredient in ranch dressing, so don't hold back.  This dressing is a condiment and is best made with a generous amount of salt and pepper to compliment and enhance the main dish!
SERVING SUGGESTIONS
This is a great dressing for salads, or dip for fresh vegetables.  Try it drizzled over tacos, or instead of mayonnaise in a wrap.  This creamy dressing is a healthy and flavourful substitute for sour cream, so load it onto baked potatoes or serve it alongside a tray of nachos.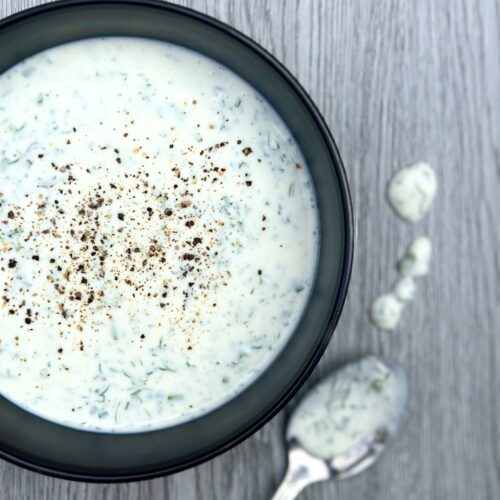 Herb Garden Buttermilk Ranch Dressing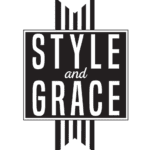 Filled with fresh herbs and loaded with good-for-you ingredients, this homemade buttermilk ranch dressing is a healthy addition to salads, tacos, wraps and baked potatoes.
Ingredients
3/4

cup

plain Greek yogurt

2% milk fat or higher for a creamy texture

1/3

cup

buttermilk

3

Tbsp

minced fresh dill

3

Tbsp

minced fresh chives

2

Tbsp

minced fresh parsley

1/2

clove

garlic, grated

or one small clove

1

tsp

lemon juice

1

tsp

Kosher salt

freshly ground black pepper to taste
Instructions
Add all ingredients to a bowl and stir to combine. Adjust salt and pepper to taste. If time permits, allow the dressing to sit in the fridge for 30 minutes before serving. Store leftovers in a jar or covered container in the fridge for up to 4 days. Stir before serving.
RECIPE NOTES
The flavour of this dressing improves with time.  A half hour of rest time is great, but if time allows, make it a few hours in advance and place it in the fridge so the fresh herb flavours can fully blend with the yogurty base.  If you don't have time to wait though, it's okay.  It will still taste delicious, even as soon as it is made!
If you like things a little spicy, consider adding a teaspoon (or two) of minced fresh jalapeño to the dressing.  The addition of the jalapeño works particularly well with fish tacos!
This dressing will stay fresh in an airtight container in the fridge for up to 4 days.  Make a jar and enjoy the fresh and healthy flavours on salads (and all the other things) all week long.
Are you on Pinterest?
Follow me for more delicious recipes, entertaining ideas and inspiration.