Looking for a healthy, "you're the coolest friend" or "you're the best mom", type of breakfast?  Adults and kids alike love these Strawberries and Cream Breakfast Popsicles.  With minimal effort and just a few ingredients, you can make a healthy, grab-and-go breakfast for busy weekday mornings or a novel treat for your next weekend brunch.  Made with protein-packed Greek yogurt and summer fresh strawberries, these popsicles are a great alternative to your regular fruit and yogurt smoothie or breakfast parfait.  Though they are made with similar ingredients, they seem so much more exciting than standard fruit and yogurt breakfast dishes.   Maybe that's because they're so pretty?  Or because it seems as though you're having dessert for breakfast?   Or a frosty breakfast on a hot morning just makes perfect sense?  I'm not sure why, but I do know this much – Breakfast Popsicles are always met with smiles and they disappear instantly, so I don't question it further.  I also know that a stash of delicious popsicles in the freezer sets you up for great any time snacks.  Healthier than (most) cookies, these popsicles make an acceptable substitute and are sweet enough to satisfy my late afternoon cravings, when I would typically reach for a cookie, because I love cookies, but that's a story (and many, many recipes) for another day. In the mean time, go ahead and make yourself a batch of creamy, delicious popsicles so they're ready and waiting for you for busy mornings, lazy weekend brunches or whenever the mood strikes.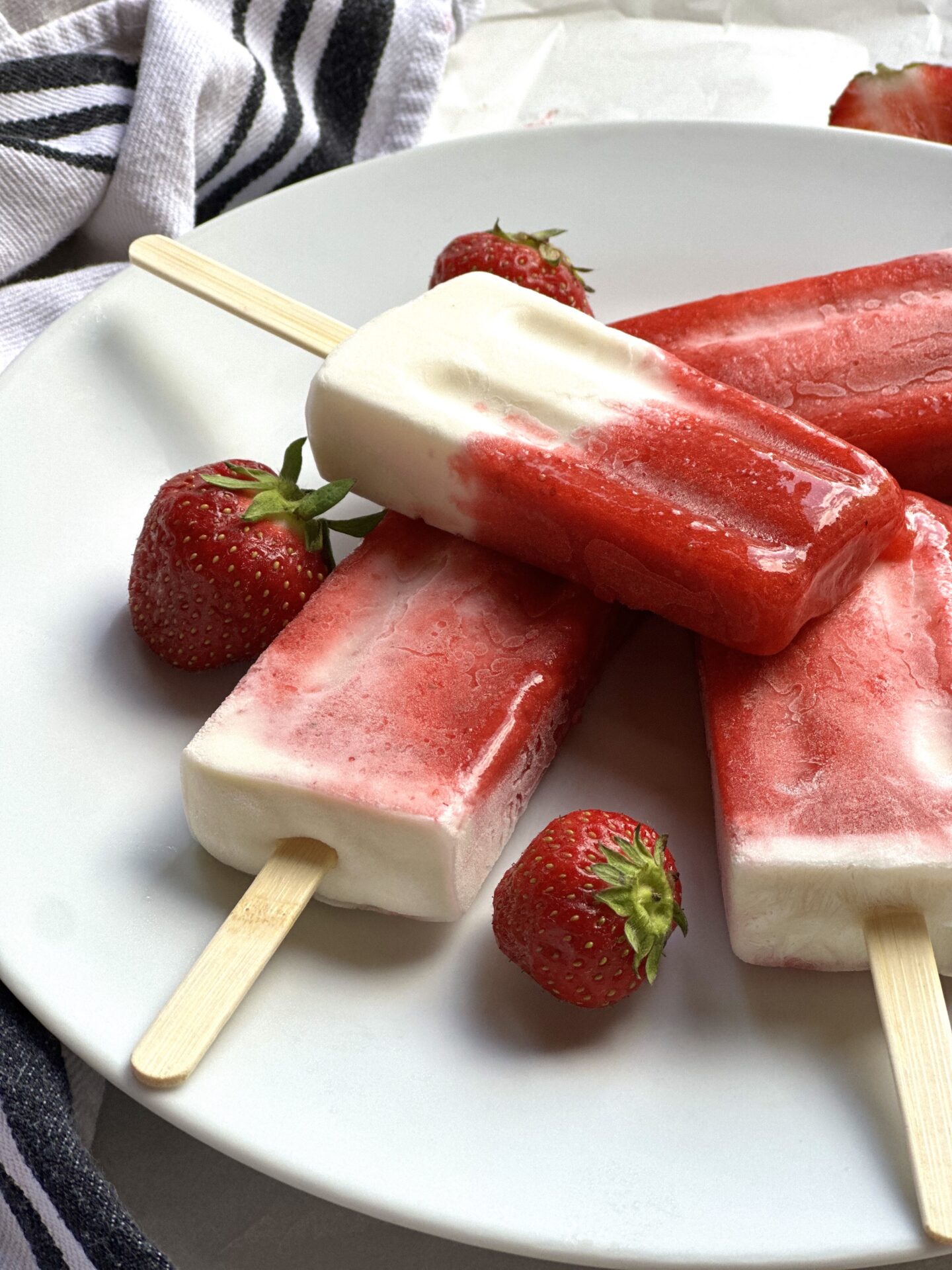 WHAT GOES IN IT?
The ingredients list is short.  Just fresh strawberries, lemon juice, vanilla Greek yogurt and milk.  I've included a little honey in the ingredients list in case your strawberries are on the tart side, but if you're using peak season summer strawberries, you're unlikely to need the the honey.
The active prep time is also short.  You can make them in just 10 minutes the night before and freeze them overnight, or prep them on the weekend and stash them in the freezer for easy breakfasts for the week ahead.  The steps are simple enough for little ones to help with, so these popsicles also make a great summer-time project to do with the kids.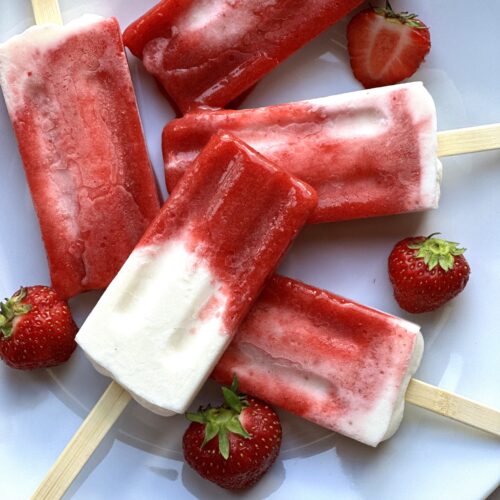 Strawberries and Cream Breakfast Popsicles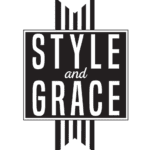 Hot summer mornings call for a fresh take on fruit and yogurt parfaits. Ready in the freezer they are the perfect healthy, grab-and-go breakfast for kids and adults alike!
Ingredients
1 1/2

cups

fresh strawberries

(from about 12 medium whole strawberries)

1

Tbsp

fresh lemon juice

1

Tbsp

honey (optional)

1

cup

vanilla Greek yogurt

1/2

cup

milk
Instructions
In a blender, combine the sliced strawberries, lemon juice and honey, if using. Blend at high speed until liquified, about 1 minute.

Divide mixture amongst 6 standard-size popsicle moulds, filling each about 1/2 full. Tap the moulds gently on the counter to remove any air bubbles.

In a bowl, stir together the greek yogurt and the milk. Add the yogurt mixture to the remaining space in the popsicle moulds on top of the strawberry purée, allowing the layers to mix and swirl a little. Tap the moulds again on the counter to release any air bubbles.

Add the lids with the popsicle sticks to the moulds and place in the freezer for at least 4 hours or until completely frozen.

To unmould the frozen popsicles, hold the mould in your hand to warm slightly or run the mould briefly under warm water to release the popsicle.
RECIPE NOTES
If you don't have Vanilla flavoured Greek yogurt, you can stir 1 tsp vanilla extract and a tablespoon or two of honey into one cup of plain Greek yogurt to make your own.
For creamy results, use Greek yogurt with at least 4% milk fat and milk with at least 2% fat  Using non-fat or low-fat yogurt and milk will result in popsicles with more of an icy texture.
These popsicles keep well, in their moulds in the freezer, for up to a week.  To keep them for longer in the freezer, remove the popsicles from the moulds and lay flat in a resealable plastic bag.  Leave space between each popsicle and squish out as much air as possible from the bag.  Or, wrap individually in parchment paper and stack them inside a resealable bag.  Squishing as much air out the bag as possible is important to keeping them fresh.  
If you're looking for stainless steel popsicle moulds, these are the ones I use.
If you don't have popsicle moulds, you can use small paper cups as moulds.  Fill as indicated in the recipe, then cover each cup with plastic wrap or (parchment paper secured with an elastic).  Poke a hole in the centre of each piece of plastic wrap and slide in a popsicle stick.  The plastic wrap will help keep the popsicle stick centered and upright.