With crispy edges, a soft and chewy centre and deep toffee flavour, this quick and easy dessert is a crowd pleaser every time.  Did I forget to mention the chocolate chips?  It's full of so, so many chocolate chips – both milk chocolate and semi sweet  – for deep, balanced chocolate flavour in every delicious cookie bite.  Baked whole,  this giant cookie is a great way to get all the delicious flavour and chewy texture of your favourite chocolate chip cookie  without all the scooping, rolling and baking in batches.  Simply spoon the batter into a 9″ cast iron skillet, place it in the oven and come back 30-40 minutes later to a freshly baked, crowd pleasing dessert.    Serve it cooled and cut in wedges for a simple and easy afternoon treat.  Or, serve it warm and top it with ice cream and hot fudge sauce for a delicious ending to your dinner party!  It's great for kids, but I've also served it as a fun and surprising ending to an adults-only meal.  I'm pleased to report that nobody has ever been mad about being served a giant chocolate chip cookie for dessert, not even once!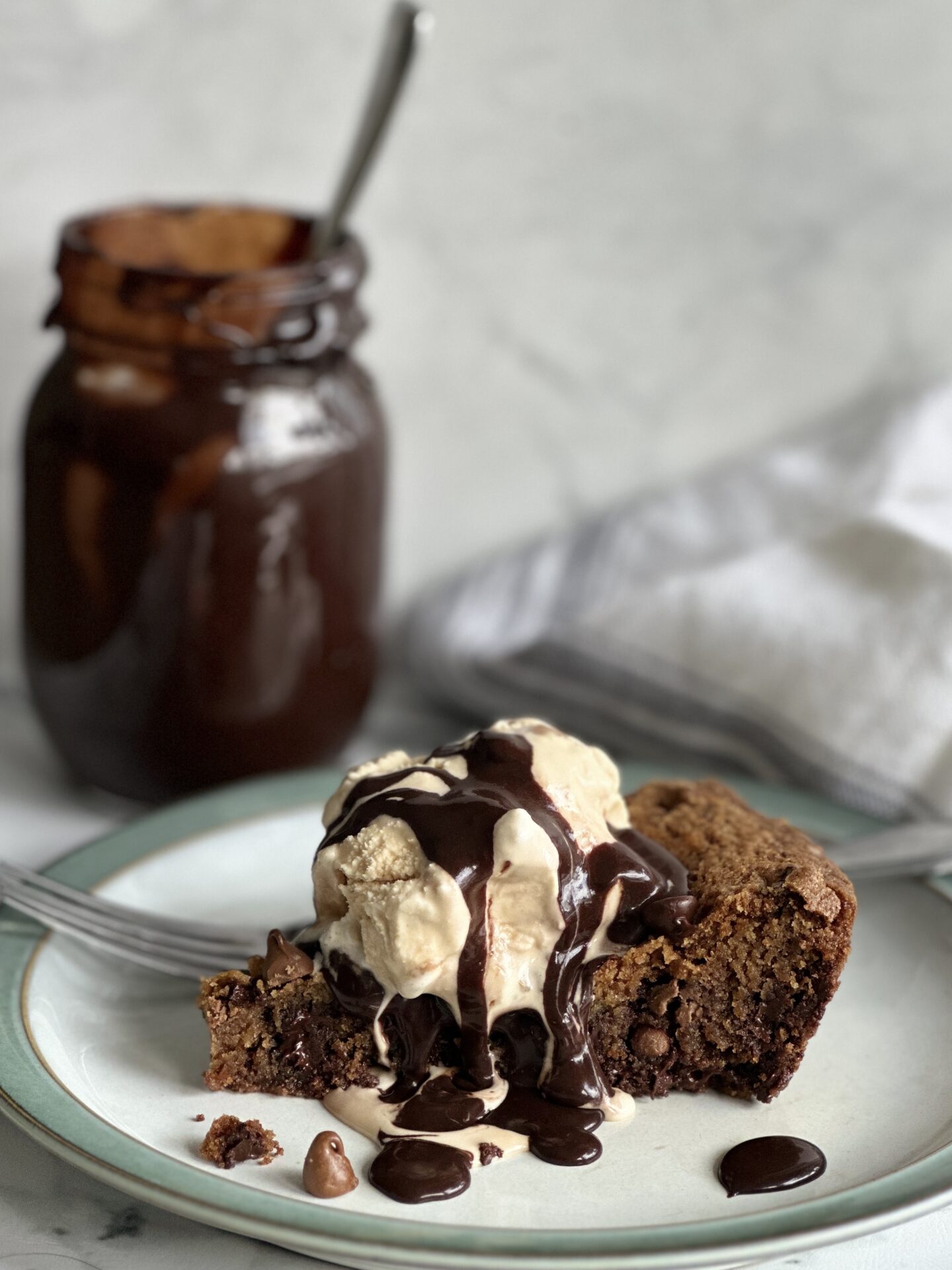 Giant Deep Dish Chocolate Chip Skillet Cookie
Time: 1 hour (10 minutes prep time, 30-40 minutes baking time, 10 minutes cooling time)
Servings: 10-12
INGREDIENTS
1 cup of butter, softened
1 cup of brown sugar, packed
1/2 cup white sugar
2 large eggs, room temperature
2 tsp vanilla
2 cups flour
1.5 tsp baking soda
1 tsp kosher salt
1 cup of semi-sweet chocolate chips (plus a few more for scattering over top)
1 cup of milk chocolate chips (plus a few more for scattering over top)
INSTRUCTIONS
Preheat the oven to 350F.  Grease a well-seasoned 9″ cast iron skillet.
In the bowl of a stand mixer (or in a large bowl and using a hand mixer), cream together the butter and both sugars.  Add the eggs, one at a time, scraping down the bowl with a rubber spatula in between.  Add the vanilla and mix well.
In a separate bowl, combine the flour, baking powder and salt.  Add the dry ingredients to the wet ingredients in 2 additions, scraping down the bowl and mixing well after each.  Remove the bowl from the mixer and use the rubber spatula to stir in the cup of semi-sweet chocolate chips and the cup of milk chocolate chips.
Spread the batter into the prepared skillet and sprinkle a few extra chocolate chips over the top.  Bake in preheated oven for 30-40 minutes, until golden on top and no longer jiggly in the centre when you gently shake the skillet.  Remove the skillet from the oven and allow to cool for at least 10 minutes before serving.  Serve warm using a spoon, or cool to room temperature and slice into wedges with a knife.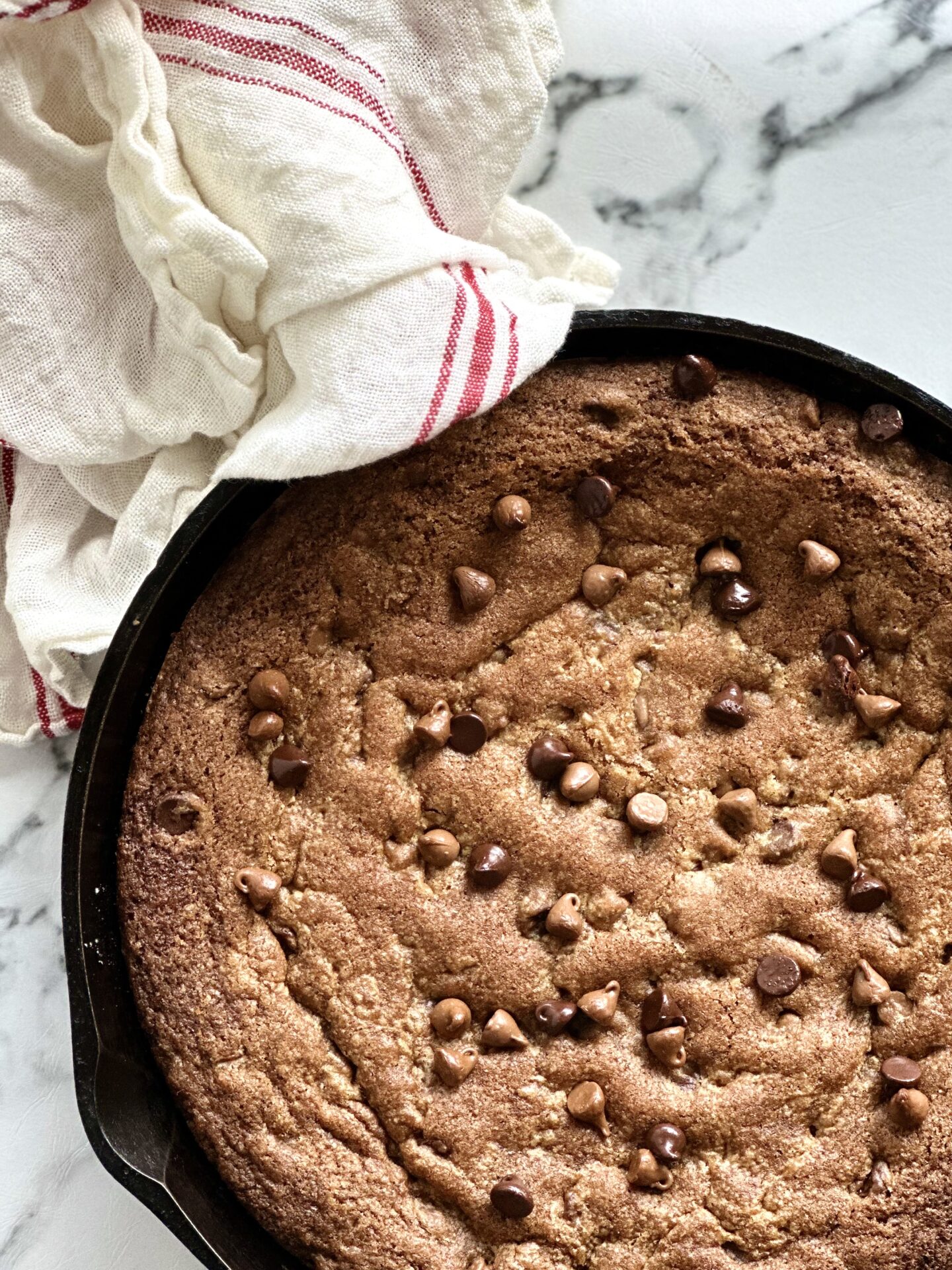 SERVING SUGGESTIONS
This giant skillet cookie is pure heaven warm from the oven and topped with ice cream.  Vanilla ice cream is a classic choice, but try Dulce de Leche or Caramel ice cream if you can find it.  Homemade Hot Chocolate Fudge Sauce takes this to the next level.  As it cools, this giant cookie firms up and becames extra chewy.  Run a knife around the edge of the pan and remove the cooled cookie whole.  Wrap it well and take it with you on a picnic.  Pack a knife to cut it into wedges, or simply break it into pieces for sharing.
DRINK PAIRINGS
A big glass of milk is the obvious choice for a chocolate chip cookie!  Tea and coffee are equally good options.  For a grown up version of milk and cookies, consider pairing this dessert with a White Russian cocktail, an Irish Coffee or Bailey's on ice.  If you'd like to stick with wine, try a Cabernet Sauvignon or a Port wine.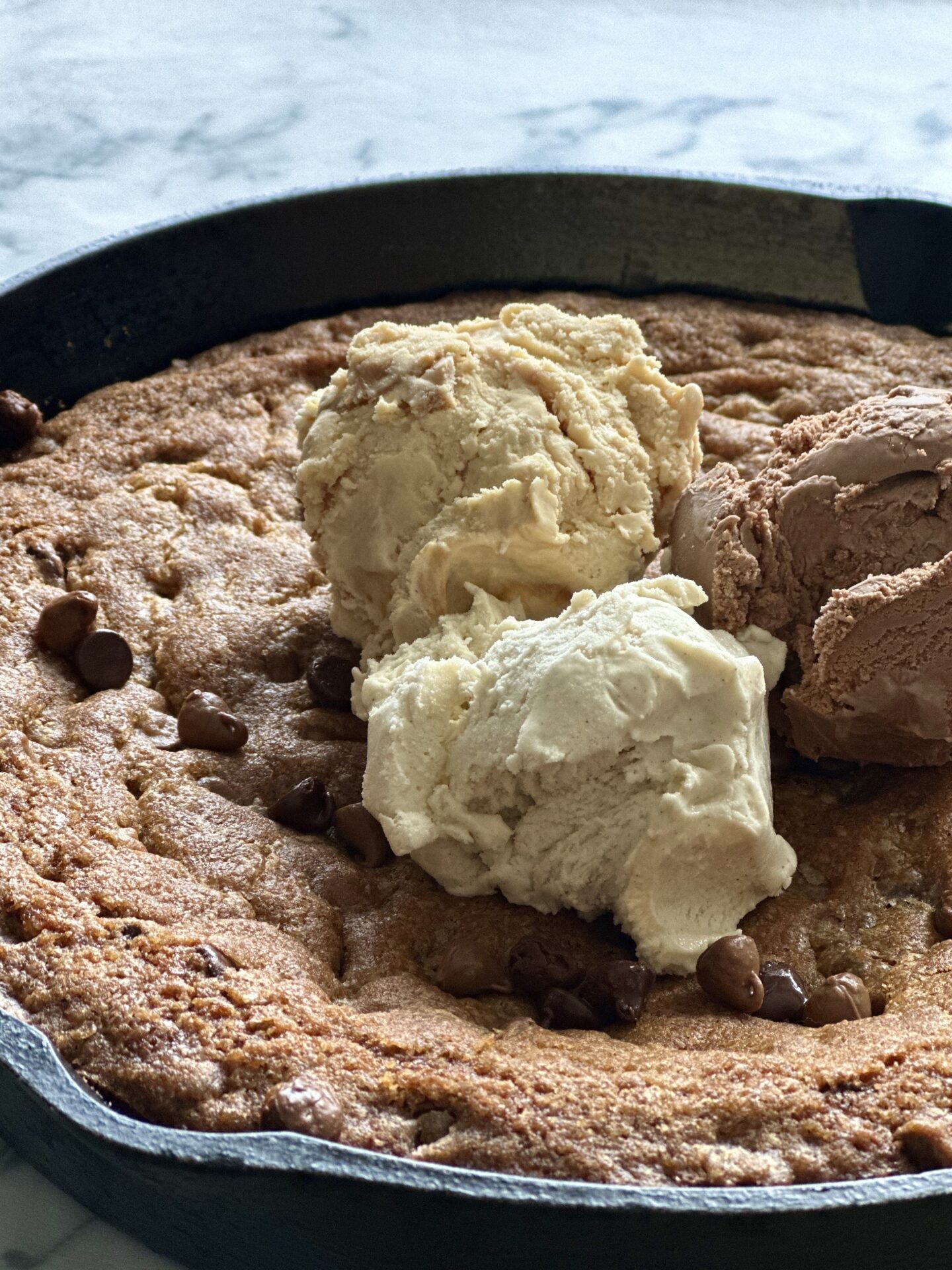 RECIPE NOTES
This cookie is delicious warm or at room temperature.  If you're serving it warm, use a big spoon to scoop it as it will be soft and gooey.  If you cool it to room temperature, it cuts into wedges beautifully.
If you don't already have a cast iron skillet, I recommend picking one up to add to your kitchen.  If seasoned and cared for properly, the naturally non-stick finish will just keep getting better over time. I'd say they are a once-in-a-lifetime investment since they are virtually indestructible, but unlike most quality cookware, they're actually very inexpensive to buy.  Find them at home goods and kitchen supply shops, or order online.
Can you still make it if you don't have a cast iron skillet?  Sure, you can make it in any well greased 9″ cake pan or round baking dish.  The reason it is made in a cast iron skillet is the cast iron heats up extra hot, making the exterior of the cookie nice and crispy.  If you make it in another type of pan, you won't get that "crispy on the outside, soft and chewy on the inside" texture, but it will still be delicious.
Humidity follows me around all year.  Most of the time, I live in the mountains where it snows, or rains, a LOT.  In the summer, I spend time at the Lakehouse, and if you're at all familiar with a beautiful Ontario summer, you know that it is hot and sunny….and extremely humid.  All this to say, I fight clumpy baking ingredients (and frizzy hair!) all year round.  Pro Tip: If you also live in a humid environment, be sure to arm yourself with a cheap and cheerful fine mesh sieve for sifting dry ingredients like baking soda, baking powder and cocoa powder.  Even little clumps of baking powder or baking soda can leave a bitter, metallic or soapy taste in baked goods, so be sure to use fresh ingredients and give them a quick sift for pro level results.  Fine mesh sieves come in different sizes and are widely available at kitchen supply and home goods shops.  A 5.5″ sieve is a good all-purpose size, and can also be inexpensively purchased online.
This giant cookie is best eaten the same day it is made to preserve the contrast of the crispy edges and soft and chewy interior.  It can be made a few days in advance and stored, well wrapped, at room temperature.  It will loose some of the crispness to if made in advance, but a soft and chewy texture throughout is delicious too.  It can be frozen for up to a month.  To freeze, cool the cookie completely, then run a knife around the edge of the pan to loosen.  Tilt the pan and slide the whole cookie out.  Wrap the giant cookie well in plastic wrap, place it in an airtight container, and freeze for up to a month.