With 10 minutes and a handful of pantry ingredients you can make the most luscious, gooey, chewy, Homemade Hot Chocolate Fudge Sauce!  This is my go to recipe for hot fudge sundaes, but it's also my favourite trick for making any dessert feel special.  I keep the ingredients for this sauce on hand for a quick way to make ice cream and store-bought brownies into a decadent, last minute, company-worthy dessert.  Or I set out a bowl of this glossy sauce as a crowd pleasing dip with fresh fruit and shortbread cookies.  If I'm really going all out, I might pool it on a plate and top it with a big slice of chocolate layer cake.  And sometimes I just stand in front of the fridge and eat it right out of the jar, because it really is that good!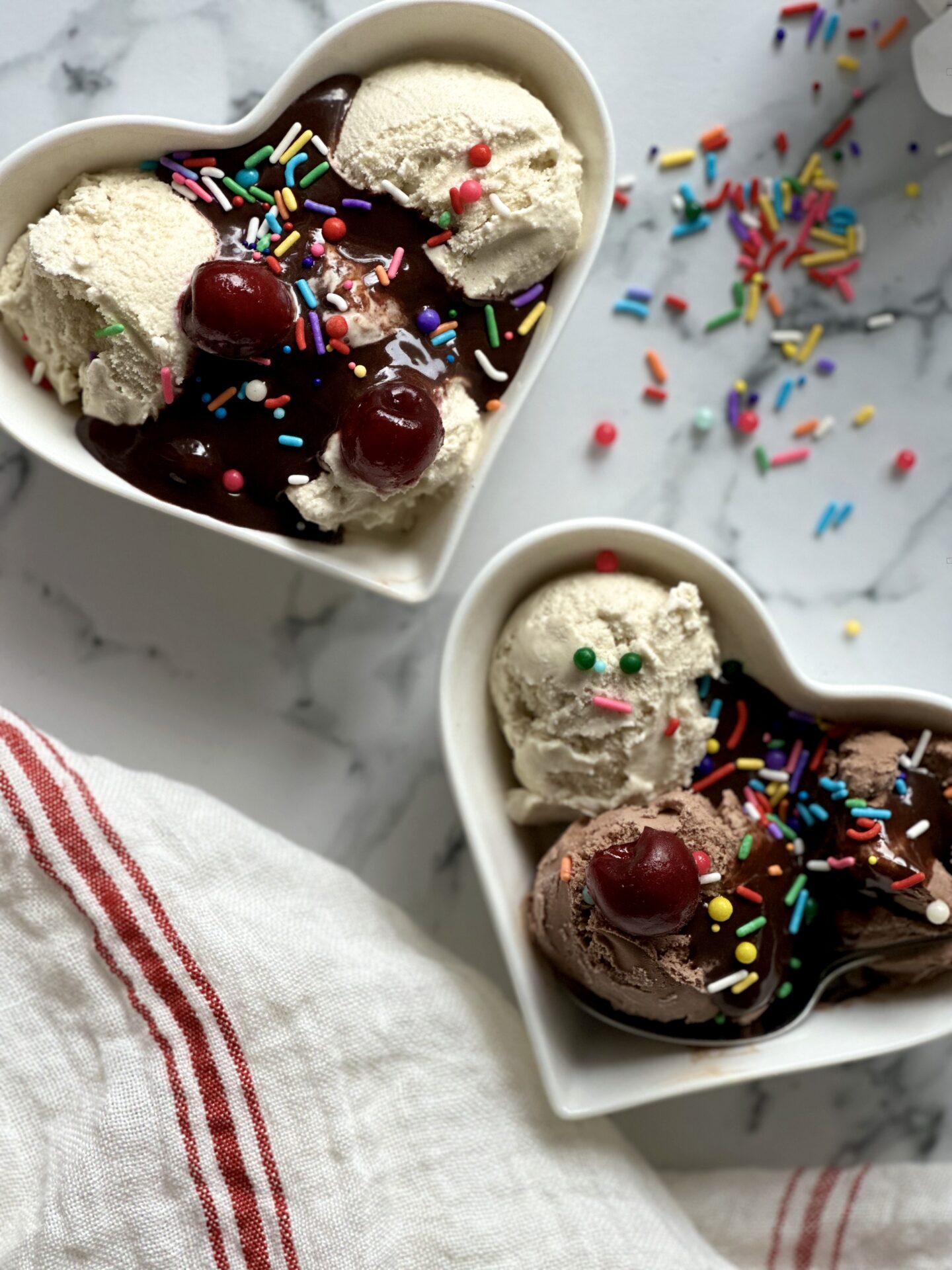 This Homemade Hot Chocolate Fudge Sauce is so good, so quick and so easy to make that you'll never buy the store bought stuff again!
Homemade Hot Chocolate Fudge Sauce
Time: less than 10 minutes                    Yield: Makes about 2 cups
INGREDIENTS
1 cup of sugar
1 cup of unsweetened cocoa powder, sifted
1 cup of evaporated milk (or half and half cream)
1/2 cup of salted butter
1 Tbsp of vanilla
INSTRUCTIONS
In a medium saucepan, whisk together the sugar and the sifted cocoa powder.  Add the evaporated milk and the butter.  Set the pan on the stove and turn the heat on to medium.  Stir continuously until butter is melted and the sauce is smooth.  Remove from heat and stir in vanilla.  Let the sauce cool for 5 minutes, then serve hot,  Make ahead:  Transfer to a container and store in the fridge until ready to use.  Note that the sauce will become very thick, almost solid-like, when chilled.  To reheat, scoop desired amount into a microwave safe bowl and heat in 15 second increments, stirring in between, until warm.  Keeps well in the fridge for up to 2 weeks, but it will never last that long!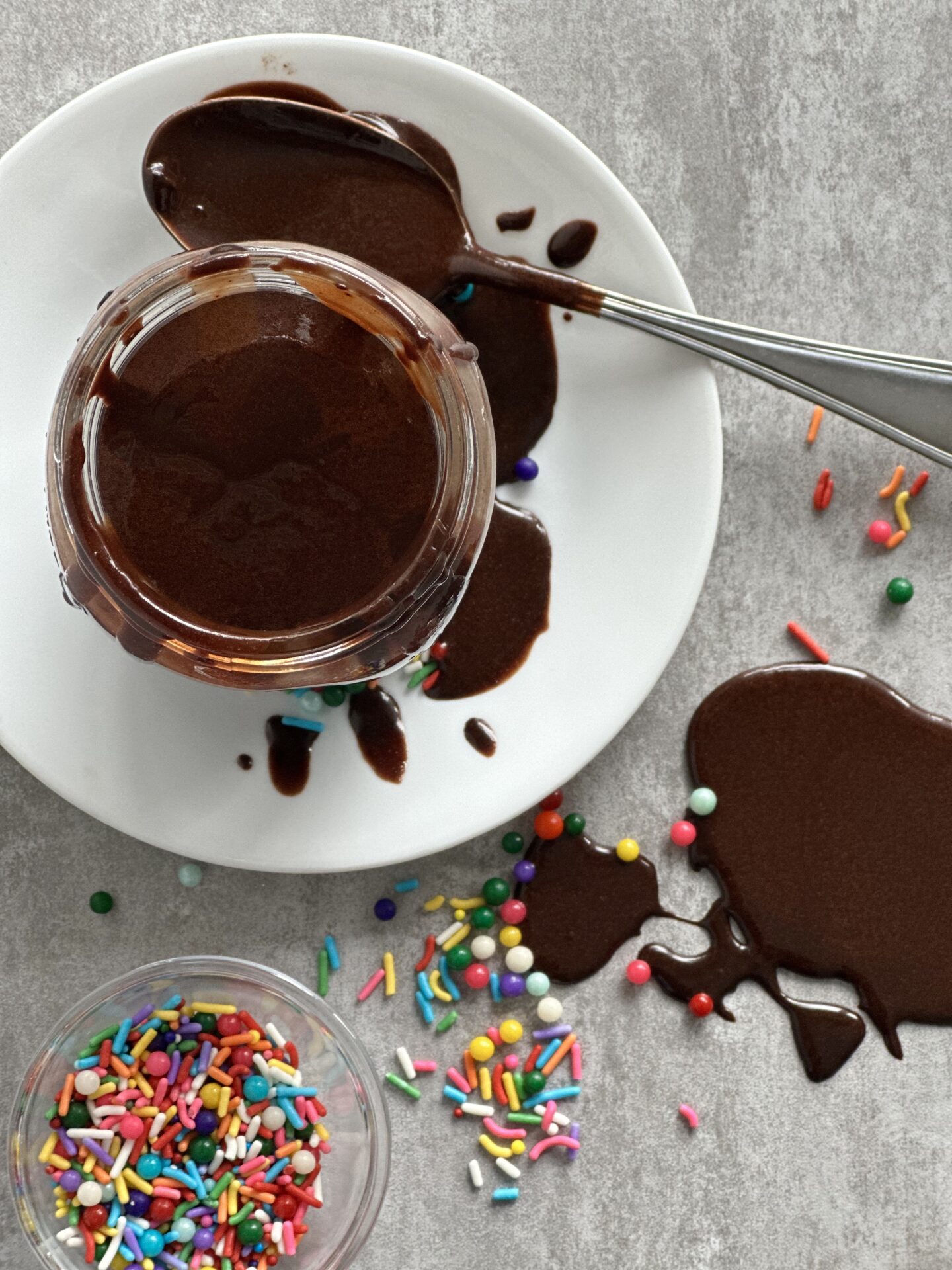 RECIPE NOTES
Vanilla adds depth of flavour to this hot fudge, but you could leave it out or switch it up if you'd like.  For homemade Chocolate Mint Sauce, replace the vanilla with 1 tsp of mint extract.  For a grown up Hot Chocolate Fudge Sauce that will impress your adult guests, add a Tablespoon of Rum, Cognac, Crème de Menthe, Kailua or Amaretto.
When hot, this sauce is thinner and pourable, but becomes thicker and chewier as it cools (or the moment it hits cold ice cream!).
For a smooth sauce, be sure to sift the cocoa powder to remove any lumps.  This is particularly important if the environment is humid, as the humidity can cause clumping.  I often make this sauce at the Lakehouse, where it is HUMID (especially in July and August) and I find that even the freshest cocoa powder can get lumpy (as can the baking soda, flour, baking powder….)!  I use a 5.5″ Fine Mesh Strainer like this one to quickly take care of the sifting.  They are widely available at kitchen supply shops or through Amazon.
Salted butter adds just a little bit of saltiness to offset the sweetness of the chocolate. You can make it with unsalted butter if you wish, but I think the small amount of salt is part of what makes this sauce so delicious.
This sauce keeps beautifully  for up to 2 weeks, though it never lasts that long in my fridge! I like to keep a jar on hand to  add a homemade touch to a quick dessert.  It's the perfect thing to have on hand for last-minute entertaining and impromptu dinner parties.  We have a lot of those at the lake and they're my absolute favourite thing!