Made with tender chicken in a lightly creamy, flavourful sauce, this White Chicken Chili is a delicious alternative to the more common, tomato-based beef chilis.  With the help of a store-bought rotisserie chicken and canned beans, this recipe comes together quickly enough for a weeknight dinner.  The recipe uses just one pot, making clean up a snap.  A combination of mashed beans and just a little cream cheese is used to thicken the sauce, making this chili  hearty and satisfying, but not heavy.  Prepare it ahead for an easy game day dinner, or a soul warming,  Apres Ski meal.  Grab a bowl, load it up with toppings and curl up on the couch by the fire for the ultimate feel-good, winter dinner.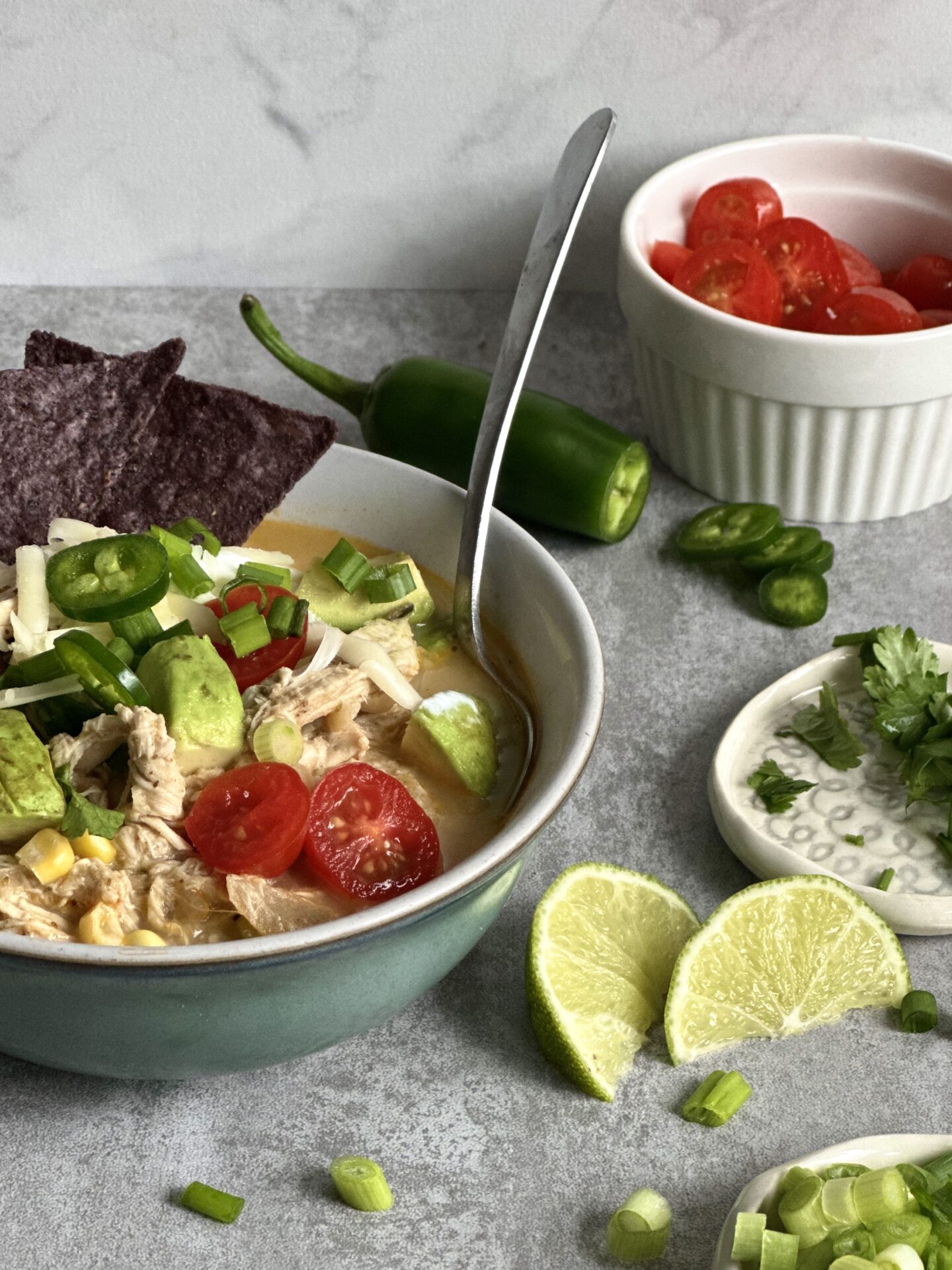 White Chicken Chili
Time: 40  minutes                  Servings: 4-6
INGREDIENTS
1 can (540ml/19 fl oz) white kidney beans, drained and rinsed
1 Tbsp canola oil
1 large white onion, chopped in small dice
2 ribs celery, chopped in small dice
1 green bell pepper, chopped in small dice
1 jalapeno pepper, ribs and seeds removed and finely chopped (optional)
1.5 tsp ground cumin
1Tbsp dried oregano
1 tsp smoked paprika
1 clove garlic, minced
4 cups low sodium chicken broth, homemade or store bought
4 cups of shredded cooked chicken (about the amount of chicken you would get from a store-bought rotisserie chicken)
2 Tbsp plain cream cheese
1/2 cup of corn kernels (fresh or frozen)
salt and pepper to taste
INSTRUCTIONS
1.Place 1/3 cup of the white kidney beans in a bowl and mash to a smooth paste using a fork.  Set aside, along with the remaining whole beans, until needed
2.Heat oil in a dutch oven over medium-high heat.  Add the onions, celery, green peppers and jalapeño (if using) and cook until onions are translucent and other vegetables have begun to soften, about 5-7 minutes.  Add the cumin, oregano and smoked paprika and stir to combine.  Cook, stirring frequently for 1-2 minutes more to toast the spices.  Add the garlic and stir just until fragrant, about 30 seconds.  Stir in the broth and bring to a boil, scrapping up any brown bits at the bottom of the pot.  Reduce the heat to a simmer and add the mashed beans and remaining whole beans.  Cover the pot and simmer for 10-15  minutes until vegetables are tender.
3. Add the shredded chicken and corn, and stir to combine.  Simmer for 5-7 minutes more to heat through.  Remove the pot from heat and stir in cream cheese until melted.  Taste for seasoning and add salt and pepper if needed.  Scoop into bowls and serve with corn chips and desired toppings.
SERVING SUGGESTIONS
This chili is delicious on its own, but I think it is best eaten loaded with toppings and scooped up with corn chips.  Set out your selected toppings and let everyone customise their own bowl.  Any combination of shredded  white cheddar (or Monterey Jack cheese), plain Greek yogurt (or sour cream), lime wedges and chopped tomatoes, green onions, cilantro, jalapenos or avocado will work well. It's also great with a side of cornbread or scooped into a Perfect, Crispy Skinned, Fluffy Baked Potato.
DRINK PARINGS
Chili and beer are a classic pairing for good reason.  A clean-tasting lager such as Corona or Sol will naturally compliment the Tex-Mex flavours of this chili.  The sweetness of a Honey Ale is a good counterpoint if you like to add extra jalapenos.   For wine, try a New Zealand Sauvignon Blanc to compliment the herbs in this dish, or an off-dry Riesling if you like your chili with a little heat.
RECIPE NOTES
Make ahead

:  Like many soups and stews, this chili tastes even better the next day after the flavours have had a chance to meld.  Make it a day or two in advance and reheat for a quick dinner, or enjoy any leftovers for lunch the next day.  The chili may continue to thicken over time.  When you reheat it, thin the sauce as needed with a little extra broth.  This chili keeps well in the fridge, in a covered container, for up to 4 days.

The chicken: This recipe was created with a store-bought rotisserie chicken in mind. It calls for 4 cups of shredded cooked chicken, which is about the amount of meat that a store-bought cooked chicken yields.  Most of these chickens weigh around 2.5lbs/1.1kg, with some of the big box store chickens weighing in closer to 3lbs.  A little more or a little less chicken won't affect the outcome.  You can of course use chicken that you've cooked yourself, if you prefer.
The peppers: This recipe calls for green peppers, because they are reliably available.  Poblano peppers are a great substitution for the green peppers, if you can find them.  I  have yet to see Poblano peppers in my mountain town, but often use them in this recipe when I make it in the city.
The corn:  Since you're most likely making this chili in the dead of winter when corn is way out of season, frozen corn will do just fine.  However, if you should happen to be making this recipe while fresh corn is available, grilling the corn before adding it to the chili adds a particularly delicious layer of flavour.
The broth: Try to use low-sodium chicken broth in this recipe, especially if using a store-bought rotisserie chicken.  Often, store-bought rotisserie chickens are brined in a salt solution before being cooked, which helps to keep them from drying out while they're on the spit, and seasons them throughout.  Canned beans are often high in sodium, so the combination of the salt in the chicken and the salt in the beans is likely to provide all the salt this recipe needs.  Taste before serving and adjust seasoning if needed.
Spiciness: This recipe isn't overly spicy, even if you add the jalapeno.  The right amount of spiciness is a subjective thing, of course.  If you don't care for any spiciness at all, skip the jalapeno all together.  If you like things hotter, add the ribs and seeds along with the rest of the jalapeno.  (Note: It's a good idea to wear gloves when handling jalapenos and other hot peppers, as they can cause skin irritation.    Wash your hands carefully after handling jalapenos and avoid touching your face, especially your eyes.)    I'm the only one in my family who likes spicy heat, so I typically make this recipe without the spice, and add heat to my own bowl in the form of chopped fresh jalapenos, or by way of my current favourite hot sauce.  It's spicy, flavourful and made in Thunder Bay, Ontario!
Rinse your beans:  This recipe calls for canned beans, which saves a lot of time.  Canned beans come in a thick, viscous liquid called aquafaba.  While aquafaba has its uses as a vegan egg substitute, it's not something you want in your chili as it imparts a strange flavour and gloopy texture.  Be sure to pour the canned beans into a colander and rinse them well before using them in this recipe.   If you prefer to used dried beans, make sure to soak and cook them before starting this recipe.
Gluten-free:  This recipe is naturally gluten-free, assuming you use gluten-free chicken broth.  If using store-bought broth, be sure to use one that is certified gluten-free as many brands of chicken broth contain wheat and/or barley.