It's time to ditch the bottled stuff and make a fresher, tastier and healthier Blue Cheese dressing in your own kitchen.  Since the blue cheese is the star of this dressing, use a high-quality blue cheese with a rich texture, such as Danish Blue, Stilton, Maytag or Roquefort.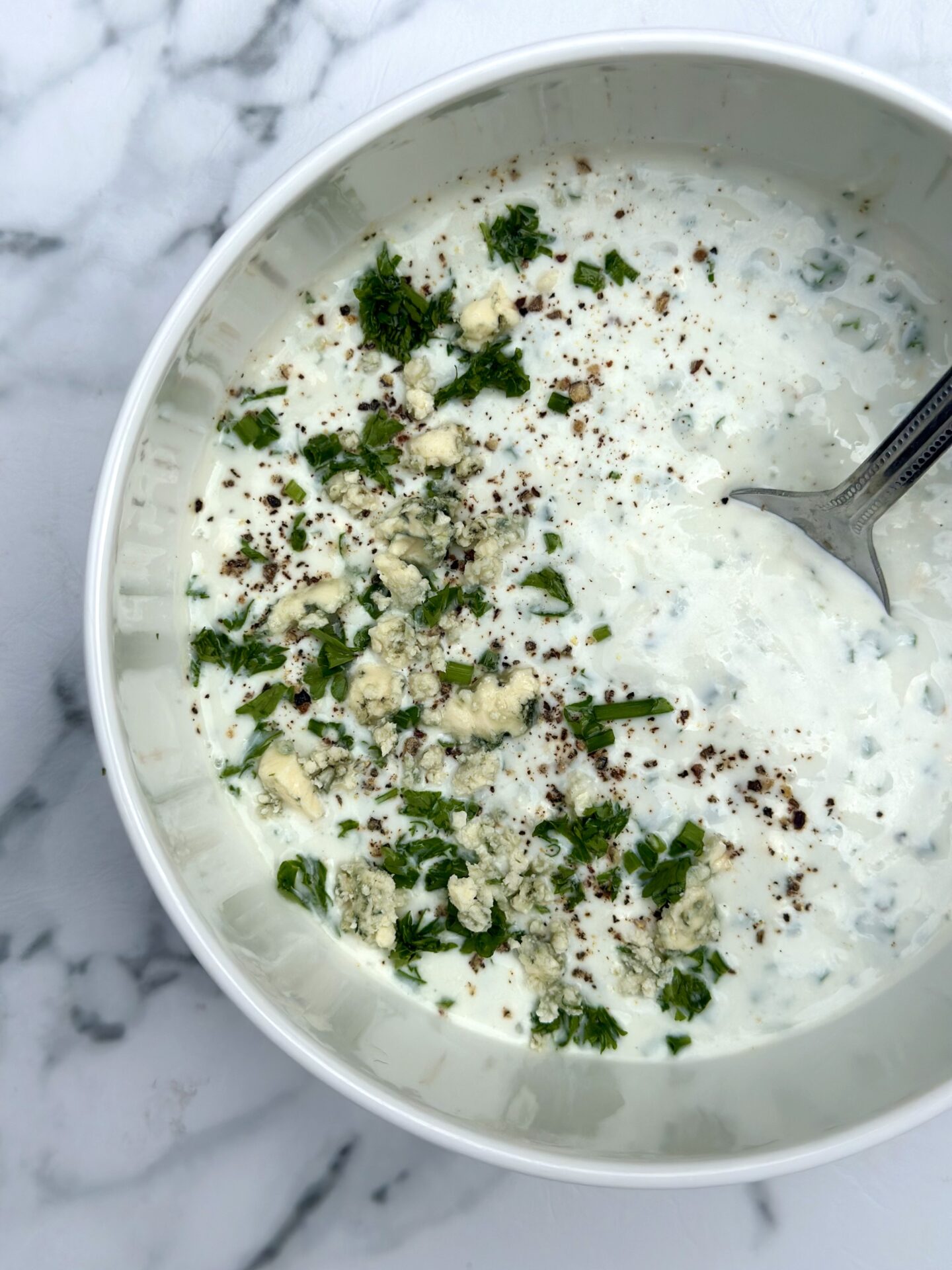 LET'S TALK ABOUT BLUE CHEESE…
There are many, many different types of good blue cheeses available, and some varieties are stronger in flavour than others.  They will all work well in this dressing, so which one you choose is up to you.  If you prefer a milder taste, opt for a Maytag Blue.  If you like your blue cheese robust and pungent, and thus a stronger tasting dressing, reach for Roquefort.  Danish Blues and Stiltons lie somewhere in the middle.  If you're unsure, find a good cheese shop and ask the cheese monger if you can try a few different types of blue cheese to see what you like.
WHAT'S IN IT?
Plain Greek Yogurt:  Blue Cheese Dressing recipes often call for a mix of sour cream and mayonnaise.  To lighten things up without sacrificing creaminess, this recipe calls for plain Greek yogurt,  Look for yogurt with  2% milk fat for a creamy texture, as the non-fat Greek yogurts are often thin, or thickened with additives.
Buttermilk:  For a pourable thickness and added tang, this recipe calls for buttermilk.  No buttermilk in the fridge?  No problem.  Mix 1/4 cup of milk with a small squeeze of lemon juice and let it sit for 5 minutes to make a perfect substitute.
Grated Fresh Garlic: I use a microplane to grate 1/2 of an average size garlic clove to achieve just the right amount of garlic in a super fine mince.  If your head of garlic has some very small cloves, go ahead and use one but watch your fingers on the microplane.
Blue Cheese: Buy a wedge of your favourite blue cheese and crumble it yourself.  Avoid the stuff sold pre-crumbled in the little tubs if you can, as it's typically less flavourful.
Fresh parsley and chives:  Chop them up finely and toss them in!
Lemon juice:  Freshly squeezed lemon juice is best for that extra bit of tang.  
Salt and freshly ground black pepper: I use Diamond Crystal Kosher salt.  If you use another brand, start with 1/4 teaspoon and add more to taste.  The blue cheese adds quite a bit of salt, so you may not need more.  Freshly ground black pepper is delicious in blue cheese dressing so don't hold back.  I like four or five good cracks, but you may like even more.  
SERVING SUGGESTIONS
This flavourful dressing works beautifully on salads, on sandwiches and burgers, or as a dip  for vegetables and chicken wings.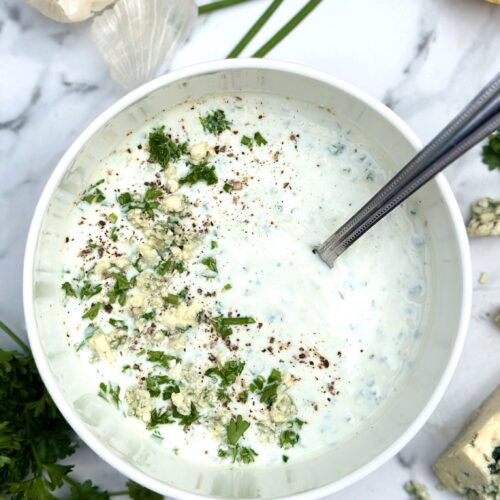 Homemade Blue Cheese Dressing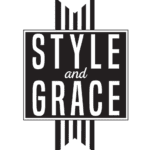 Lighter in calories but heavy on flavour this homemade Blue Cheese Dressing will make your taste buds sing!
Ingredients
1/2

cup

plain Greek yogurt

suggest 2% milk fat

1/4

cup

buttermilk

1/2

clove

fresh garlic, grated

or one small clove

1/2

cup

crumbled blue cheese

2

Tbsp

minced fresh parsley

1

Tbsp

minced fresh chives

2

tsp

lemon juice

1/2

tsp

Kosher salt

freshly ground black pepper to taste
Instructions
In a small bowl, mash together the Greek yogurt, buttermilk, garlic and blue cheese, until blended but small chunks of blue cheese remain throughout the mixture.

Stir in the parsley, chives, lemon juice and salt. Add a few cracks of black pepper and stir to combine. Taste and add more salt and pepper if you'd like. Allow to rest for 30 minutes to allow flavours to blend. Store leftovers in a covered container in the fridge for up to 4 days. Stir before serving.
RECIPE NOTES
I prefer a chunky texture to my blue cheese dressing, so some light mashing with a fork is all that is needed,  If you prefer a smoothly textured dressing, you can combine the ingredients in a blender or food processor and blend until smooth,
The flavour of this dressing improves with time.  A half hour of rest time is great, but if time allows, make this dressing a few hours in advance and place it in the fridge so the flavours can blend.  If you don't have time to wait though, it's okay.  It will still taste delicious, even as soon as it is made.
It is normal for the dressing to separate a little as it sits in the fridge, so stir it up before serving.  
Are you on Pinterest?
Follow me for more delicious recipes, entertaining ideas and inspiration