This soup is a weeknight wonder that comes together in just 10 minutes.  Originally from Rome, this Italian egg drop soup is traditionally made with just broth, eggs and cheese.  The word Stracciatella is Italian for "little rags", and refers to the pillowy soft shreds of egg that are formed when beaten eggs and cheese are drizzled into the gently simmering broth.   In this healthy and modern version, a few more convenience items such as shredded cooked chicken, baby spinach and frozen peas are added to round this soup into a nourishing and satisfying spring time meal.  Serve it up generously and let each person top their own bowl with fresh basil, a drizzle of olive oil, a squeeze of lemon and additional cheese for a take on Stracciatella soup that's high in protein, ready in no time flat, and perfect for spring!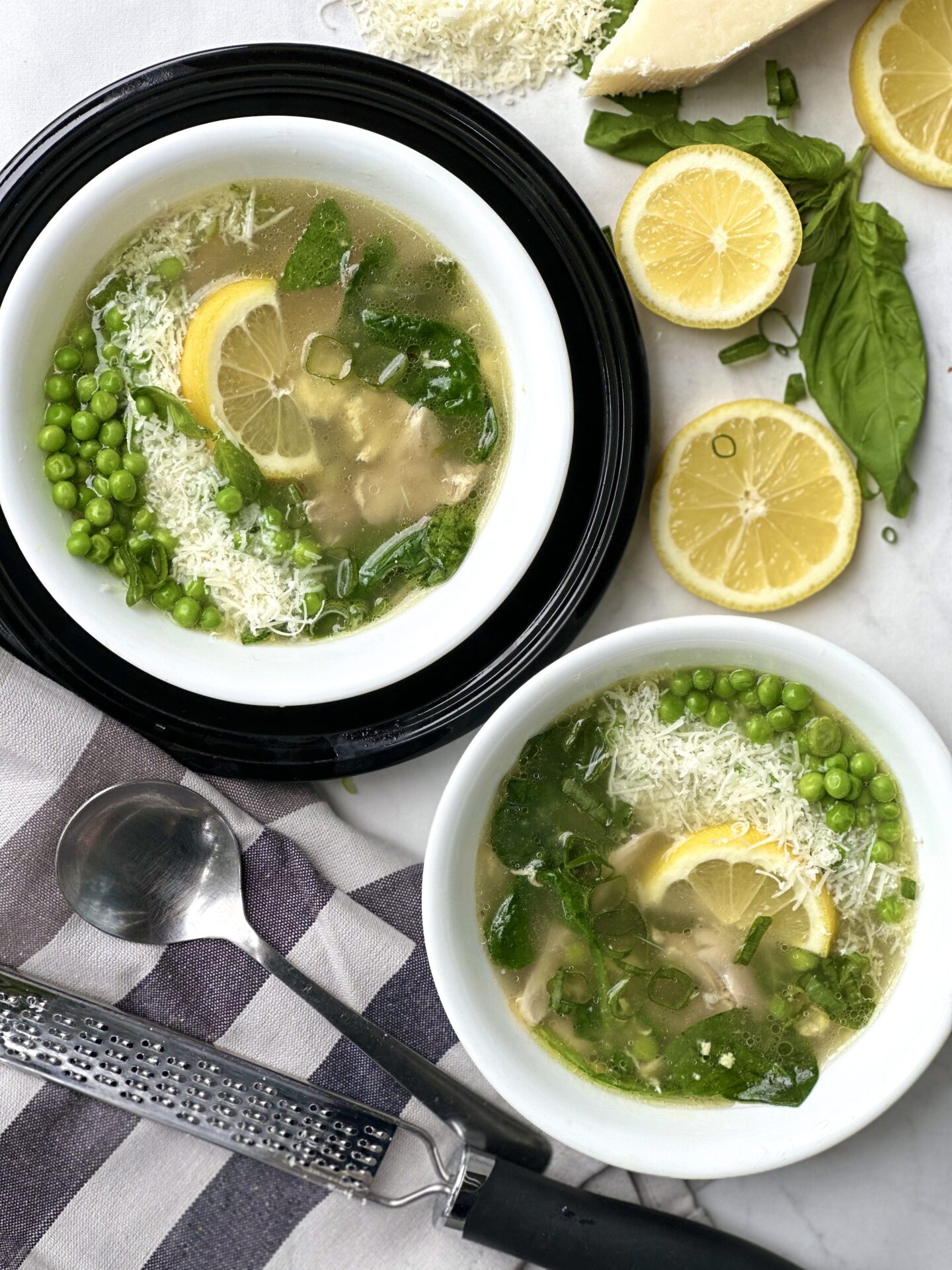 Stracciatella Soup with Chicken and Spring Vegetables
Time: 10 minutes     Serves: 6
INGREDIENTS
8 cups of low sodium chicken broth, homemade or good quality store bought
4 eggs
1/2 cup freshly grated Parmesan or Pecorino cheese
Pinch of nutmeg
2 cups of shredded cooked chicken, leftover or from a store-bought rotisserie chicken
2 good handfuls of baby spinach (about 2 cups, packed)
1 cup of green peas, fresh or frozen
2 green onions, sliced
Freshly cracked black pepper, lemon wedges, good olive oil, torn fresh basil and additional Parmesan cheese for serving
INSTRUCTIONS
1- In a large saucepan or dutch oven, bring the broth to a boil, then reduce to a simmer.
2- Meanwhile, crack the eggs into a bowl and whisk together with the parmesan cheese and nutmeg.
3- Gently stir the simmering broth in a circular motion to create a gentle whirlpool.  Continue to stir while you slowly drizzle the egg mixture into the moving broth, to create thin strands of egg.
4- Stir in the chicken, peas, spinach and green onions.  Cook for 1 minute, or until spinach has wilted, peas are bright green and chicken is heated through.  Ladle the soup into bowls and serve with torn fresh basil, freshly cracked black pepper, a drizzle of olive oil, lemon wedges and additional cheese.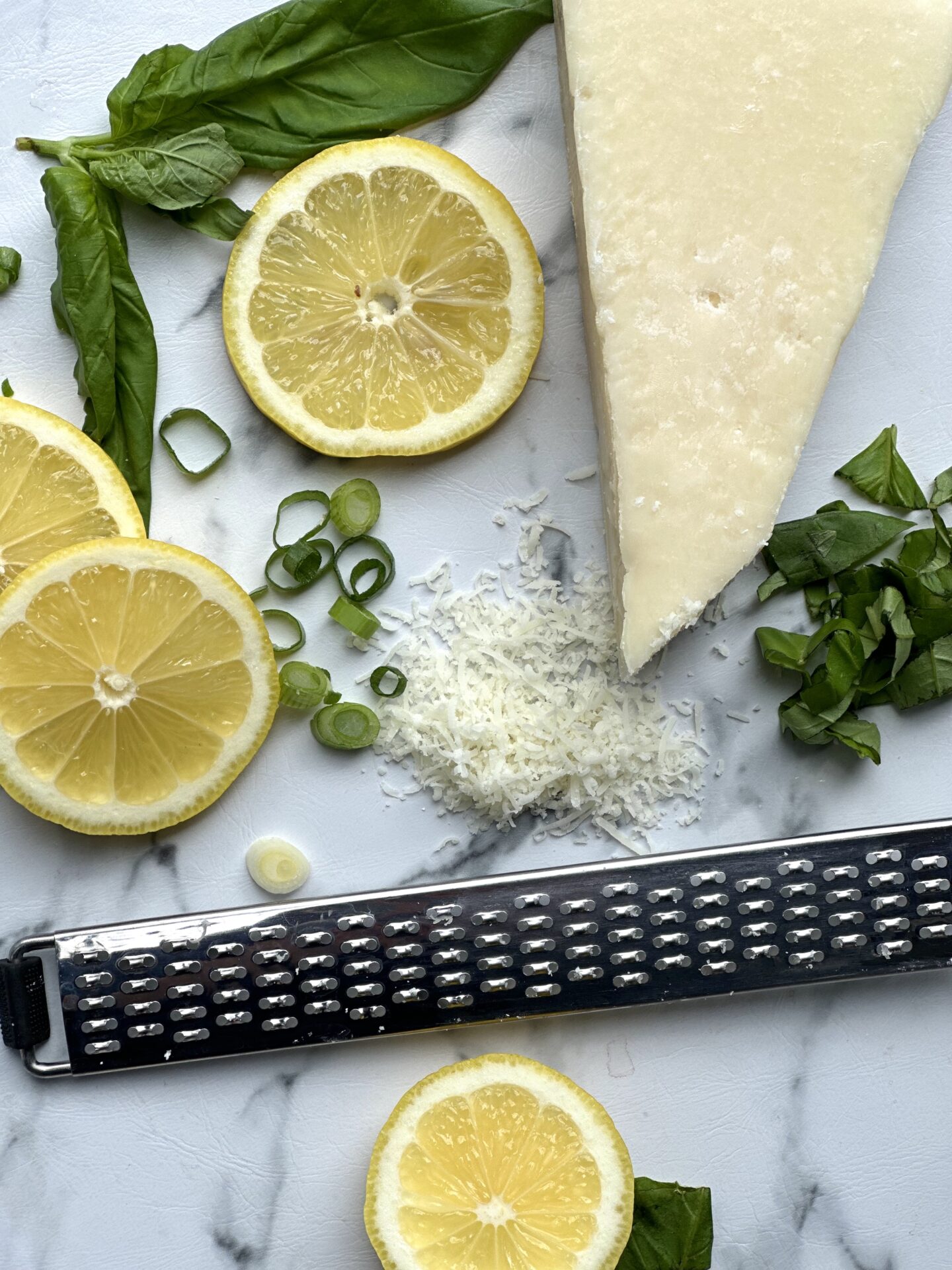 SERVING SUGGESTIONS
The beauty of this soup is that it is a fast, healthy and fresh meal all in one bowl, so you don't need much to accompany it.  A loaf of fresh bread with a good quality olive oil for dipping is all you need!
DRINK PAIRING
To compliment the saltiness of the cheese and fresh green flavours of the vegetables in this Stracciatella soup, reach for a New Zealand Sauvignon Blanc or an Italian Soave.
RECIPE NOTES
To make store bought broth taste better, enhance it by adding a Tbsp of tomato paste, a peeled and smashed garlic clove and a bay leaf while the broth simmers.  Scoop out the garlic and bay leaf before serving.
Turn your Stracciatella Soup into heartier Pastina Stracciatella, by stirring in very small pasta shapes, such as Stelline (tiny stars!) into the simmering broth.
This soup is best eaten immediately, but leftovers can be stored in the fridge for up to 2 days.  Reheat gently before serving.