This easy Light and Lucious Lemon Dip can be whipped up in minutes for a fresh spring take on classic veggies and dip.  Made with just 6 ingredients that you probably have on hand (or just 5 ingredients if you count the lemon zest and lemon juice as coming from a single ingredient – lemons!), this healthy dip is creamy, zesty and full of fresh flavour!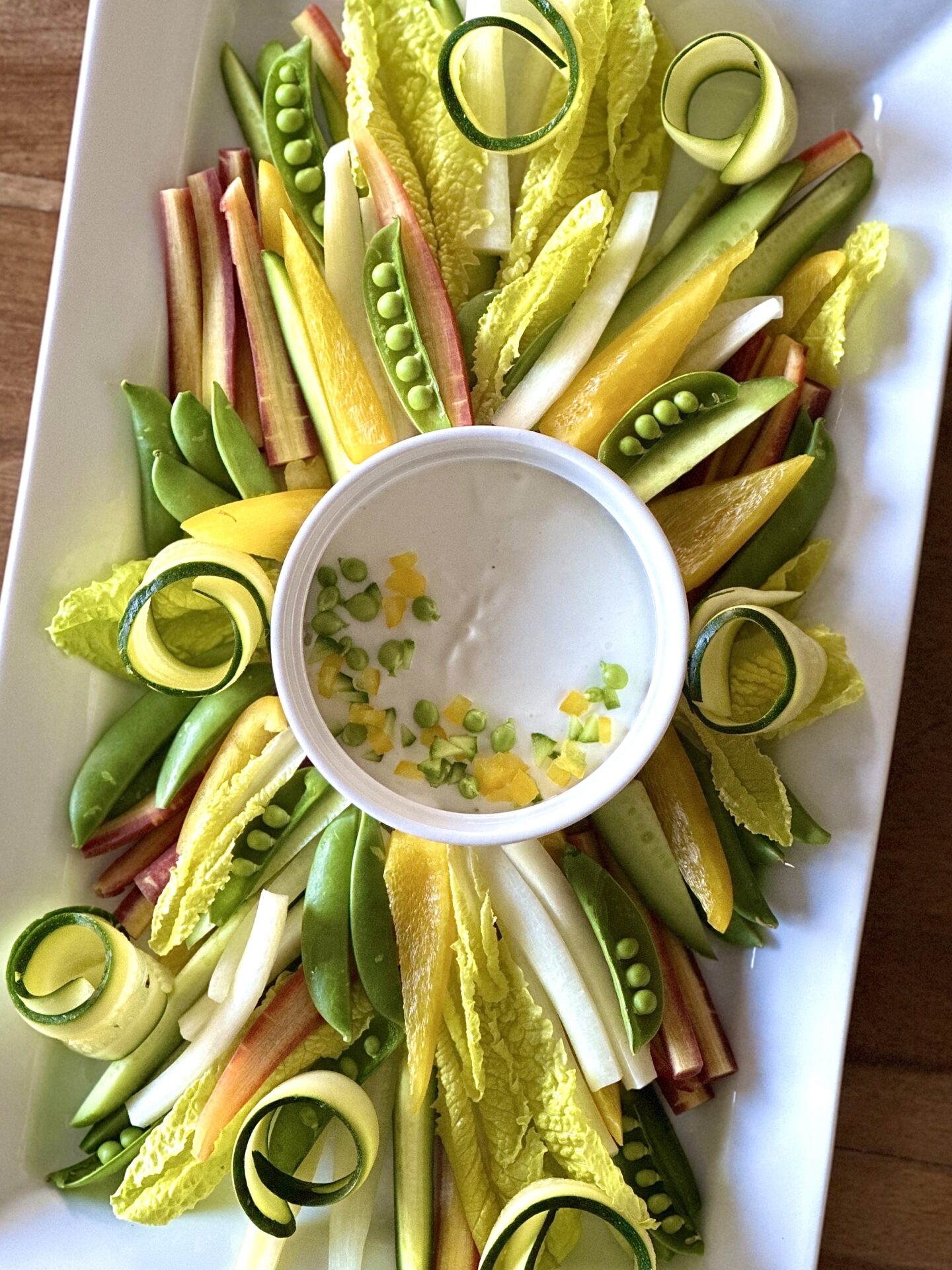 Creamy, Light and Lucious Lemon Dip
Time: 5 minutes           Yield: 1 cup 
INGREDIENTS
3/4 cup plain Greek yogurt
3 Tbsp plain, brick style cream cheese
zest of a lemon
3 Tbsp freshly squeezed lemon juice
1/2 clove of fresh garlic (or one very small clove), green germ removed
1/2 tsp kosher salt
INSTRUCTIONS
Combine all ingredients in a food processor and blend until smooth.  Taste and adjust salt to your preference.  Refrigerate until ready to serve.
SERVING SUGGESTIONS
Serve this bright and creamy dip with an assortment of fresh vegetables.  It is also delicious with poached shrimp, bread sticks or crackers, or as a light and lemony counterpart for fried foods such as plain potato chips, fritto misto or battered seafood.  Instead of a squeeze of fresh lemon, try this lemon dip spooned over grilled fish.  For an innovative but substantial appetizer, serve it as a dip for grilled chicken skewers and asparagus spears.
DRINK PAIRINGS
A chilled Pinot Blanc is the perfect pairing for this dip served with crunchy fresh vegetables.  Pinot Grigio would be the perfect pairing for this light, lemony dip served with fried seafood.
RECIPE NOTES
Greek Yogurt

: Whole milk Greek Yogurt (about 4% milk fat) will deliver creamy, full flavour results.  Avoid non-fat or low-fat yogurt as these will yield a less creamy, thinner dip

Garlic:  This dip needs just a hint of garlic, so the recipe calls for 1/2 of a regular clove or 1 very small clove.  Why remove. the germ?  It's debatable as to whether or not the germ (that little green sprout sometimes present in the centre of the garlic clove) is responsible for the burn that comes from raw garlic.  I think it's more likely that the burn comes from older garlic, that has started to sprout as a result of its age, rather than the germ itself.   Either way, try to use fresh, young garlic that has no visible germ or a very small germ.  If your garlic does have a bright green sprout in the centre, is easy to remove by slicing the clove in half and lifting out the germ with  the tip of a small knife.  Selecting garlic:  When buying garlic, look for heads that feel hard when squeezed.   The papery outer layers should be firmly attached.  Garlic that gives when squeezed, or has loose and peeling papery skin, or has a visible green sprout, is old garlic.  Reducing the bite:  If your garlic is overly pungent, and has more burn than flavour, try soaking it in a little lemon juice before using it to remove a bit of the bite.
Vegetables:  This dip works well with just about any vegetable.  In fact, I'm having trouble thinking of a vegetable this dip wouldn't like!   I love it with a platter of roasted winter vegetables such as beets, squash, Brussel sprouts and potatoes.  For this Spring time take on a vegetable platter, look for colourful heirloom carrots, small cucumbers, sugar snap peas, romaine hearts, zucchini ribbons and yellow bell peppers.
Zucchini curls:  The most asked question is always "How do you make those zucchini curls?".   It's very easy!  Thinly slice a small zucchini into strips, using a pairing knife,  or a mandolin, if you have one.  Roll each strip into a curl and pin it to hold with a toothpick.  Drop each zucchini curl into a bowl of ice water and chill for about 15 minutes.  Remove from the ice bath, pat dry and take out the toothpick.  Add to crudité platters and snack boards for style and interest!