Make your breakfast extra Merry and Bright with homemade Gingerbread Granola. Loaded with oats, toasted nuts, chia seeds and egg whites, this warmly spiced and protein-packed granola will delight your taste buds and give you the energy you need for a day of winter holiday activities. The warm gingerbread flavours, sweet molasses, maple syrup, dried fruit and candied ginger (and optional snowflake sprinkles!) make this Gingerbread Granola special enough to serve on your Christmas morning buffet. You can make it in advance and store it in the freezer, but it's so delicious and convenient, I think you'll find yourself reaching for handfuls well before the big day…so maybe make a double batch! Or, make this easy recipe today, then make a batch again tomorrow, because you're going to love how this wonderful Gingerbread Granola makes the whole house smell like Christmas!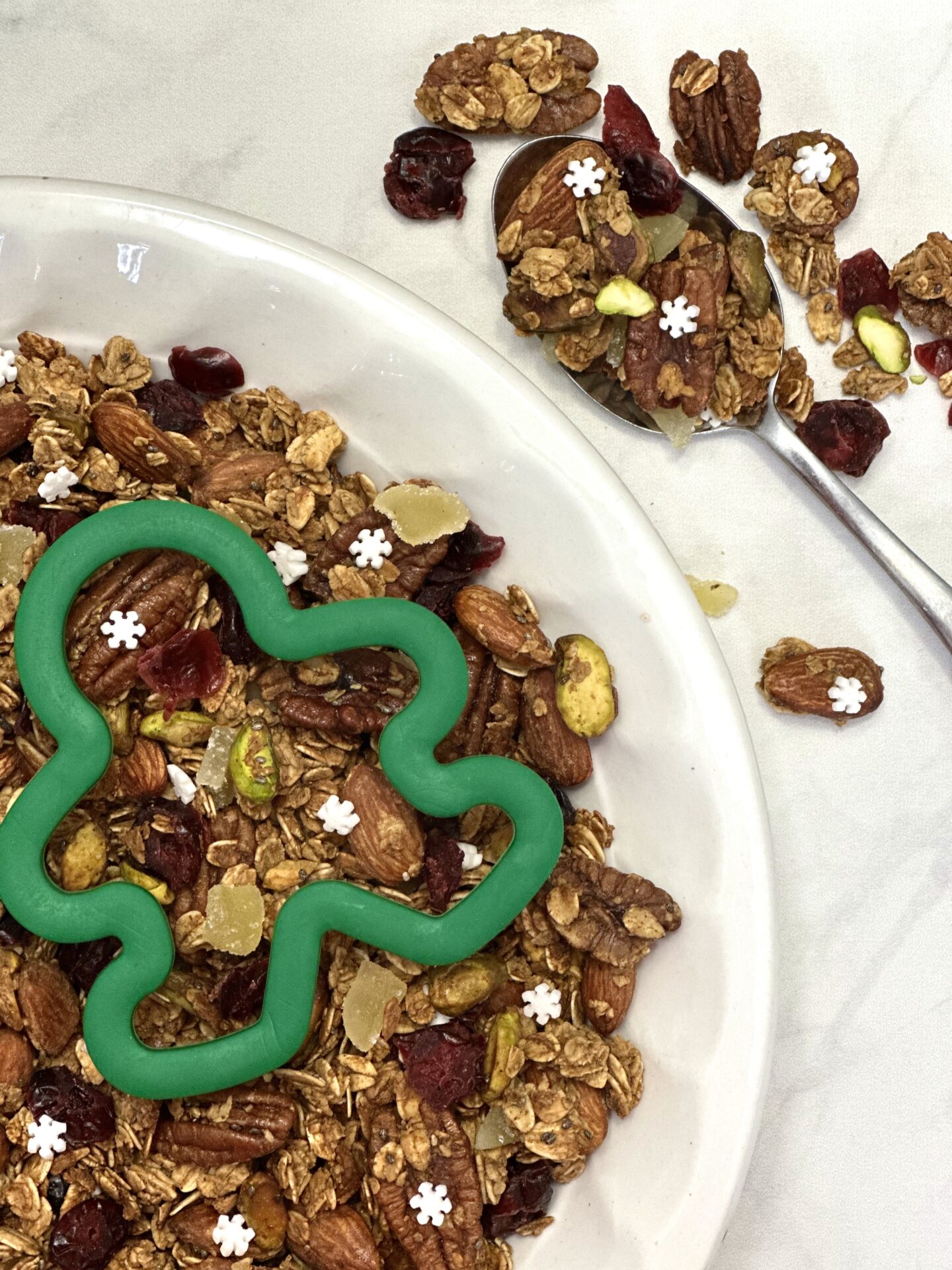 HOLIDAY GINGERBREAD GRANOLA
Time: 45 minutes Yield: makes 8 cups
INGREDIENTS
3 cups of rolled oats (sometimes called large flake oats or old-fashioned oats)
1 cup of quick oats
1 cup of raw pecans
1 cup of raw almonds
1/2 cup of shelled pistachios
2 egg whites
1/4 cup molasses
1/3 cup maple syrup
2 Tbsp coconut oil, melted
1 tsp ground ginger
1 tsp ground cinnamon
1/4 tsp ground cloves
pinch of nutmeg
1 tsp kosher salt
zest of 1 orange
2 Tbsp chia seeds
1/4 cup finely chopped candied ginger
1 cup chopped dried pear
1 cup dried cranberries
1-2 Tbsp snowflake sprinkles (optional)
INSTRUCTIONS
Preheat the oven to 325F degrees. Line a large baking sheet with parchment paper and set aside.
In a large mixing bowl, stir together the rolled oats, quick oats, pecans, almonds and pistachios.
In a separate medium size bowl, add the egg whites and whip with a fork until frothy. Add the molasses, maple syrup, melted coconut oil, ginger, cinnamon, cloves, nutmeg, salt, orange zest and chia seeds. Stir until well blended. Pour the liquid ingredients over the oat mixture and stir with a silicone spatula until oats and nuts are evenly coated in the molasses mixture.
Pour the oat mixture onto the prepared baking sheet and use the spatula to smooth it out into an even layer. Bake for 15 minutes, then remove from oven and stir well. Spread the granola out evenly again, and bake for 10 more minutes, or until granola is lightly golden. Remove from oven and allow to cool. The granola will crisp up as it cools.
Once the granola is cool, break up any large pieces. Sprinkle the granola with the candied ginger, dried pear, dried cranberries and snowflake sprinkles (if using). Stir to combine. Store the granola in an airtight container, where it will stay fresh at room temperature for about a week.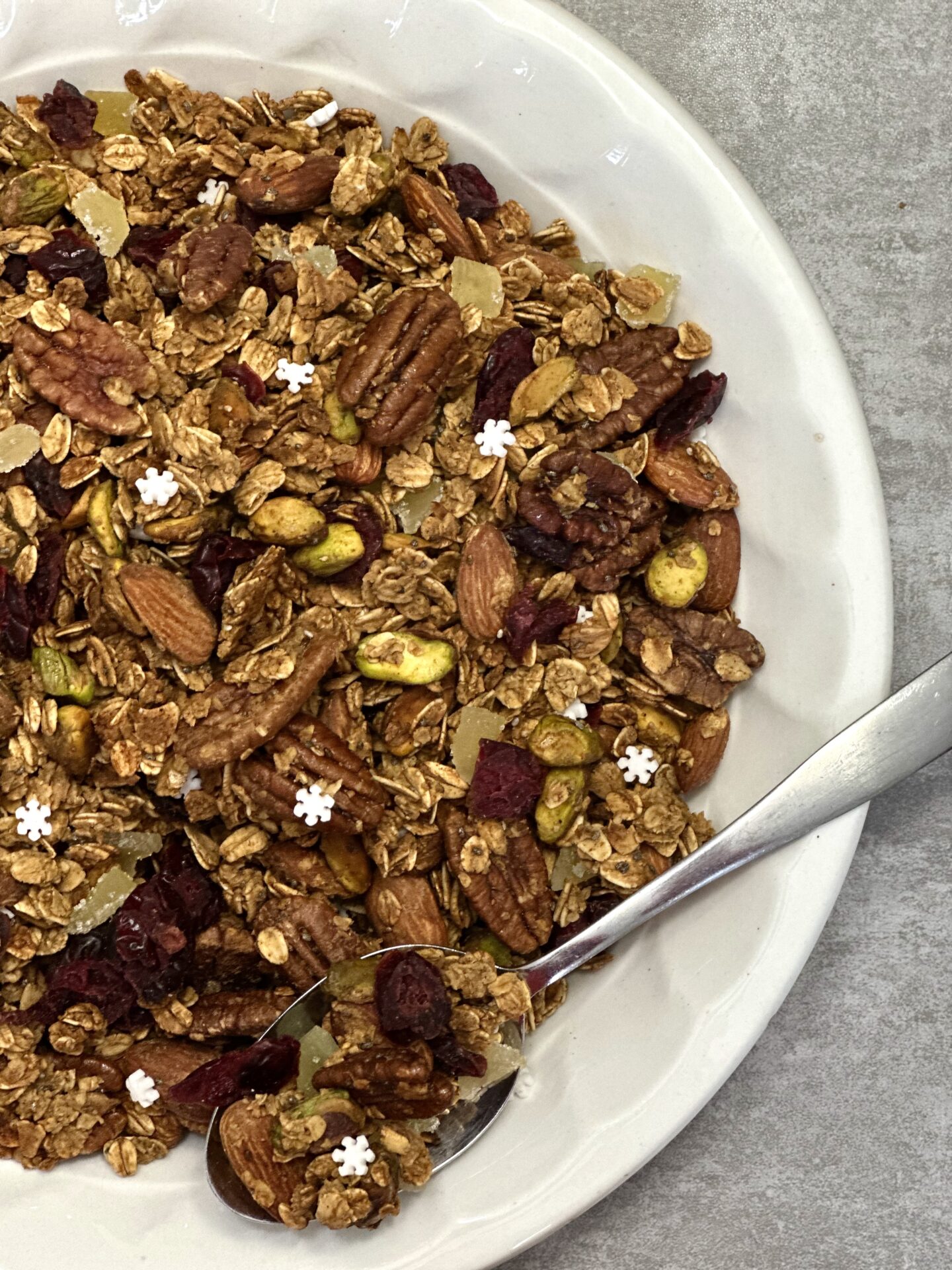 SERVING SUGGESTIONS
Eat out of hand as a snack, or serve in a bowl with milk or yogurt. I like to top mine with fresh fruit, such as pomegranate seeds and clementine slices.
DRINK PAIRINGS
Since this is usually a breakfast food, I typically serve Gingerbread Granola with coffee, tea and juice. For a change from the typical orange juice, I find pear juice goes particularly well with this granola. For a festive holiday brunch, try pairing this granola with a Cranberry Mimosa (also known as a Poinsettia Cocktail).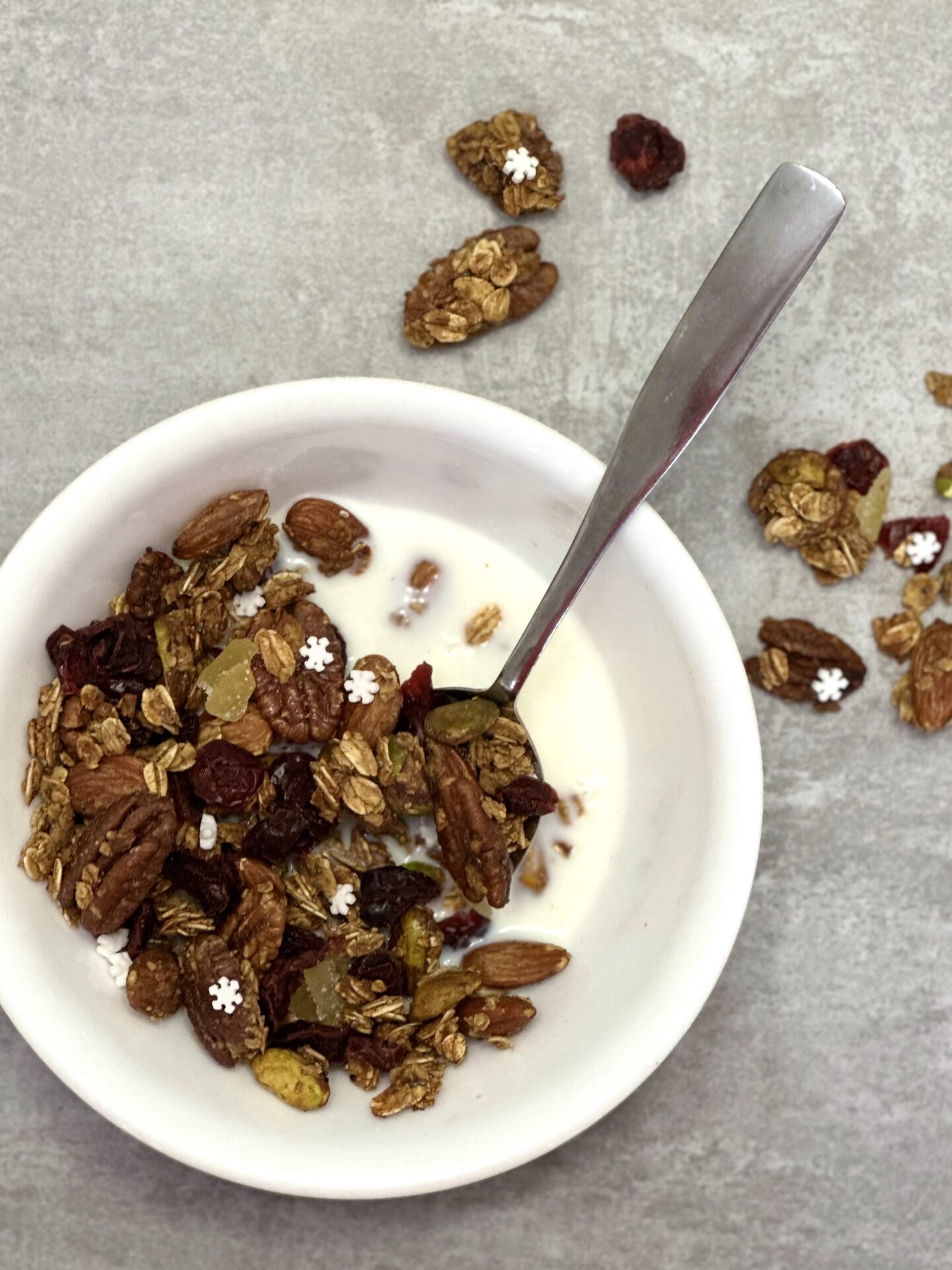 RECIPE NOTES
Crisallised ginger, sometimes called candied ginger, is often available where dried fruit is sold, or can be found online.
Granola can be frozen in an airtight container for about 2 months. Bring to room temperature before serving.