An irresistibly crunchy mix of sweet and salty flavours with a subtle touch of heat make these mixed candied cocktail nuts the hit of the holiday party! Add these sweet and spicy nuts to a cheese platter or serve them alongside a tray of Manhattans for a simply addictive appetizer or cocktail hour snack.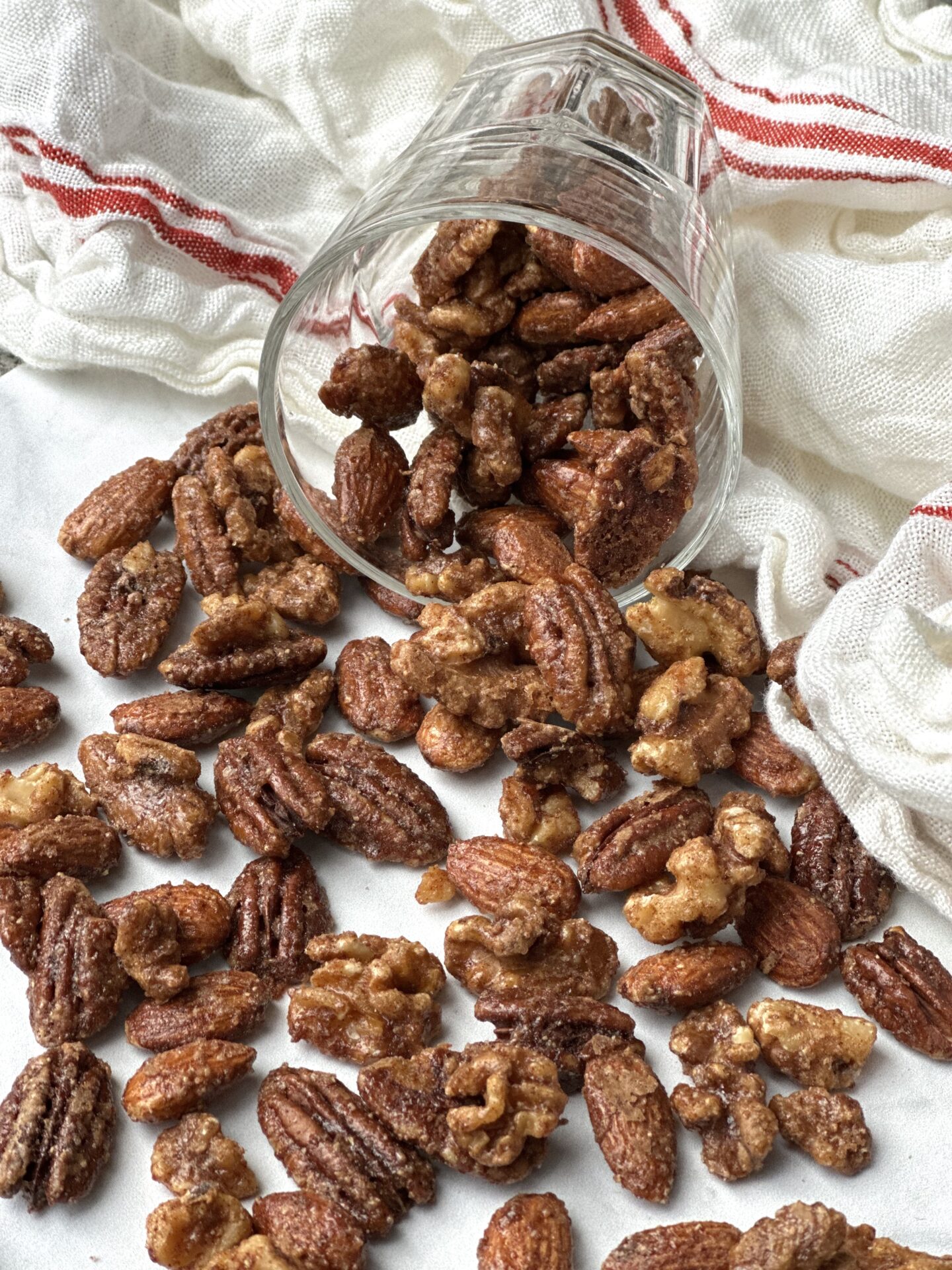 Sweet and Spicy Cocktail Nuts
TIme: 50 minutes Yield: 3 cups
INGREDIENTS
1/3 cup of white sugar
1 tsp cinnamon
1/2 tsp smoked paprika
1/2 tsp garlic powder
1/4 tsp cumin
1 tsp kosher salt
1 large egg white
2 tsp Franks Red Hot Sauce
3 cups of nuts, such as a mix of almonds, walnuts and pecans
INSTRUCTIONS
Preheat the oven to 250F degrees. Line a large baking sheet with parchment paper and set aside.
In a small bowl, combine the sugar, cinnamon, smoked paprika, garlic powder, cumin and salt. In a separate large bowl, use a fork to whip the egg white with the hot sauce until well combined and foamy. Add the mixed nuts and stir to coat evenly. Sprinkle the sugar mixture over the nuts, 1/3 at a time, tossing in between additions to make sure each nut is evenly coated.
Dump the coated nuts onto the prepared baking sheet and use a rubber spatula to spread them out into a single layer, spacing the nuts out as much as possible. Bake for 20 minutes, stir the nuts with the spatula, then bake for 20 minutes more. Remove from the oven and cool completely. Break up any clusters and transfer to an airtight container for up to a week.
SERVING SUGGESTIONS
These versatile candied nuts are great as a simple snack, or as part of a dish. Though they are quite addictive, they are a simple appetizer that is unlikely to ruin dinner. There's nothing worse than working hard on a dinner that your guests are too full to eat ….all because YOU served them too many delicious heavy appetizers! For a dinner party, a drink and a scrumptious nibble (like a pretty bowl of these delicious nuts!) are all you need to whet appetites before the main event. Add these sweet and spicy nuts to a cheese board for a cocktail party, a girls night in or a holiday open house. Chop them up and add them to salads, sprinkle them over a melty wheel of brie or serve them as a topping for baked sweet potatoes. For dessert, crush them over vanilla ice cream with caramel sauce, make them into quick breads to add unexpected flavour, or use as a decoration for cakes. The possibilites are endless, so be sure to Pin this recipe and keep a batch of these nuts on hand in your freezer. For more on making these candied nuts in advance, scroll down to the Recipe Notes section below for freezing instructions.
DRINK PAIRINGS
I can't think of a better match for these delicious nuts than a classic Manhattan cocktail. Rye Whisky, typically the leading spirit in a Manhattan, has smoky and spicy flavours that pair perfectly with the hint of smokiness and light spicy heat in these nuts. You can't go wrong with the classic recipe for a Manhattan (Stir together 2oz Rye Whisky, 1 oz Sweet Vermouth and 2 dashes of Angostura Bitters. Garnish with a cocktail cherry.), but I prefer to make my Manhanttans with just the slightest twist. These minor tweeks add a touch of personalized style that take a Manhattan from " it's good" to….. " WOW, that's GOOD!".
STYLE AND GRACE MANHATTAN
Servings: makes 1 Time: under 5 minutes
2oz Canadian Rye Whisky
1oz Sweet Vermouth
1 dash of orange bitters
a thin, 2″ strip of orange zest
1 good quality cocktail cherry
Stir together the Rye, Vermouth and orange bitters. Garnish with the strip of orange zest and a cocktail cherry.
Manhattans are traditionally served in a low ball, or in a stemmed cocktail glass. These Nick and Nora glasses from Riedel are my favourite.
RECIPE NOTES
The nuts may feel slightly sticky and taste soft when they first emerge from the oven, but will dry out and crisp up as they cool.
These nuts have a very mild spicy heat to them – just a touch of heat to round out the flavours. If you want to make the nuts spicier, add 1/4 tsp of cayenne pepper to the recipe. (Add it to the spice mix, along with the sugar, cinnamon, smoked paprika, garlic powder, cumin and salt.)
To freeze, spread the cooled nuts on a tray and transfer to the freezer for an hour. Transfer the frozen nuts to a resealable plastic bag and squeeze out all the air. Store in the freezer for up to a month.