Delight your Halloween guests with a dark and moody cheese board crawling with Eek-inducing Cheddar Cheese Mice! Easy to make and delicious to eat, these cheesy critters will add just the right amount of Halloween charm to get you in the spooky spirit!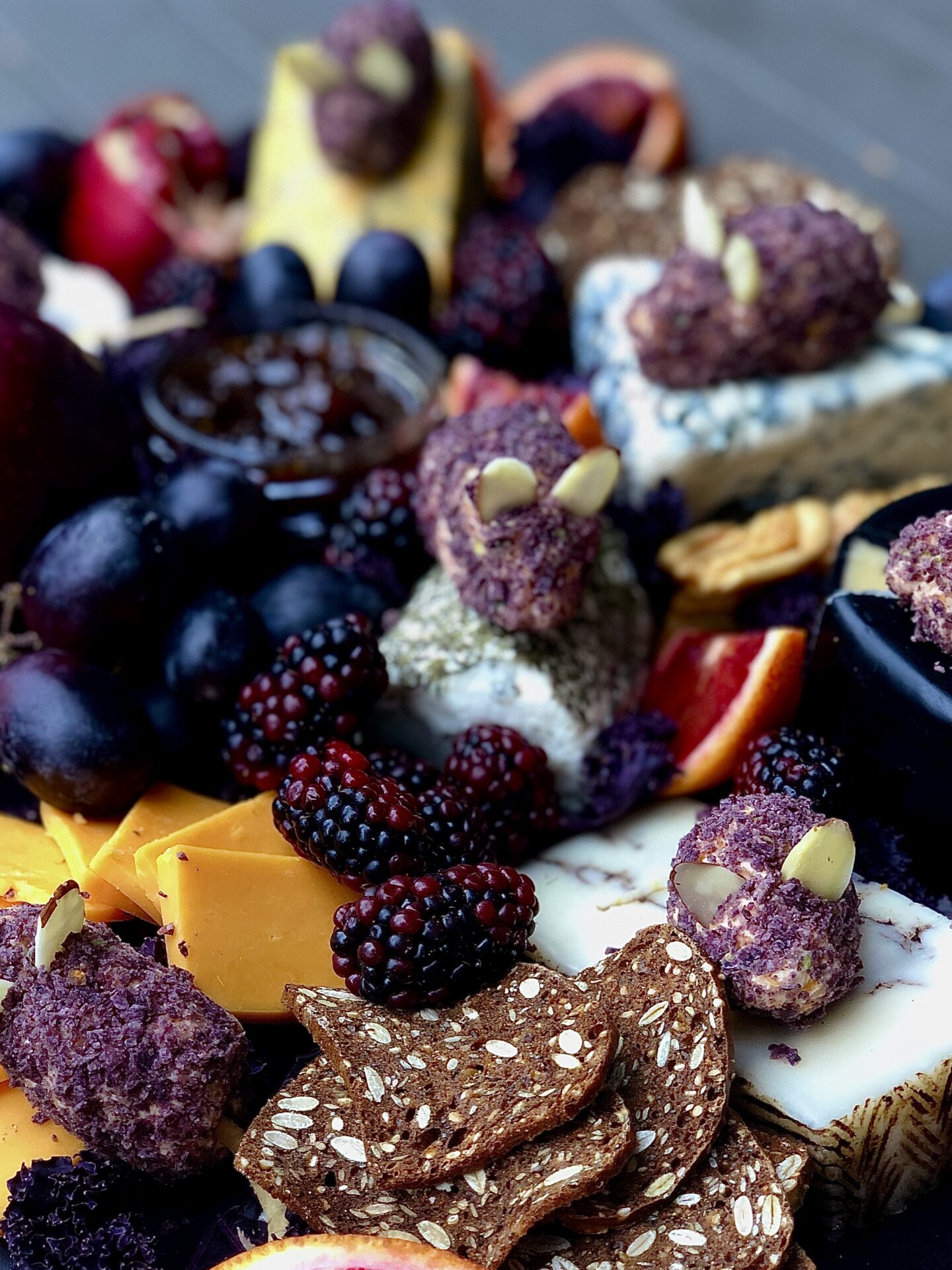 CHEDDAR CHEESE MICE
Time: 30 minutes
Servings: makes 8 mice
INGREDIENTS
A few handfuls of Blue Corn Chips
1 parsnip
1/2 cup of Cream Cheese, softened
1 cup of grated Old Cheddar Cheese
2 green onions, minced
1/4 tsp garlic powder
4 dashes of Worcestershire Sauce
Pinch of Cayenne Pepper (optional)
16 almond slices
INSTRUCTIONS
Place the blue corn chips in a resealable bag and use a rolling pin to crush the chips to a fine powder. Or, add the chips to a food processor and blitz until crushed. Pour into a small bowl and set aside.
Wash the parsnip well. Using a vegetable peeler, cut a long strip of peel from the parsnip. Reserve the piece of peel, and save the rest of the parsnip for another use. Place the reserved piece of parsnip peel on a cutting board and cut 8 thin strips, each about 3″ long, to make the tails. Set aside.
In a medium bowl, add the cream cheese, cheddar cheese, green onions, garlic powder, Worcestershire sauce and cayenne pepper (if using). Mix together until well combined. Divide the mixture into 8 equal portions and roll each into a ball. Working with one ball at a time, taper one side of the cheese ball to mold it into a tear drop shape to resemble a mouse. Roll the cheddar cheese mouse in the reserved crushed corn chips, pressing gently to adhere. Add almond slices for ears and a piece of the parsnip peel for a tail. Repeat to make 8 mice. Store in an airtight container in the fridge until ready to serve.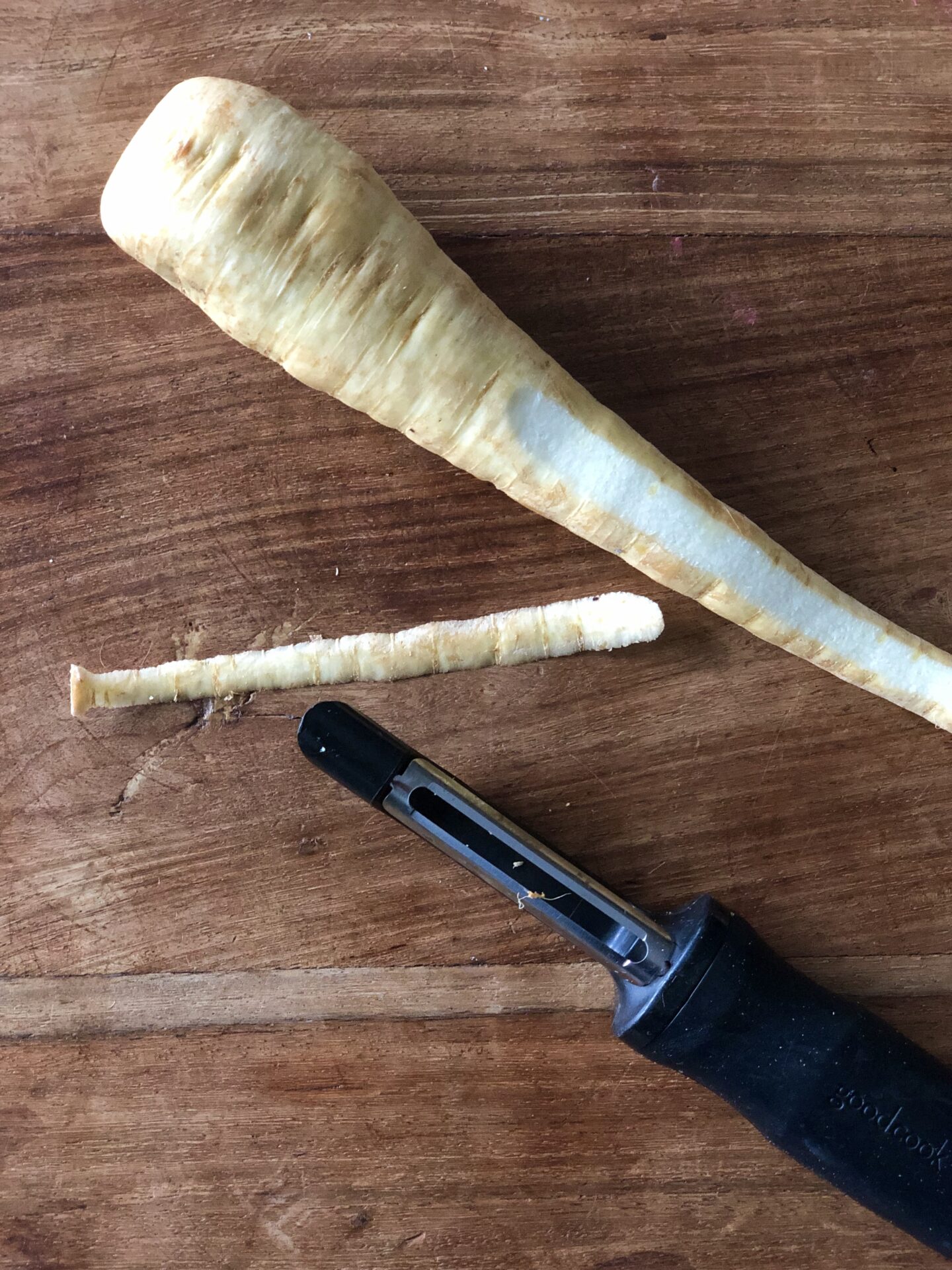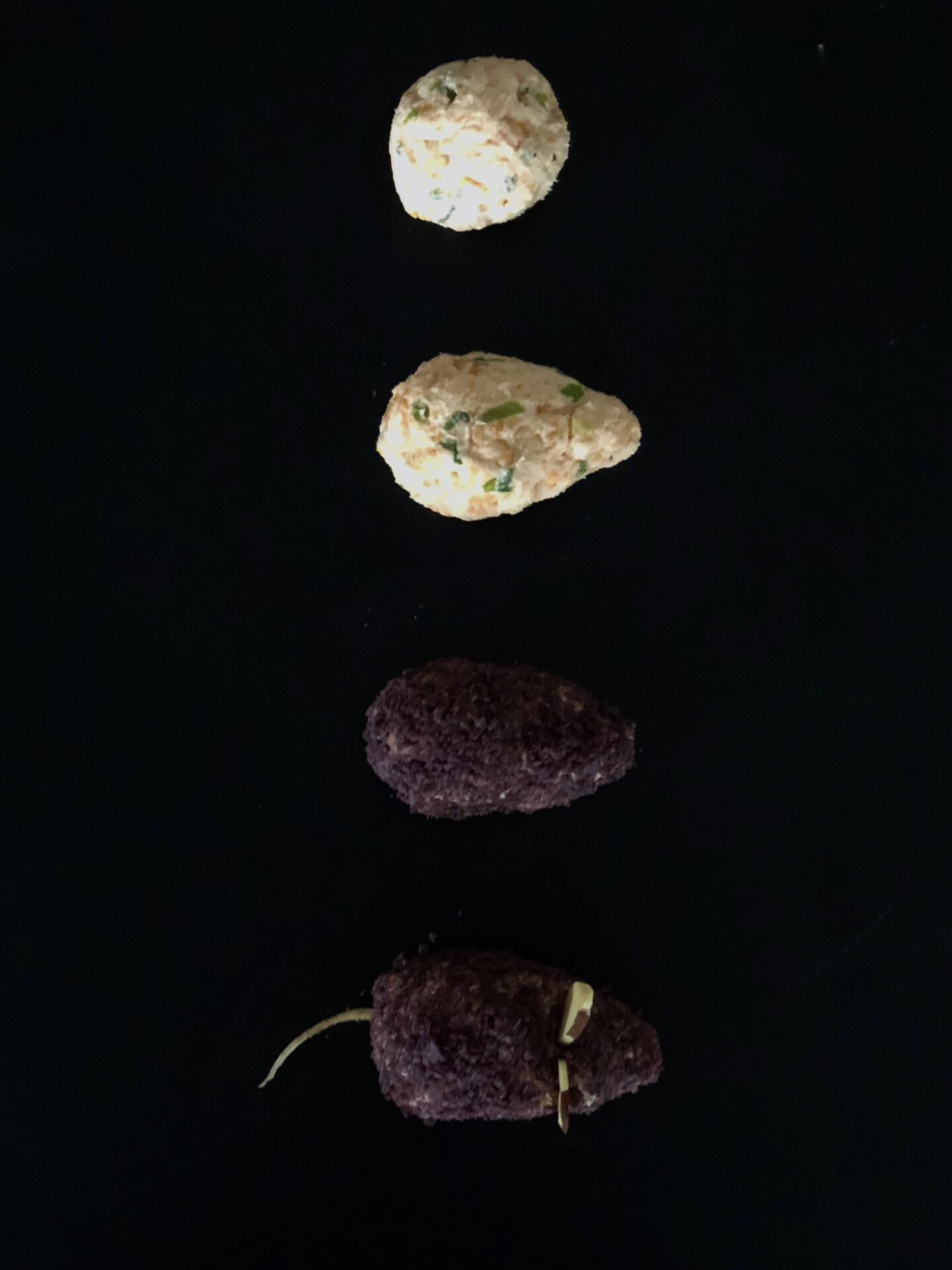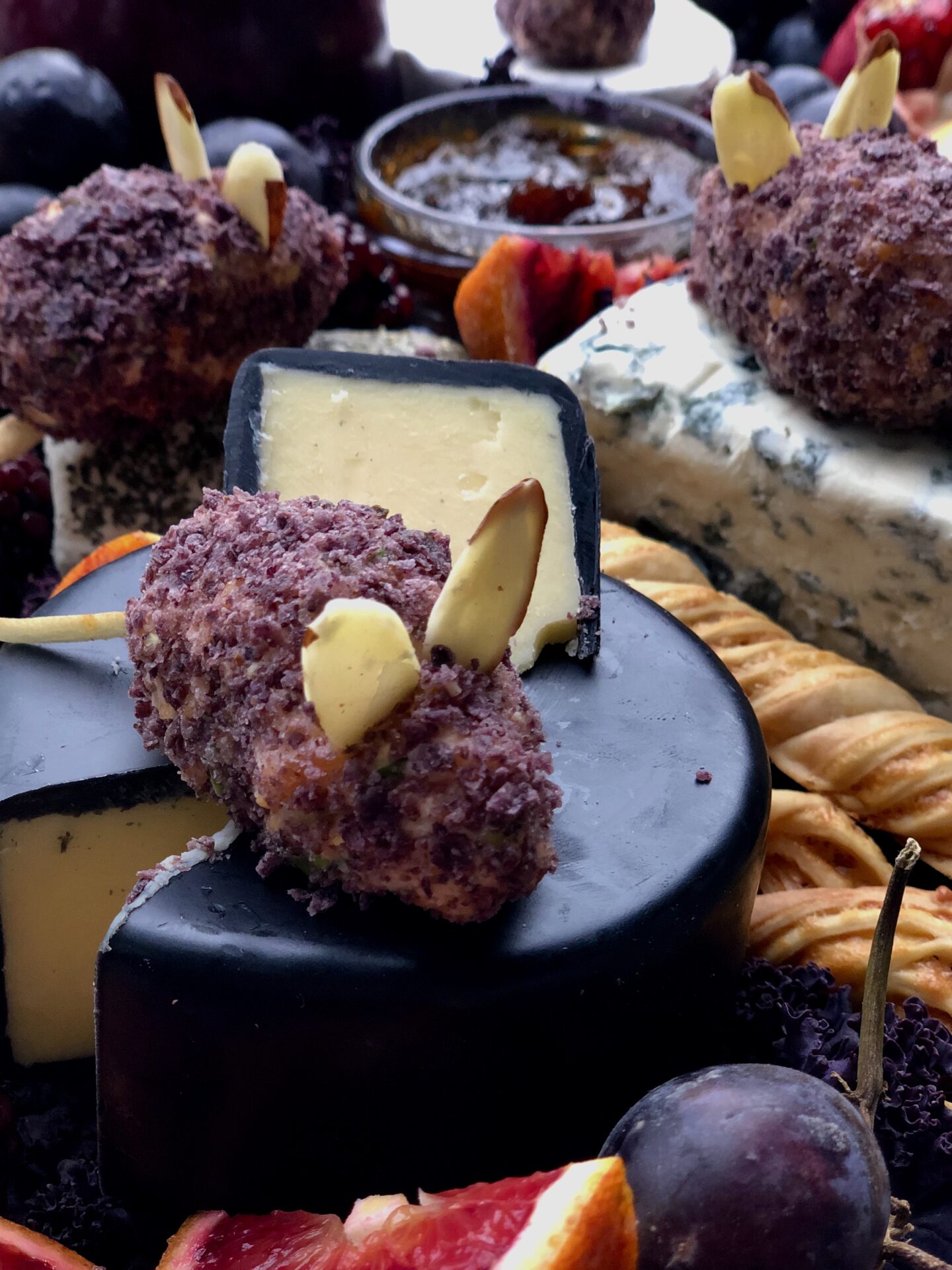 SER
VING SUGGESTIONS
These little mice are the perfect addition to a grazing platter of cheese and fruit. For my Halloween-themed cheese board I started by choosing a colour scheme, then set out to find an assortment of cheeses that fit the black-white-orange theme that I had selected. Here's a break down of my board:
Veined cheeses lend a creepy vibe, so I was pleased to find the orange veined Shropshire blue cheese, the creamy white and gray veined St Agur and the Truffle-laced Manchego.
The black wax coated cheese is Black Bomber from Snowdonia Cheese Company.
I picked up a small wheel of brie, and an herb and black pepper crusted goat cheese.
To lend additional orange colour, I sliced some of the old cheddar that I had on hand from the mice.
A jar of dark fig spread was nestled in amongst the cheeses, and a selection of dark fruits and crackers were added.
For a blood-red pop of colour, pomegranate sections and blood orange slices were added.
Ruffly pieces of black kale were tucked in to fill any gaps
DRINK PAIRINGS
The perfect match for the old cheddar cheese flavour of these little mice is a deep dark Cabernet Sauvignon. The Cabernet Sauvignon will also pair well with the blue cheese on this board, and will lend a warm and cozy feeling on a cold, dark, Halloween night.