Juicy, sun ripened tomatoes, fresh basil, garlic and Parmesan cheese are a combination made in summertime heaven. Using the freshest of ingredients and minimal cooking, this recipe includes everything we love about August food. Stir in some chopped prosciutto for an extra boost of umami, or leave it out for a vegetarian dish. This recipe makes a large bowl of pasta salad, so it's perfect for your next backyard barbecue, or to take along to your next potluck. Or make it for dinner at home, and enjoy the leftovers for a quick lunch the next day when you'd rather be playing outside than working in the kitchen!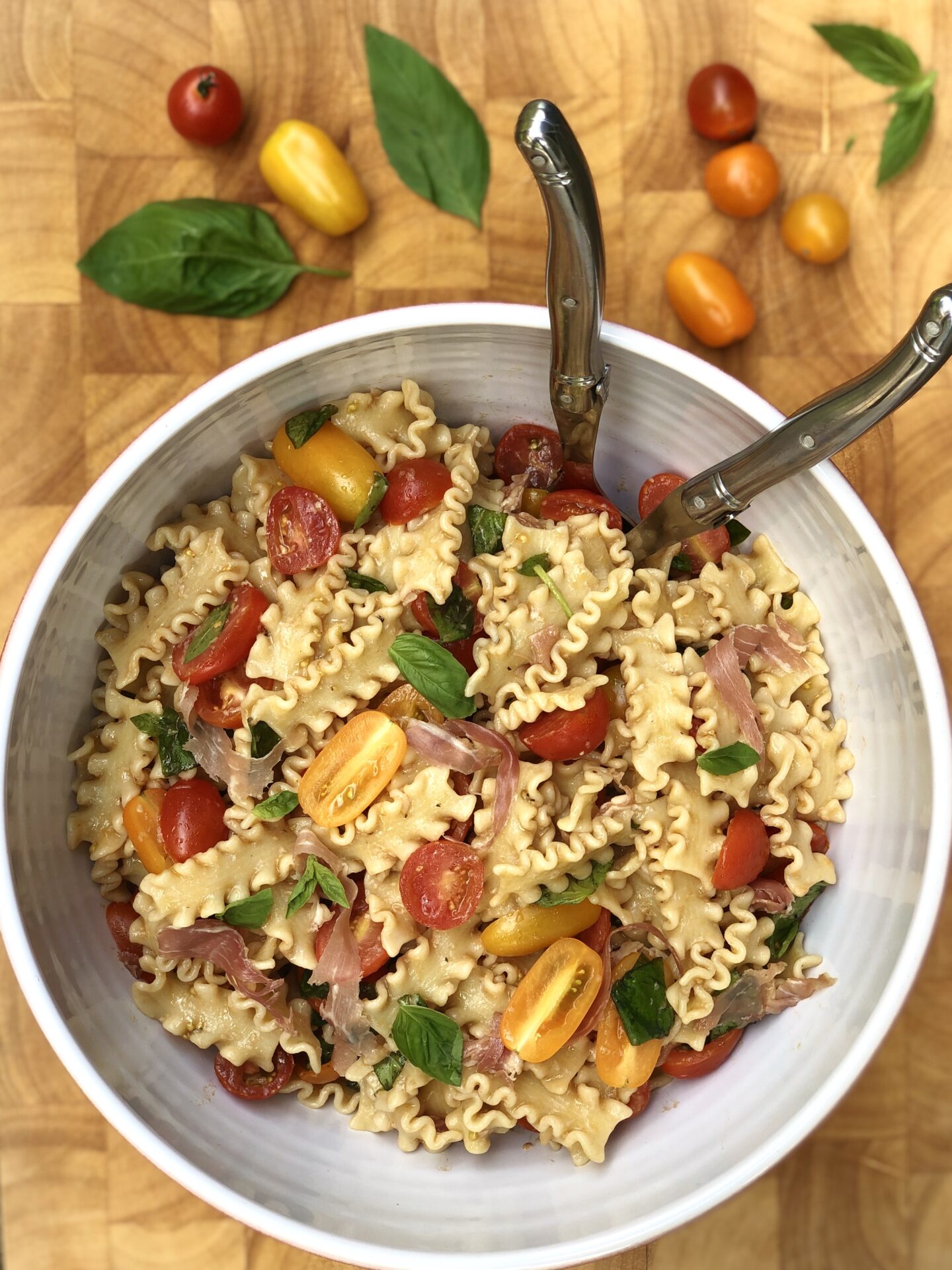 MARINATED TOMATO PASTA SALAD WITH PROSCIUTTO
Time: 30 minutes
Servings: 12 as a side dish or 6 as a main course
INGREDIENTS
6 cups of cherry tomatoes, halved
1 tsp kosher salt
1 clove garlic, minced
1 Tbsp balsamic vinegar
1 cup of basil leaves, torn or chopped
1/4 cup of good olive oil
500gr of short pasta, such as Mafaldine, Campanelle or small shells
1 cup of grated Parmesan cheese
4-6 slices of prosciutto, chopped (optional)
salt and freshly ground pepper to taste
INSTRUCTIONS
In a large bowl, combine the tomatoes, salt, garlic, Balsamic, basil and olive oil. Allow the ingredients to marinate together for at least 15 minutes. Meanwhile, bring a pot of salted water to a boil and cook the pasta until al dente. Drain and rinse the pasta under cold water. Add the cooled pasta to the bowl with the tomatoes and toss to coat. Stir in the Parmesan, and the prosciutto, if using. Add freshly ground black pepper and more salt to taste. Serve immediately at room temperature, or refrigerate for up to 2 days.
SERVING SUGGESTIONS
This pasta salad is a great side dish for burgers, grilled chicken or grilled sausages. I like to serve this to a crowd with marinated grilled flank steak and a green salad.
DRINK PAIRINGS
A quality Italian Pinot Grigio would compliment both the tomatoes and the prosciutto. If serving this pasta salad with grilled flank steak like I do, a Chianti with pair well with the steak, tomatoes and prosciutto.
RECIPE NOTES
What makes this recipe great is the short list of peak-season ingredients. Compliment the fresh tomatoes and basil with good quality parmesan cheese. Buy a wedge and grate it yourself using a microplane or the small holes on a box grater. If using pre-grated parmesan, such as the stuff in the green can (because not all ingredients are readily available in cottage country and that's ok!), reduce the parmesan to 1/2 cup and add more to taste.
With just one clove of garlic, this dish has a gentle pungency. If you like a stronger garlic flavour, increase the garlic to two cloves. Use the freshest garlic you can find (bulbs should feel hard when squeezed and the papery skins should be tightly attached) to avoid the raw-garlic bite.
The fresh tomatoes will release a lot of juice once they are cut and come into contact with the salt, so it may appear that there is an abundance of dressing. Cooking the pasta to the al dente stage (meaning a bit of remaining chewiness) means that the pasta can absorb the dressing without turning to mush. Toss it thouroughly again just before serving, especially if you made it in advance.