July's birthstone is the ruby. Seems like no coincidence that the brightest of red fruits are at their peak by the middle of the month. Strawberries and cherries are wrapping up their seasons just as the fresh raspberries and watermelons are making their first appearances at farm stands. Make the most of this short overlap with this healthy, beautiful and simple fruit salad. Peak-season fruit is already bursting with flavour, so a dusting of fresh mint and lime zest is all that's needed to bring together this perfect summertime side dish.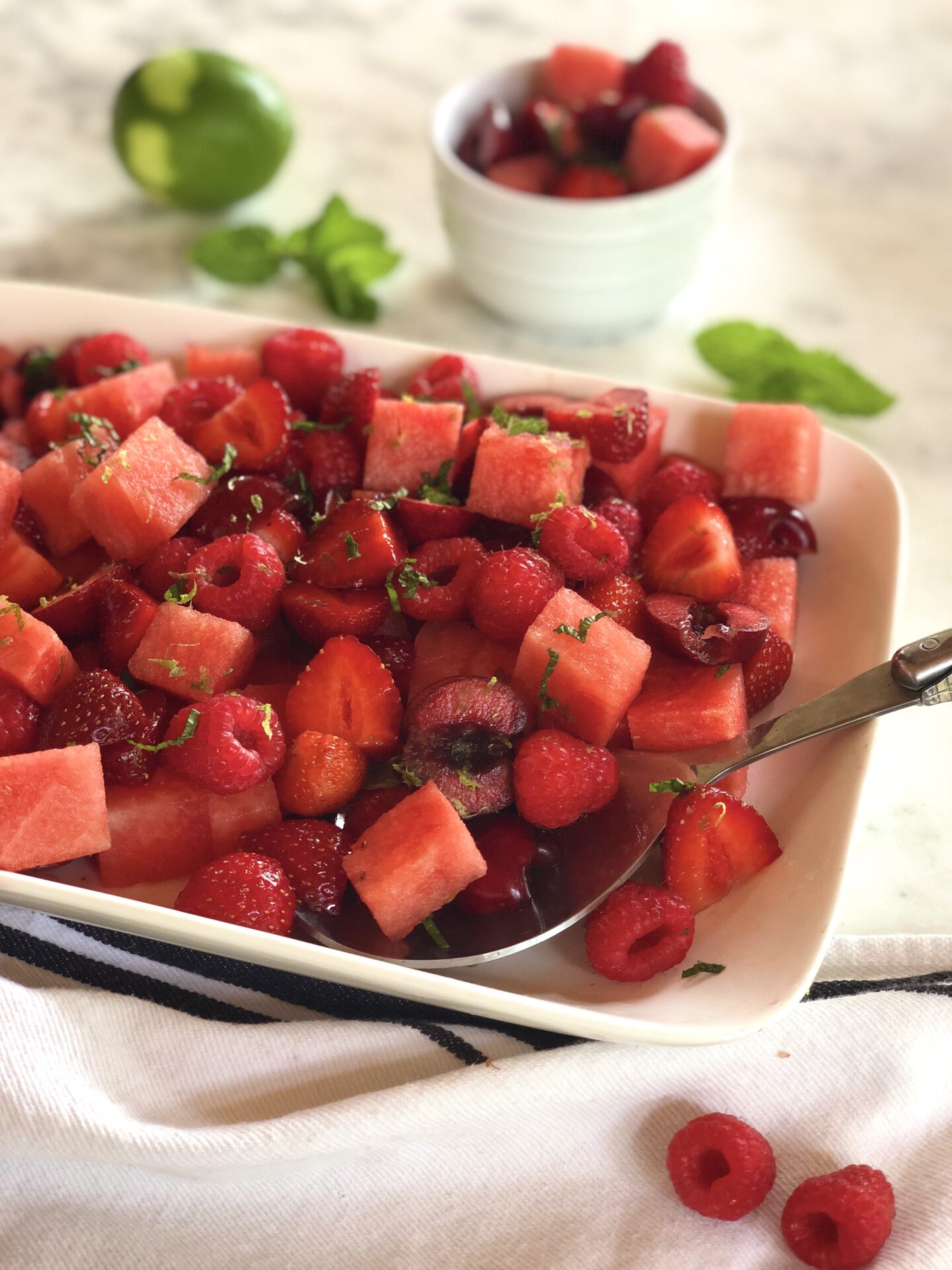 RUBY RED SUMMER FRUIT SALAD
Time: 20 minutes to prepare the fruit, under 5 minutes to assemble
Servings: 4-6
INGREDIENTS
3 cups of watermelon, cubed
2 cups of strawberries, sliced
1 cup of cherries, pitted and halved
1 cup of raspberries
1 Tbsp fresh mint, finely chopped
Lime for zesting
INSTRUCTIONS
Arrange the watermelon on a platter with a lip. Scatter the strawberries, cherries and raspberries over and around the watermelon. Sprinkle with the chopped mint. Using a zester, lightly grate a lime in 4 or 5 places to remove just the green zest (stop when you reach the white pith). Scatter the zest over the fruit. You want about 1/2 tsp of grated green lime zest in total, but feel free to add more to taste.
SERVING SUGGESTION
This summer salad is great any time of day. Serve with fresh muffins for a light breakfast, include it as a lighter counterpart to heavier brunch dishes, pair it with citrus marinated grilled chicken for lunch, or maple glazed salmon for dinner. For a simple and refreshing dessert, serve this naturally sweet salad with shortbread cookies or chocolate truffles.
DRINK PAIRINGS
Pairs perfectly with orange juice and coffee! For wine options, it pairs well with Moscato d'Asti, Rosé or an off-dry sparkling white. It's a natural compliment to a Mimosa or a Bellini at brunch.
RECIPE NOTES
This recipe is best served within an hour or two. Store in the fridge and serve lightly chilled. There's unlikely to be any leftovers with this popular dish, but on the off chance you have some left, the salad can be transferred to a covered container and stored in the fridge overnight.
The cut fruit will release its juices and combine with the lime and mint for a delicious natural dressing. Be sure to choose a large platter with lip to contain the juices.