It's been a strange few years, hasn't it?  We've stayed home.  We've celebrated birthdays, anniversaries and holidays in front of our computers.  We've postponed the big celebrations until a "better time".  We've missed the rollicking good times with our friends and warmth of big family dinners.  The good news is that things are looking up, and we're starting to open our doors and welcome people back into our homes.  The question has now become "Do I remember how to do this?" .   It's been a while since we've thrown a party, so we're all a little out of practice.  Take the stress out of hosting by trying some of these tips at your next gathering, to ensure a good time for both your guests… and YOU!
How to host a party like a pro and have fun too!
 WHAT TO EXPECT
 Ease uncertainty by communicating the details of your party in your invitation.  Aside from the party date, time and address, let them know what you have in mind for the party.  Will it be cocktails for 30 people, or an intimate dinner for 6? An outdoor patio party, or an indoor event?  This will help guests gauge their comfort level before accepting the invitation, and will let them know how to prepare.  Should they get dressed up?  Will a meal be served or should they eat ahead of time?   Clear communication from the beginning will make sure your guests are prepared and your vision and expectations for the evening are met.
MAKE A PLAN
Get out a pen and notebook, and get it down on paper!  Brainstorm your ideas, write out your guest list and plan your menu.  Make a list of what can be done ahead and what can be picked up from the store.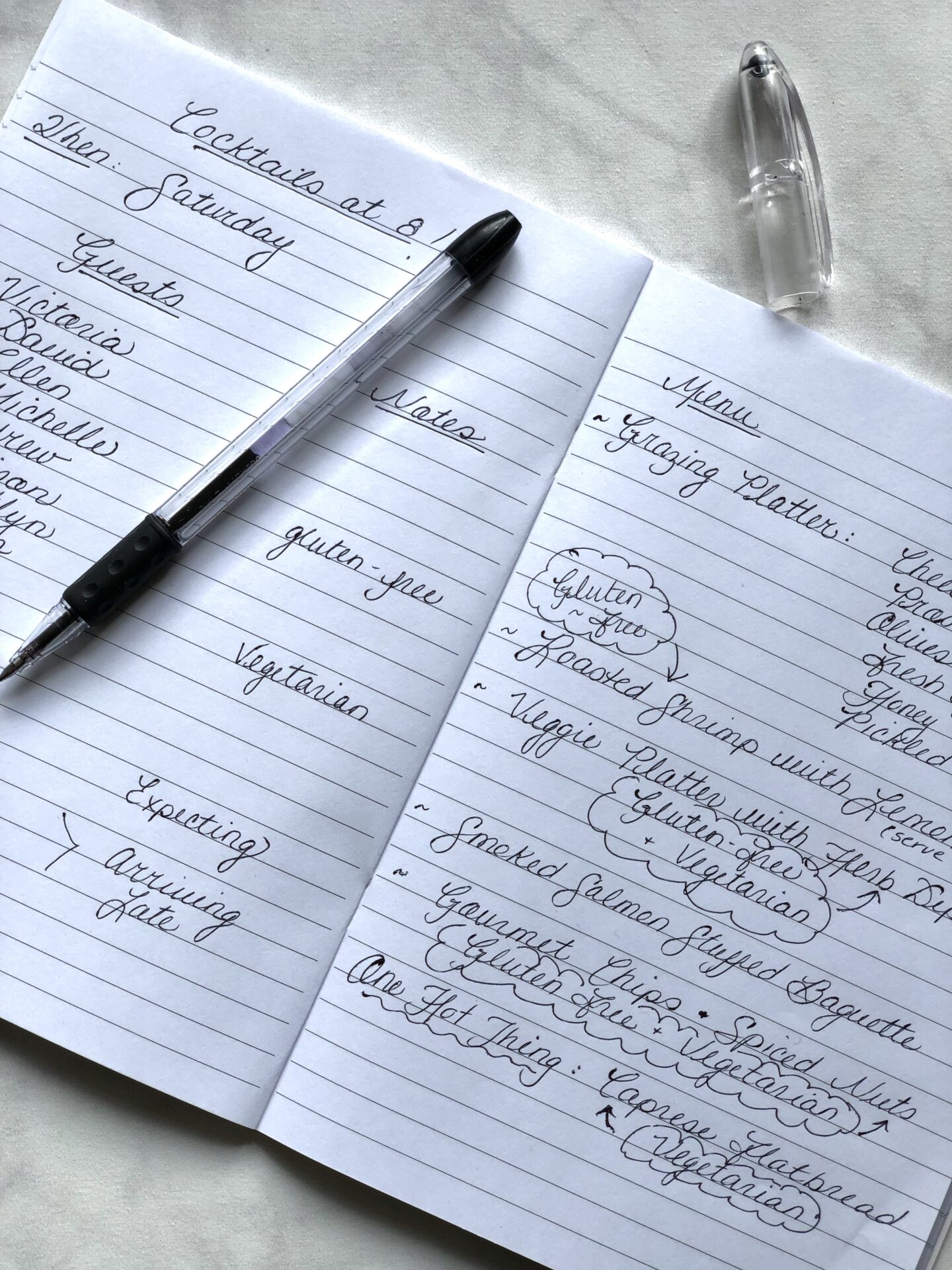 Start a Pinterest board for the party and pin your recipes, inspiration and ideas all in one place.
MAKE IT INVITING
Clear the clutter by putting away or relocating paper stacks, toys and that pile of shoes at the front door.  Clear room in the closet for coats, or have a plan for where you'll store them during the party.  
Keep the decor simple with nice linens and fresh flowers.  Choosing a simple colour scheme that compliments your existing decor will give the party an intentional and cohesive, yet un-fussy, feel.  
SET THE SCENE
Turn down the lights.  Bright lighting makes people feel like they're on display, so turn things down, just a little, to eliminate any harshness.  Softer lighting will make your space more inviting, help the food look its most appealing, and will help ease any self-consciousness.
Make it smell good!  Take out the trash and clean up after pets to make sure the house smells fresh and inviting.  Strong, artificial scents from air fresheners and candles can interfere with the taste of foods and wines, so take a pass on those.  However, the delicious smells of something warming in the oven, or the lingering scent of recently baked cookies, are more subtle and inviting.
Set the mood with music.  Choose tunes that are upbeat and fun to set the tone for the party.  Make a playlist in advance, or choose a mix from your favourite streaming service.  There's no need for an elaborate sound system – your phone and a bluetooth speaker will work well.   I love t

his adorable retro model

that is available in 6 great colours and fits in perfectly in the living room (oh, and it's super affordable too!).
BE PREPARED
Attend your own party! Don't get stuck in the kitchen or behind the drink station all night. Do as much as possible in advance so you can enjoy your guests and have fun.  The day before, prepare as much as you can by setting up a self-serve drink station, arranging the flowers and chopping ingredients.  Stock the bathroom with extra toilet paper and fresh hand towels so guests can help themselves.
Pour the first drink.  As guests arrive, greet each person and walk them into the party.  Take them over to the drink station and help them get their first drink.  Having something in their hand will help them feel at ease, especially if they don't know a lot of the other guests.   Show them the options for non-alcoholic as well as alcoholic beverages, and invite them to help themselves to a refill when they're ready.  Preparing a pitcher of a cocktail or mocktail in advance (with extra stored in the fridge!) and setting out glassware and garnishes will make things simple and inviting.
For large parties, skip the disposable dishware and rent your dishes and glassware.  It's surprisingly inexpensive, and most companies allow you to stack the dirty dishes back in their boxes and return them to be washed, saving you the clean up work!  Look online for party and event rental companies in your area.  Some catering companies do dish and glassware rentals as well.
WHAT TO SERVE
Simplify your menu, but keep it fun.  Let a grazing platter, assembled mainly with store-bought items, take centre stage.  Make a few things in advance that can be platted and ready to go before the guests arrive.   Choose only one hot item and after it's served, your time in the kitchen is done.  Do you make really good brownies?  A familiar recipe will help keep your own stress levels in check.  That being said, I'm not a believer in the "don't make a recipe for the first time for guests" rule.  If you're excited to make it and it looks manageable, then go for it.  If it doesn't work out, you have your grazing board and best-ever-brownies to fall back on!
We've been soothing ourselves with homemade bread and comfort food for the past few years, so it's time for lighter and brighter foods.   Everyone loves delicious party fare, but remember to balance it out with fruit, vegetables or other healthier options to keep guests from slumping on the couch in a carb coma.
Do your guests have dietary restrictions?  If so, be sure to include gluten-free, dairy-free or vegetarian options so there's something for everyone to enjoy.  A beautiful platter of cut vegetables with an herb sauce for dipping would be a good option with wide appeal.  Some sweet and spicy nuts, or some gourmet chips, are lux items that can make those with dietary restrictions feel considered.
Whatever you choose to serve, make sure there's LOTS of it!  It's better to have too much food, than too little, and if you do end up with extra then consider that a gift to yourself.  I love waking up to delicious leftovers the day after a party, and having cut veggies, fruit, cheeses and meats to slide into school lunches for the week ahead!
Serve food throughout the evening, instead of putting it all out at the start of the party. It will stay fresher, and the steady supply of food will help offset the cocktails.
Serve water and make it easily accessible. It's a little thing, but it's important.  Along with whatever other beverages you choose, set out bottles of sparkling water or a pitcher of infused water to keep guests hydrated. Be sure to drink plenty yourself to keep your stamina going until your last guest heads out the door.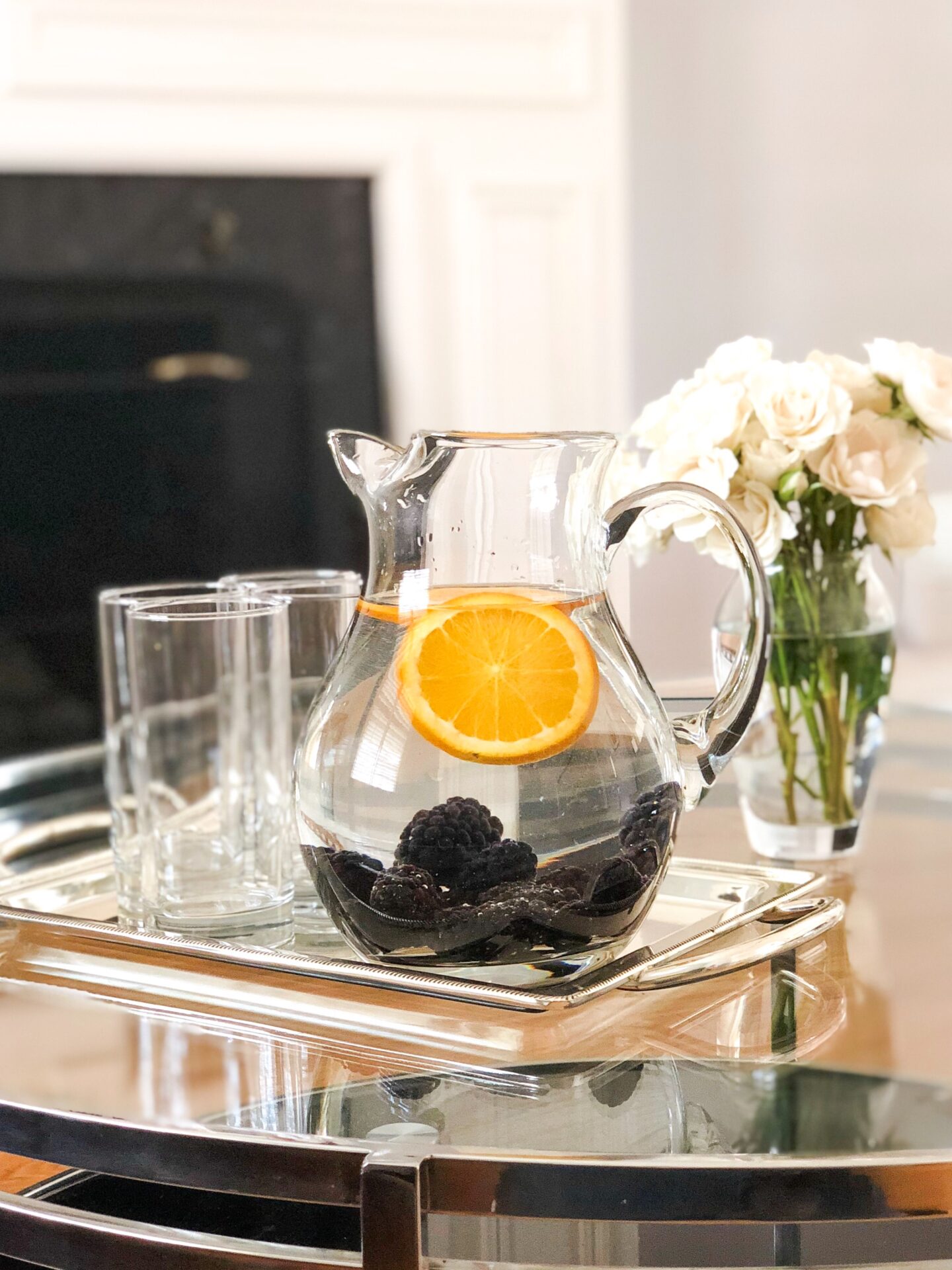 PRACTICE GOOD HYGIENE
Chances are, if you're hosting or attending a party these days, you're feeling more comfortable being in close contact with other people.  That being said, good hygiene practices are always in style.  Watching someone dive their bare hands into a communal dish (or licking sauce off their fingers) will be off-putting for others, so be sure to set out plenty of serving utensils, scoops, plates and napkins.  Wine charms are cute to help guests keep track of which glass is theirs, but remembering which wine charm they were assigned can be a difficult task as the night goes on, and the charms usually only work for stemmed glassware.  Instead, I prefer wine glass markers to write guests names on their drinks, whether they're using a wine glass or a tumbler.  I use these ones that dry quickly and don't smudge, but wash off easily with soap and water and the end of the night.
HAPPY HOST, HAPPY GUESTS
A stressed host will make for uncomfortable guests, so consider your own limits and happiness when planning the party.  You don't need to knock yourself out and impress your friends to throw a good party.  It won't matter that you made 30 individual mini pies, if you're a sweaty, stressed, mess when you open the door.  The tone of the party will stem from your vibes, so make sure to plan the gathering in a way that will allow you to be present, relaxed and happy.
Don't panic if something isn't perfect.  It happens to all of us – something overcooks in the oven, or a pitcher of carefully crafted cocktail spills all over the floor or we realise we forgot to get enough ice.  Don't worry, your party isn't ruined and no one will care.  Just laugh it off, move on and stay happy!
And Most Importantly…Stop all your prep work at least 1 hour before your guests are due to arrive. What's done is done, and anything that isn't done probably isn't that important in the grand scheme of things.  What is important is that you're feeling fresh, happy and relaxed when your guests arrive.  Get yourself ready, turn up the music and pour yourself a drink.  Put out some of the food and sneak a bite of something delicious.  Start the party (even if you're on your own!) before you open the door to greet your first guest.