Marinated shrimp top this noodle salad full of fresh herbs, vegetables and delicious Thai flavours.    This fresh and healthy salad makes a delicious lunch or a flavour packed dinner that won't weigh you down.  Be sure to chop all the veggies and herbs before you start cooking as the recipe moves quickly!
Thai Shrimp and Rice Noodle Salad
Time:  about 45 minutes                Servings:  serves 4 as a main course
INGREDIENTS
DRESSING
1/4 cup fresh squeezed lime juice
1 Tbsp vegetable oil
2 cloves of garlic, minced
2 Tbsp freshly grated ginger
2 Tbsp honey
1 tsp sambal olek (optional)
3 Tbsp fish sauce
1 tsp sesame oil
1/4 cup water
SALAD
400 gr (14 oz) of raw shrimp, peeled, deveined and tails removed
1 cup English cucumber, quartered lengthwise and sliced (about 1/2 a medium cucumber)
2 green onions, white and green parts, sliced into thin rounds
1 cup of carrot, peeled and cut into very thin ribbons using a vegetable peeler
1 cup of thinly sliced red pepper (about 1/2 a large red pepper)
1/2 cup chopped fresh mint leaves
1/2 cup chopped cilantro
1/4 cup loosely packed fresh basil, thinly sliced (about 4 medium basil leaves)
2 cups Sugar snap peas

225 gr (about 8 oz) broad rice noodles (such as pad Thai noodles)

Lime wedges for serving
INSTRUCTIONS
Preheat the oven to 425 and line a baking sheet with parchment paper.
In a medium  bowl, stir together ingredients for the dressing.  Remove 1/2 cup of the dressing and set aside to dress the salad later.  Add the shrimp to the bowl with the remaining dressing, stir to coat, cover and transfer to the fridge for 15 minutes.  Meanwhile, combine the cucumber, green onion, carrot, red pepper, mint, cilantro and basil in a large bowl and set aside.
Bring a large saucepan of water to boil. While you're waiting for the water to boil, prepare an ice bath by filling a large bowl half way with ice cubes and water.  Add the snap peas to the boiling water and cook for 2 minutes, until bright green and slightly tender, but still crisp. Using a slotted spoon, remove the snap peas from the boiling water and immediately submerge them in the ice bath to stop the cooking and preserve their bright green colour. You will need the pot of boiling water again, so don't pour it out.  Once the snap peas have cooled, drain and pat dry with a paper towel and place them in the bowl along with the other vegetables and herbs.
To the pot of boiling water, add the rice noodles and cook according to package directions until cooked, but still pleasantly chewy.  While the noodles are cooking, remove the shrimp from the marinade, and place the shrimp in a single layer on the prepared baking sheet. Discard the marinade. Roast shrimp in the oven until pink and cooked through, about 8-10 minutes.  Drain the noodles in a colander and run under cold water to cool and prevent them from sticking together. Once cool, shake the colander to remove any excess water, and put the noodles in the bowl with the vegetables.
Drizzle 1/4 Cup dressing over the noodles and vegetables. Toss to coat with the dressing and to evenly distribute the vegetables amongst the noodles. Taste and add additional dressing if desired.   Transfer the salad to a large serving bowl and top with the warm shrimp.  Serve immediately with lime wedges and the remaining dressing on the side.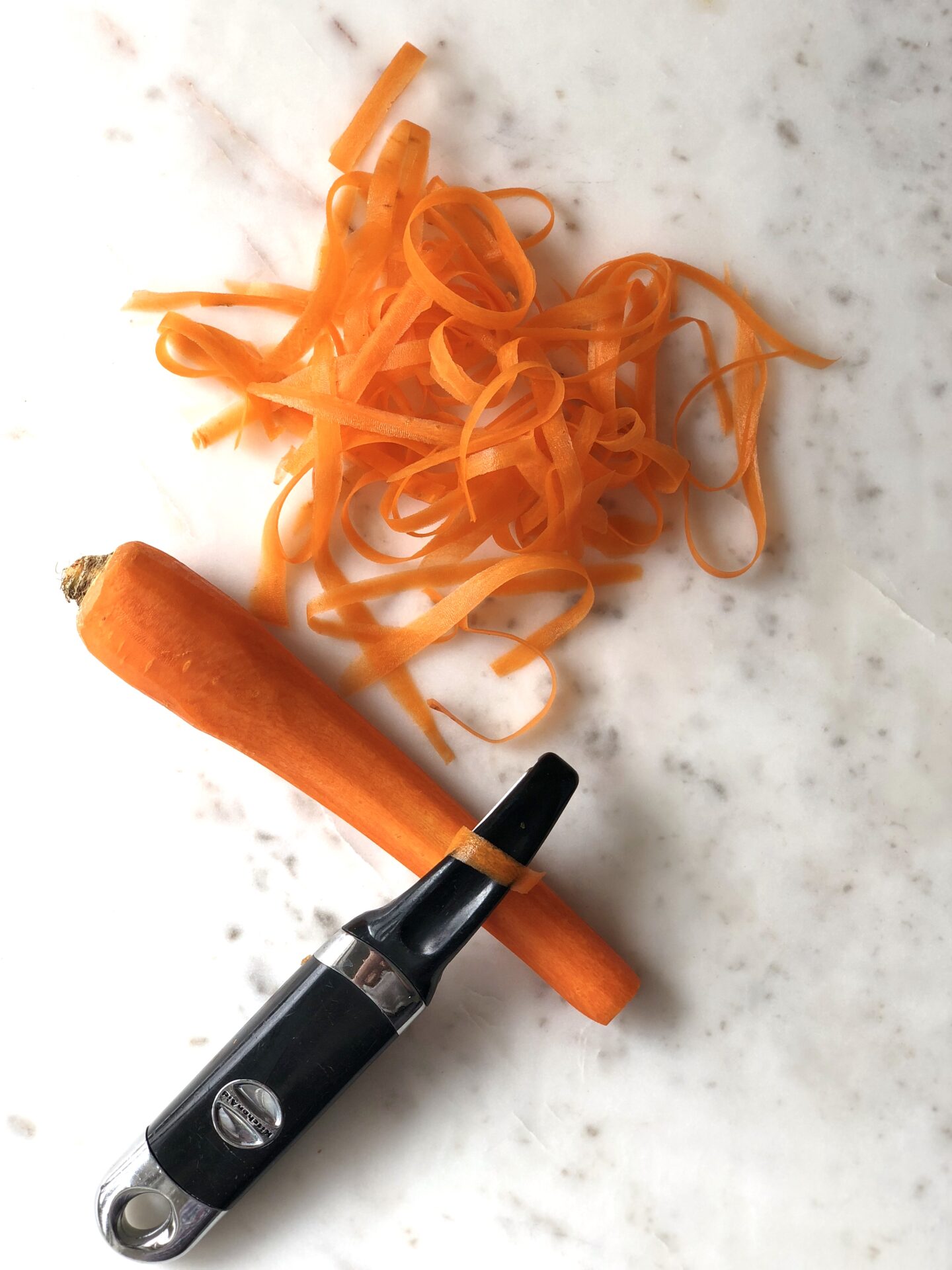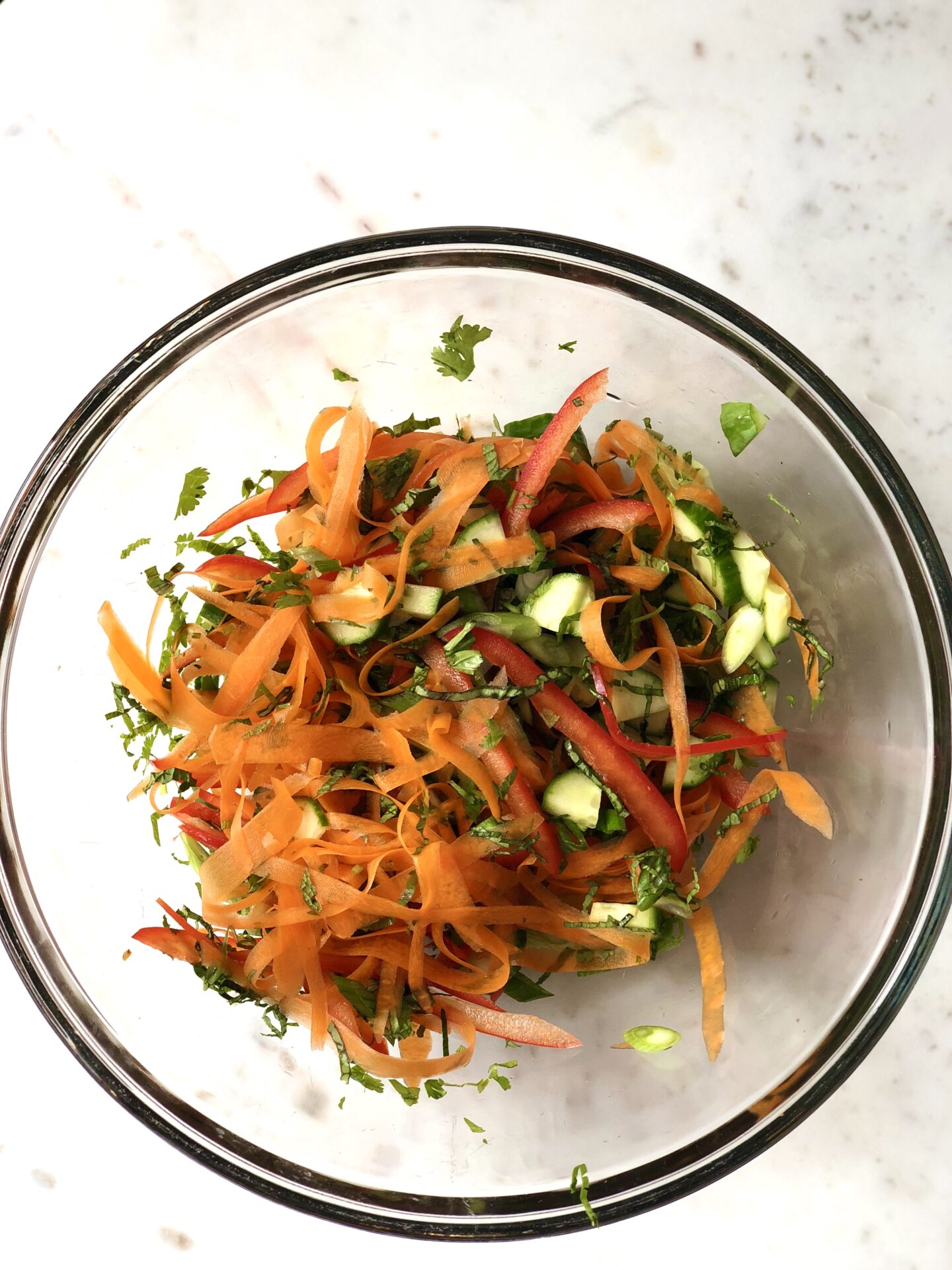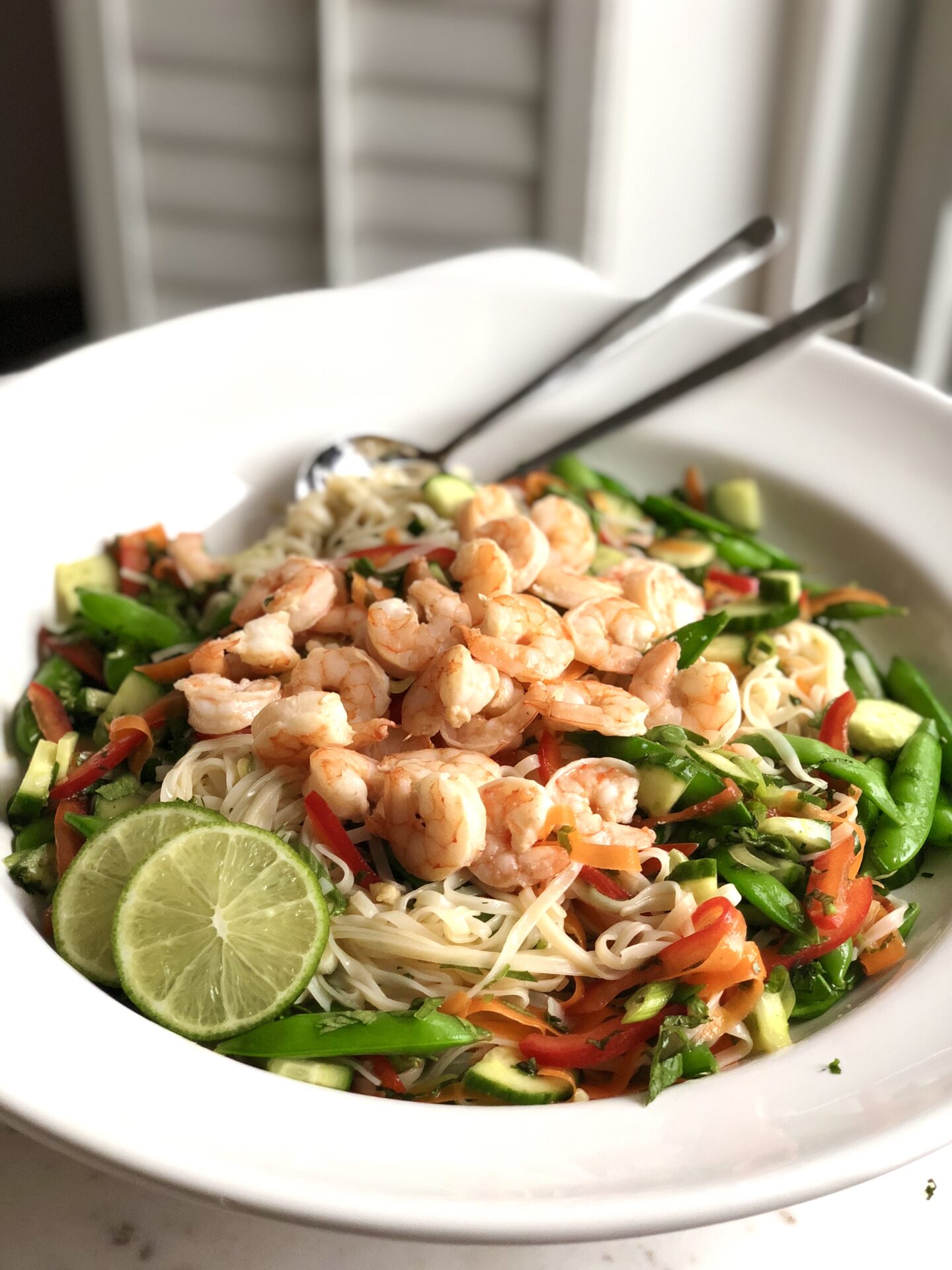 SERVING SUGGESTION
This is a complete and satisfying meal all on its own, but it's also lovely served with spring rolls and sliced mango drizzled with lime juice.
DRINK PAIRING
These sweet and sour noodles are a natural match for an off-dry Riesling.  I also really like a sparkling rose with this dish, especially if serving it with crisp spring rolls!
RECIPE NOTES
This recipe is best served immediately, as the noodles will absorb the dressing over time and the flavours will mellow out.  Serve with the extra dressing and add more to the salad as needed.
This salad is naturally gluten-free and dairy-free